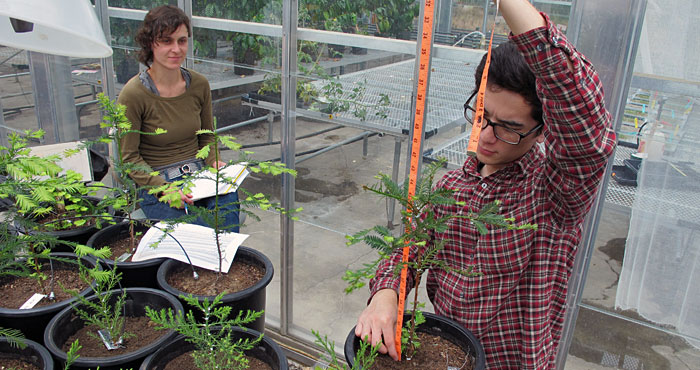 Today, redwoods stand at a new crossroads of environmental change where rapid climatic changes and other factors threaten them in ways they have not experienced before in their long history on Earth. Our Redwoods and Climate Change Initiative research project will help us understand redwoods' vulnerabilities to climatic changes so we can protect these forests in the future.
Now Initiative scientists are studying 450 redwood saplings.
"We're analyzing data from greenhouse experiments, examining drought effects on redwood and giant sequoia growth and other characteristics," said Initiative Scientist Anthony Ambrose. "We recently received beautiful 1-year-old saplings representing northern, central and southern populations of each species that were generously grown for us by Green Diamond Resource Company."
"The only way we can craft sensible conservation strategies for redwoods is to have the scientific data," Ambrose said. "We need to know how these trees have responded to past climate change and how they are responding today."
Possible ways the Initiative findings could help redwoods survive in the future include
Protecting cooler and moister habitats so the trees will have a place to grow if their current range becomes too warm or dry
Guiding economic incentives for sustainable logging practices
Developing more sophisticated water and buffer management in the forecasted redwood range, in partnership with redwood forest landowners
Informing new public policy
You can help protect redwoods in the future by supporting the Initiative. Donate today.
---