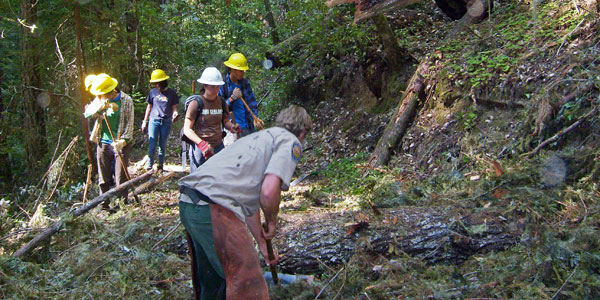 Portola trail maintenance project supported by League-issued grant
Trails in Portola Redwoods State Park were cleared and widened this summer, thanks to our members and a grant from Save the Redwoods League. The $30,000 grant enabled six high school student volunteers and two leaders to clear fallen trees (pictured), widen a trail for people with disabilities, remove poison oak, rebuild a fence and install a retaining wall.
The grant supported the crew from the Student Conservation Association (external link), which fosters career development in land conservation and resource management.
The students cleared about 18 miles of trails in the park, where the League has dedicated groves and has others available for dedication. Learn how to dedicate a grove or tree.
The SCA crew came from all across the country to work and live together for 30 days. For some, it was their first time sleeping under the stars, being away from their family, and experiencing the rewards of working hard outside.
Students attended several interpretative talks, discussed the unique weather patterns in the redwood forest, and explored the history of these gigantic trees.
Visit our interactive map of Portola Redwoods State Park.
---