A Concise History of Redwoods Conservation in California
When Europeans began settling in what is now California during the 1700s, they saw redwoods as a wonder and an endless natural resource. During the last half of the 19th century, calls to protect the giant sequoia were issued nearly as fast as the first trees were felled. Hardly anyone thought about protecting coast redwoods because they were so plentiful. Not much limited the logging of coast redwoods during the 1800s except technological and market constraints. The government acted in some cases, but protective measures were often poorly resourced."
Many were troubled by the destruction of groves and forests made up of the tallest and some of the largest, oldest living things on Earth. Their dismay was expressed in writing, speeches, and photographs. The nation took notice. Individuals organized. Financial resources were mustered. The political system was engaged, and, as they entered the 20th century, those dedicated to protecting the coast redwoods saw their cause gaining momentum.
Save the Redwoods League, established in 1918, played a vital role in the protection of redwoods. The League helped give definition to the California state parks system, made a case for greater park funding, and provided expertise in land acquisitions and conservation as the system grew. Well-connected and politically savvy, the League became a trusted conduit through which the public, including philanthropists, could contribute to redwoods preservation. The League also acted as a pragmatic counterpart in negotiations with private interests, focusing on what was possible in the near-term, while never losing sight of the ideal outcome that might be achieved over time.
Unlike most public works such as buildings and highways, parkland is an appreciating asset—worth more in the future than at the time of acquisition. By bringing portions of redwood territory back into public hands and continuing to advocate for those resources as administrations and policies changed, the League and others made certain that ancient redwoods would persist for our benefit and that of generations to come. Creating such a legacy took decades and required zeal, acumen, and tenacity from countless individuals.
Over the last century, the League has protected more than 200,000 acres of redwood forests and helped 66 redwood parks and reserves. We have pioneered innovative, science-based forest-restoration work. And, most importantly, we have touched the lives of millions of people by connecting them to these towering wonders of nature.
Learn more about the current state of redwoods conservation and 100 years of saving redwoods below.
---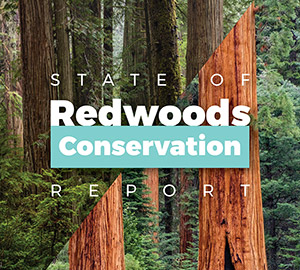 This first-ever State of Redwoods Conservation Report provides a contemporary look at the state of coast redwood and giant sequoia forest health in California. Its purpose is to serve as a reference guide to their status today and discuss the key variables that matter most to their future health: overall age and condition of the forests, varied ownership and protection of redwood and giant sequoia forests, key stressors, and environmental challenges.