California State Parks
Save the Redwoods League has maintained a close partnership with California State Parks (CSP) since the League helped establish the state park system in 1927.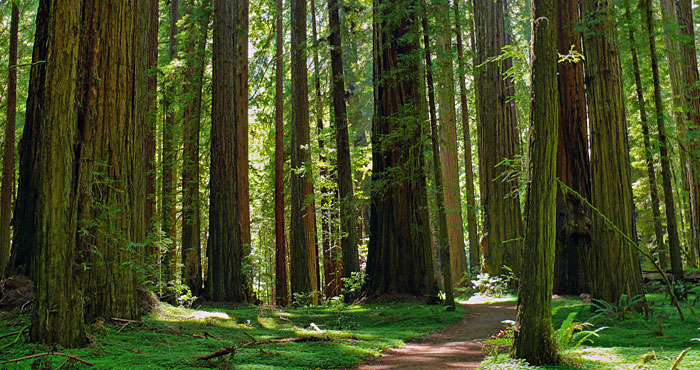 Since then, we have transferred land to nearly 40 state parks and helped restore areas in many of them. The League is proud to be a part of the rich heritage of California and California State Parks.
The Beginning of the State Parks Movement
California State Parks celebrated its 150th anniversary (external link) in 2014. The origin of California State Parks dates back to 1864, when President Abraham Lincoln granted Yosemite Valley and the Mariposa Big Tree Grove to the State of California. Never before had land been set aside purely for the preservation and public enjoyment of its natural values.
Since then, California State Parks has grown to be the largest state park system in the United States, with 280 park units and almost 70 million visitors annually.
Save the Redwoods League is known for helping to start California's state park system, but California State Parks dates back to 1864 and the League didn't exist until 1918. Why is that?
The first state park was established in 1864 — but the state parks system itself didn't exist until 1927.
President Lincoln signed the Yosemite Grant Act on June 30, 1864, setting aside Yosemite Valley and the Mariposa Big Tree Grove as California's first state park. In 1890, surrounding forestland was added and that area became Yosemite National Park. In 1902, the newly-formed California Redwood Park Commission agreed to acquire 2,500 acres in Big Basin. Big Basin Redwoods State Park is now the oldest California State Park.
In the late 1800s and early 1900s, public support for the conservation of California's natural and scenic heritage was growing. Photographs and accounts of the amazing giant redwoods spread awareness and admiration of the great forests.
See the timeline of important milestones in the history of California State Parks and the League.
Source: Engbeck, Joseph H. State Parks of California from 1864 to the present. Portland, Oregon: Graphic Arts Center Publishing Co., 1980.
Establishing the State Parks System
Our work to help establish state parks stems from 1917, when three prominent conservationists — John C. Merriam, Madison Grant and Henry Fairfield Osborn — visited the northern coast redwood forest, witnessing widespread logging of ancient giants.These three accomplished naturalists had been inspired to investigate the state of the redwood forests in Northern California by the head of the National Park Service, Stephen Mather.
They were appalled to find that not one of these astounding redwoods, which grow only along the Northern California-Oregon coast, was protected for public enjoyment. In the spring of 1918, with Mather's support, they organized Save the Redwoods League to ensure that the remaining ancient forests flourish forever.
By 1925, there were five state parks in California — Yosemite National Park, California State Redwood Park, Humboldt Redwoods State Park, Mount Diablo and Prairie Creek Redwoods State Park. These were islands of natural beauty that citizens, organizations and lawmakers had fought to protect.
However, these parks were managed by independent boards and commissions with no fundamental policy to govern their administration or creation. Some of these parks were undeveloped and even inaccessible for public enjoyment, as was the case with Mt. Diablo. To address these issues, J.D. Grant, chairman of the League's board, called a meeting to discuss the need for legislation to create a centralized state park system. He introduced Duncan McDuffie, chairman of the League's committee on state parks, to speak about this need.
McDuffie pointed out that California was growing in population more rapidly than any other state, and its corresponding urban and industrial development made it necessary to create a comprehensive plan for the conservation of scenic and recreational areas for future generations — otherwise these natural wonders would be lost forever. To address this issue and manage the existing underfunded and underdeveloped state parks, California needed a centralized park system with the power and funding to create, develop and manage state parks.
The California State Parks committee, a campaign organization, was formed and it drafted two senate bills: one provided for the creation of a central state park commission, and the other set up a statewide survey of potential state park sites. Newton B. Drury, League executive and secretary to the California State Park Committee, was given the responsibility of gathering public support for these bills. Though widely supported by a coalition of national organizations and individuals, the bills encountered significant opposition from the lumber industry and its sympathizers in office. On June 5, 1925, the bills died by pocket veto when Governor Friend William Richardson, renowned for his extreme conservatism, simply refused to sign them.
Going forward, the state park movement courted the support of its opposition to ensure universal support for the park system legislation. In 1926, McDuffie's close friend and business partner, Clement Calhoun Young, was elected governor. The state parks movement suddenly had a friend in the governor's chair. The rejected bills of 1925 were revised, and this time, gained unanimous approval in both houses. They were signed by Governor C.C. Young on May 25, 1927, and the California State Parks (external link) system was born. Today, California State Parks has grown to include more than 270 parks.
California's state parks preserve our most treasured landscapes for the enjoyment of all. Support California State Parks by donating to the League's parks program today.
Source: Engbeck, Joseph H. State Parks of California from 1864 to the present. Portland, Oregon: Graphic Arts Center Publishing Co., 1980.
Current Projects
California's state parks shelter 60 percent of the world's remaining old-growth redwood forest and the League is deeply invested in the future of our parks and the people who enjoy them. California State Parks (CSP), which buys or accepts donated land from the League, has struggled with declining funding over the past two decades despite increased demand for its services. To protect these redwoods, the League, with gifts from our members, leads and supports various projects to improve the park experience and secure resources for park stewards. Learn more about our Parks Support Program.
---
National Parks
The League has a long history of partnering with the US National Park Service (NPS).
History
In 1920, NPS and Save the Redwoods League conducted a survey of redwood forest areas that could be acquired for state or national park purposes. But work toward a redwood national park was stalled until 1961, when the League, Sierra Club and the National Geographic Society revived the idea.
Finally, in 1968, Congress established Redwood National Park in three state parks (Prairie Creek Redwoods State Park, Jedediah Smith Redwoods State Park, Del Norte Coast Redwoods State Park). The League has continued to purchase and transfer land to these parks ever since.
In 2001, the League purchased Dillonwood giant sequoia grove and transferred it to Sequoia National Park.
We've also help expand the Golden Gate National Recreation Area, and we've awarded grants to teach Muir Woods National Monument visitors about redwoods.
---
Local Parks
We continue to partner with a range of organizations, including local parks to ensure the long-term health of the redwoods.
History
The League helped expand Arcata Community Forest by raising funds to close a gap. One-third of the forest is now a dedicated reserve.
We established Purisima Creek Redwoods Open Space Preserve overlooking Half Moon Bay and added land to Long Ridge Open Space Preserve. In 2000, funds from League members and other organizations helped purchase the Grove of Old Trees in Sonoma County.