Accessible adventures include scenic drives, hikes, camping, and tactile experiences
Part of the allure of coast redwood parks lies in their untamed nature. While some parks are remote, others are close to cities, but feel far removed from urban life and its amenities. You may think that the forests' wild wonders are out of reach for people with disabilities. But here we spotlight redwood parks with accessible features so visitors of various abilities can experience the majesty of these ancient forests.
Read on to learn about coast redwood parks offering wheelchair-accessible trails, campsites, and lodging, as well as resources in braille, tactile displays, audio descriptions, and assistive listening devices.
These experiences, listed from north to south, are excerpted from our free Disabled Hiker's Guide to the Redwoods by Save the Redwoods League.
Remember to check the parks' websites right before heading out because conditions change.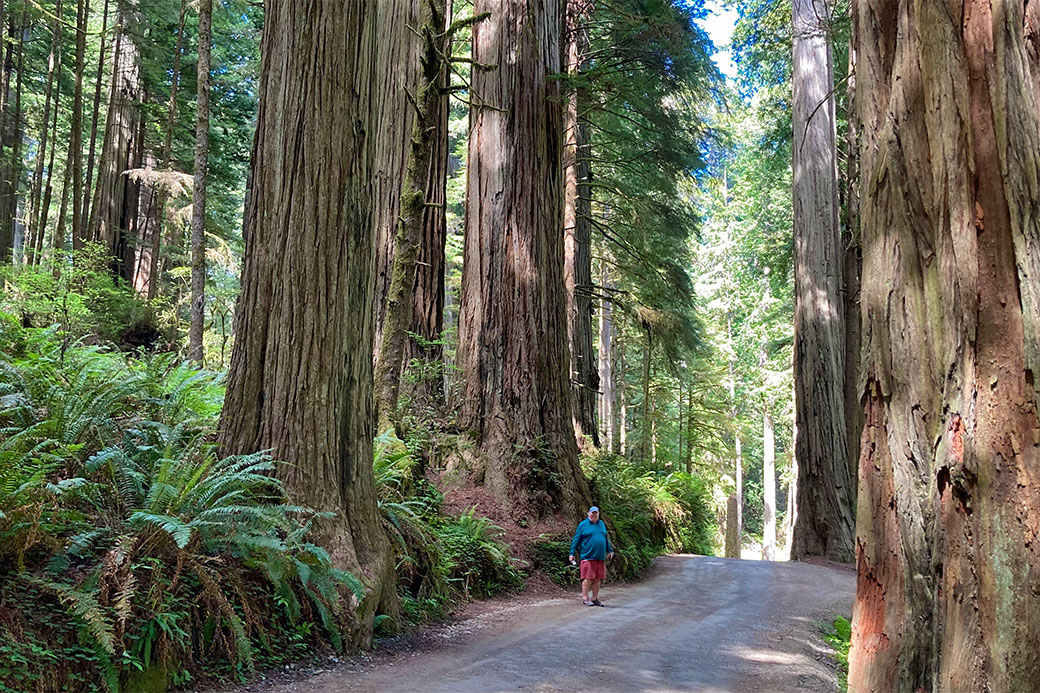 Scenic drives and a trail for people with low vision
From south of Orick to north of Crescent City near the California-Oregon border, Redwood National and State Parks (RNSP) is home to some of the last remaining old-growth redwood groves, as well as miles of coastline, prairies, and woodlands. RNSP consists of four parks jointly managed by the National Park Service and California State Parks: Redwood National Park, Prairie Creek Redwoods State Park, Del Norte Coast Redwoods State Park, and Jedediah Smith Redwoods State Park.
Multiple opportunities for scenic drives among ancient redwoods make this area unique. Bald Hills Road runs through old-growth redwoods before ascending through open prairies. Several overlooks and picnic sites provide opportunities to appreciate the experience.
Newton B. Drury Scenic Parkway travels 10 miles through Prairie Creek Redwoods State Park. This two-lane paved road is surrounded by towering redwoods on both sides, so visitors don't even have to get out of their vehicles to appreciate the forest. Near the visitor center, the unique Revelation Trail was designed to be accessible for people who are Blind or have low vision, and it has guide ropes along the length of the trail and around features such as uprooted trees so that visitors can engage multiple senses. A wheelchair-accessible elevated platform circles a large redwood.
Howland Hill Road in Jedediah Smith Redwoods State Park is an amazing 10-mile route through old-growth redwoods. It winds through the heart of the park, offering relatively easy access to huge redwoods and several trailheads.
Suggested activities: Scenic drives, picnicking, hiking, camping, wildlife viewing.
Accessible features and amenities: Resources in braille, text-only, audio description, tactile displays; manual wheelchairs and beach wheelchairs; campsites and cabins; trails; restrooms.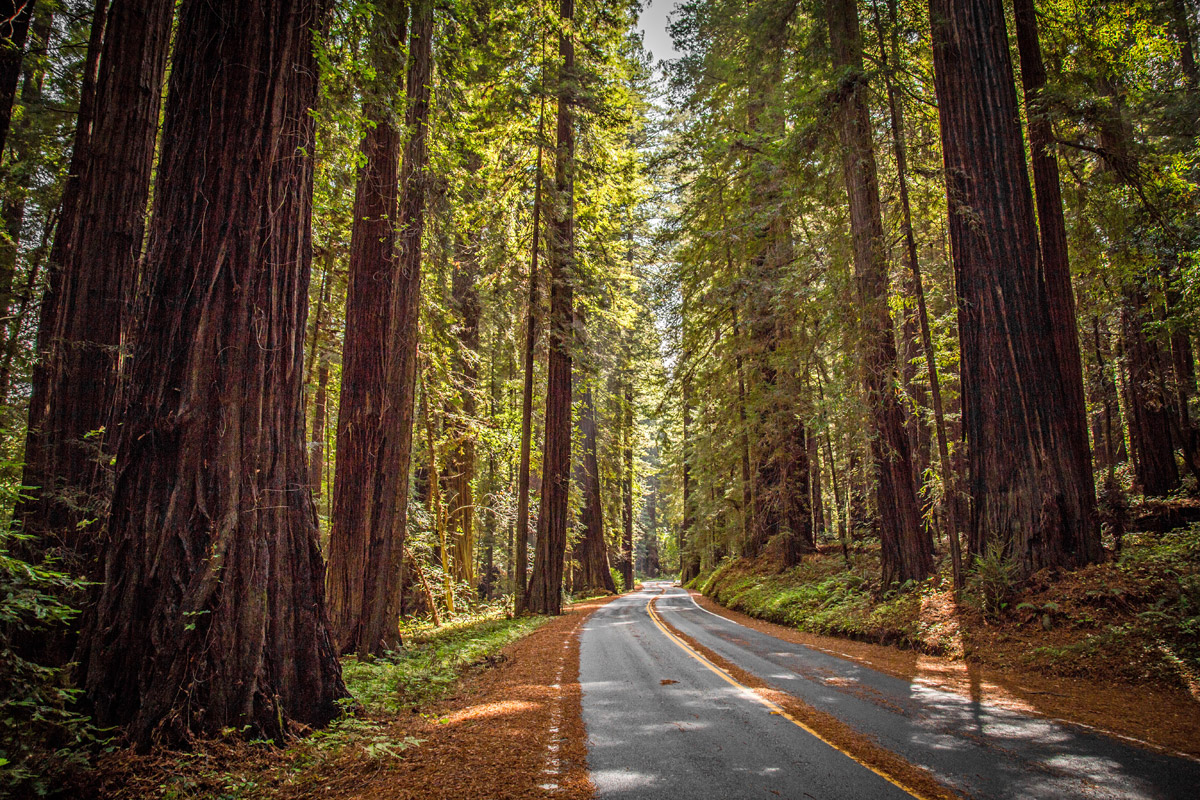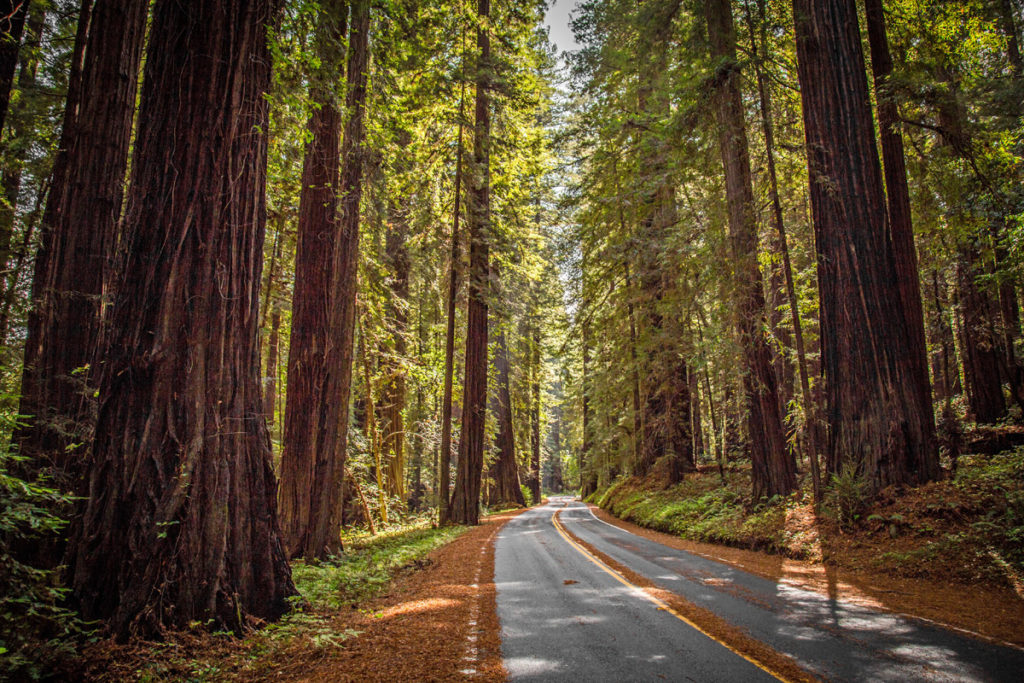 Drive through an ancient forest on a 32-mile scenic road
The primeval forests of Humboldt Redwoods State Park sparked the establishment of Save the Redwoods League to protect the world's tallest tree species. About 45 miles south of Eureka, Humboldt Redwoods is California's largest redwood state park, with over 17,000 acres of ancient forests. Visitors can experience many of them by driving on the Avenue of the Giants, a curvy 32-mile scenic road through the park; an auto tour brochure is available at either end of the Avenue of the Giants and at the visitor center.
There are several accessible trails, including Founders Grove, which is a 0.5-mile loop through old-growth redwoods with a raised platform around Founders Tree.
Suggested activities: Scenic driving, hiking, picnicking, interpretive exhibits, ranger-led programs.
Accessible features and amenities: Assistive listening devices, braille brochures, tactile exhibits.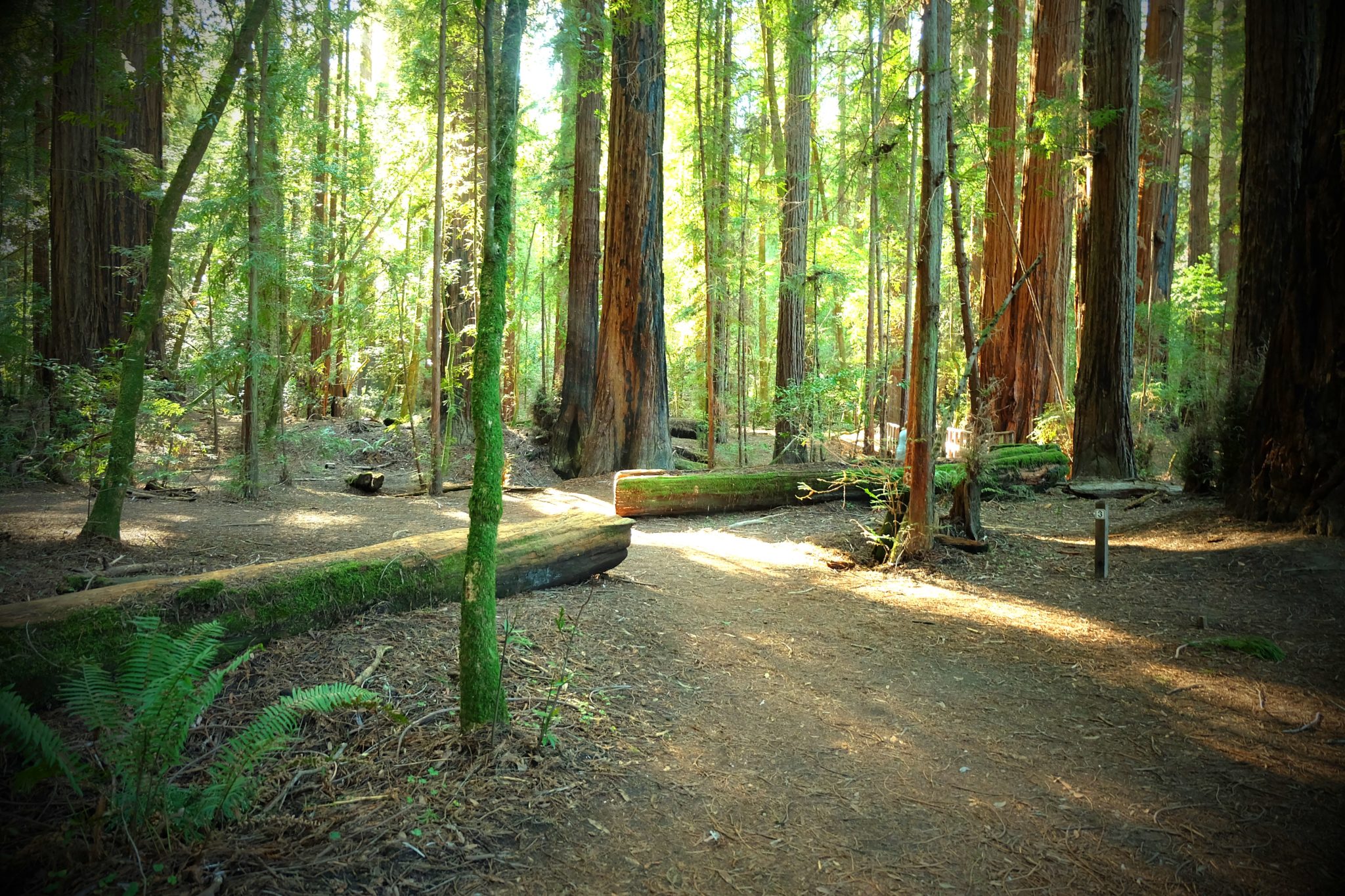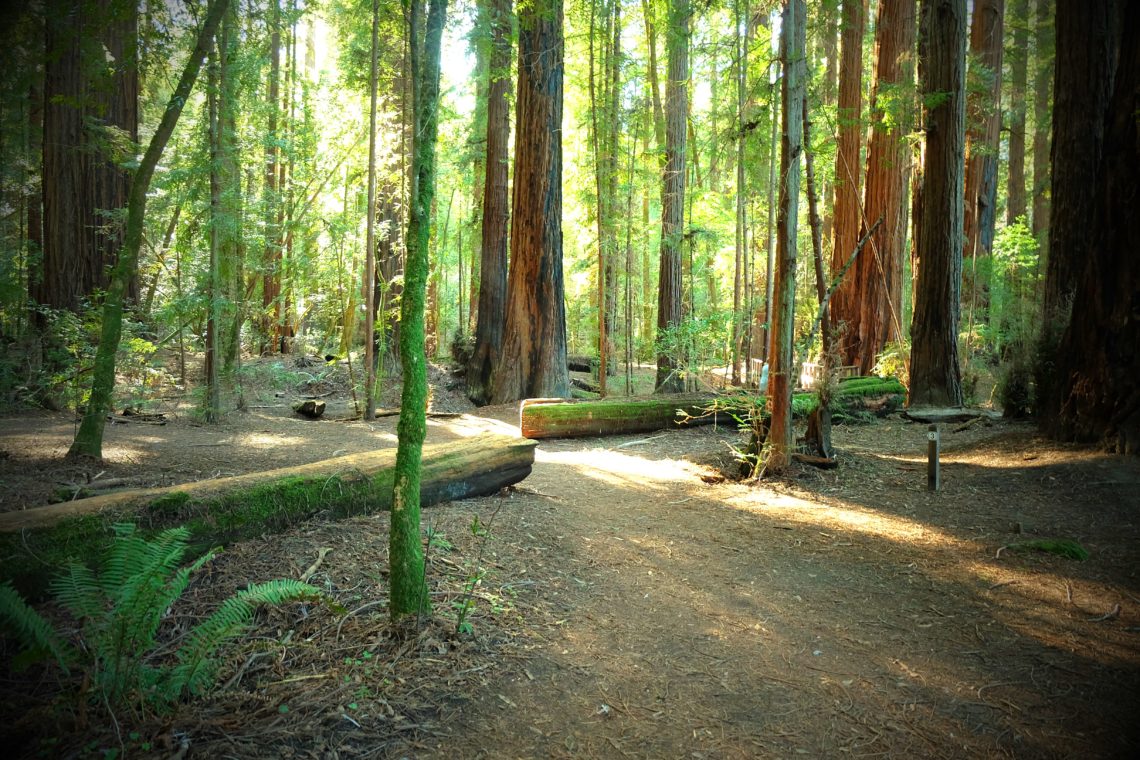 Go on a wheelchair-accessible hike through an ancient redwood grove
Hendy Woods State Park offers one of the longest accessible redwood trails in Mendocino County. Big Hendy Grove is a marvel of old-growth redwoods. Visitors can experience Big Hendy Grove on three connected loops: the All Access Trail, the Discovery Loop, and the Upper Loop, for trips of 0.3 mile, 0.6 mile, or 1.6 miles.
After the hike, you can have a picnic or use one of the barbecues at the accessible ramadas and picnic tables in the meadow with the Navarro River nearby.
Suggested activities: Hiking, camping, picnicking, grilling, ranger programs, self-guided interpretive hikes, relaxing in a meadow.
Accessible features and amenities: Trails, campsites, covered picnic tables, restrooms and showers, water fountains.
Picnic or camp under the redwoods
In Marin County, Samuel P. Taylor State Park is a wonderful oasis about a one-hour drive from San Francisco. The accessible highlight of this park is the opportunity to camp or picnic under the redwoods. In the Madrone Camp across Sir Francis Drake Boulevard, there are two new wheelchair-accessible rustic cabins with electricity. The Orchard Hill and Creekside campgrounds have accessible campsites.
The Azalea picnic area offers several picnic areas under the redwoods along the creek.
The Cross Marin Trail heading west through the campground is paved and makes for a pleasant, accessible outing.
Suggested activities: Picnicking, camping, birding, watching for spawning salmon.
Accessible features and amenities: Cabins, campsites, picnic areas, restrooms, showers, trails.
Old-growth coast redwoods close to San Francisco
About a 40-minute scenic drive across the Golden Gate Bridge from San Francisco, Muir Woods National Monument is home to one of the only remaining old-growth redwood stands in Marin County. The park offers several accessible features for visitors who are Blind or Deaf, and there are accessible restrooms and parking. The visitor center is not fully accessible, but the café and gift shops are. The main trail through Muir Woods starts at the visitor center on a raised accessible boardwalk and continues for several hundred feet to the Pinchot Tree Area. It then transitions to asphalt and continues generally level, but there are many large cracks and potholes. There are interpretive signs and a few benches along the way.
Suggested activities: Ranger-led tour, birding, plant identification.
Accessible features and amenities: Assistive listening devices, braille and audio- described brochures and map, ASL video.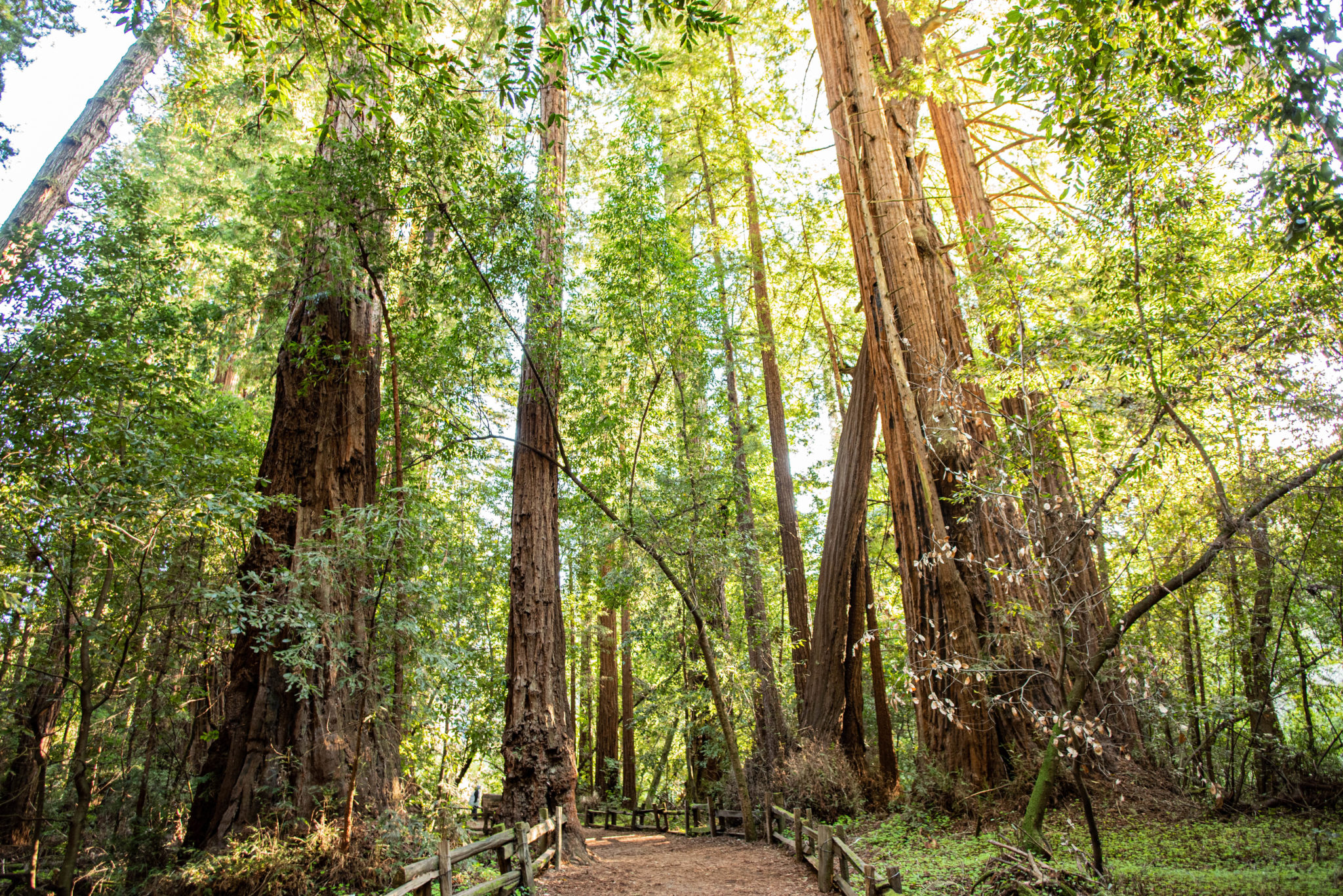 Visit a redwood grove with an audio tour, a braille brochure, or a loaner wheelchair
Near Santa Cruz, Henry Cowell Redwoods State Park protects 40 acres of old-growth redwoods, which you can visit on the Redwood Loop Interpretive Trail. This compacted gravel and firm natural surface trail loops through the redwood grove with two fascinating features: the Fremont Tree, a large redwood with an opening in its trunk that is wide enough to wheel through, and a 1,500-year-old redwood that towers 277 feet.
Suggested activities: Birding, picnicking, sitting by the river, hiking through the redwoods, interpretive programs and exhibits.
Accessible features and amenities: Audio-described tour, braille brochures, plain language brochures, loaner wheelchairs, visitor center, nature store, trails, restrooms, water fountain, campground.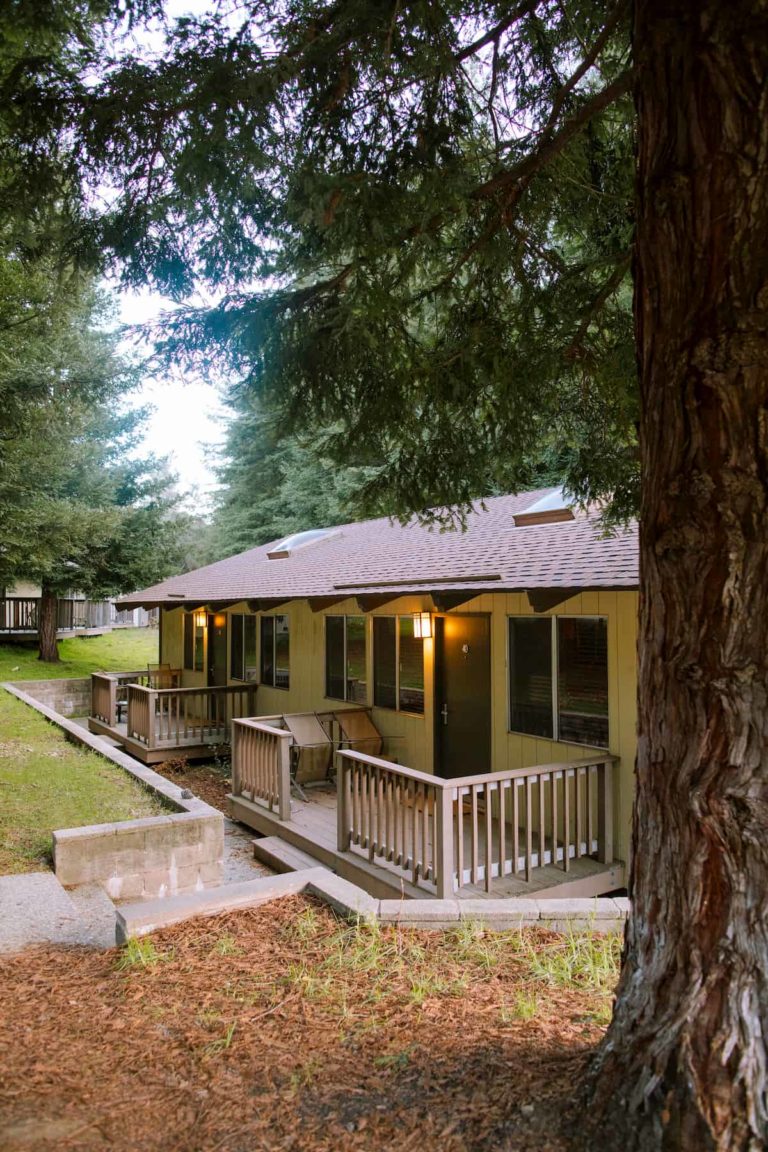 Many accessible features include a lodge
Pfeiffer Big Sur State Park sits on the western slope of the Santa Lucia Mountains, with towering peaks above the Big Sur River Gorge. It is a beautiful place for a getaway from the city, with river and forest views. There are two short accessible trails: the Nature Trail and the River Path that passes through an accessible redwood viewing deck near the Big Sur Lodge. The lodge offers an opportunity to stay in comfort in the redwoods, with 61 rooms, cottages, a café, and a grocery store. The campground has five designated accessible campsites, but the surface conditions can vary.
Suggested activities: Picnicking, camping, wildlife observation, visiting the visitor center and nature center.
Accessible features and amenities: Campsites, campfire center, lodge and café, picnic area.