If you search on Google images for "scientist," you get a lot of photos of men and women with unkempt hair, white lab coats and goggles. If you ask a child what they think a scientist looks like, they will give you the exact same description: crazy hair, white lab coats and glasses. Yet, according to Wikipedia, a scientist is "one engaging in a systematic activity to acquire knowledge. In a more restricted sense, a scientist is an individual who uses the scientific method." Why is this definition not more prominent in people's mind? Where did this narrow vision of who scientists are come from—and does it prevent people from pursuing this path as a profession?
When I was in college I had many people tell me they could never be a biology major because they wouldn't be able to deal with all the chemistry, physics and math classes it requires. I can tell you, those weren't the most pleasant classes I ever took in college, but many scientists I know don't go into the field because they love organic chemistry – they are scientists because they followed a strong passion to acquire knowledge. Often this passion stems from something that captured their attention when they were a child. For me, it was a whale-watching trip in the 6th grade; for others it was their insect collection as a kid, or their adventures while camping with their families.
Nowadays, even if you couldn't hack the biochemistry classes and didn't get a scientific degree, you can still pursue that desire to learn from the natural world. An explosion of citizen science projects has hit the public arena in the past few years. Now anyone can help with scientific research on a range of projects like counting raptors, clams, or mussels, monitoring air quality, and even tracking redwoods! Citizen science is the process of having amateur or nonprofessional scientists assist with part or all of a scientific research project. Citizen science projects not only help scientists acquire important data they wouldn't be able to get by themselves, but they engage the public in the scientific process, connect them to the natural world, and allow them to be scientists!
For those of you who wish to be redwood scientists, you can help us with our redwoods and climate change research. Through our citizen science program, Redwood Watch , we are trying to get an idea of where redwood trees grow today to determine how climate change will affect where they will survive in the future. All you have to do is: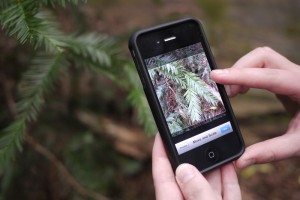 Download our free iPhone app
Visit a redwood forest
Take a picture and upload it to iNaturalist
We want pictures of redwood trees, ferns, huckleberry bushes, banana slugs and whatever other forest plants and creatures you find. All this data helps us with our climate change models. By participating in our research project you are not only assisting us with much needed data collection, but hopefully you get to look at the forest a little bit closer and become more engaged in the scientific process.
No longer are scientists just zany-haired, white-coat-and- glasses-wearing individuals, but all those with binoculars, measuring tapes, even iPhones, who have a passion for knowledge of the natural world.