It's almost summertime, which means it's time to get outside and see the redwoods! One of the best things about living in the Bay Area is easy access to redwood forests. But Muir Woods and other renowned protected spaces are not the only redwoods attractions around the bay. Here are three lesser-known redwood parks that we enjoy. We hope you'll explore them, too! All three provide a chance to experience the peace and wonder of a redwood grove within minutes of the Bay Area's cities and towns.
Wunderlich County Park
If the bustle of Silicon Valley has you in need of respite, a trip to the redwoods in Wunderlich Park is probably in order. Of the several redwood parks on the peninsula, Wunderlich, situated in the hills above Woodside in San Mateo County, is the only one that features a stately, historic stable adjacent to its redwoods. The Folger Stable, once a part of the Folger family's great estate, has been refurbished and now offers horseback riding activities in the park. For visitors less inclined toward equestrian pursuits,  Wunderlich's 942 acres still have plenty to offer. Trails ranging in difficulty traverse the meadows and second-growth redwoods. Views abound, and connections to trails higher in the hills above Skyline Boulevard allow hikers to get creative. Dogs and bicycles are not allowed. More information is available at the San Mateo Parks Department website.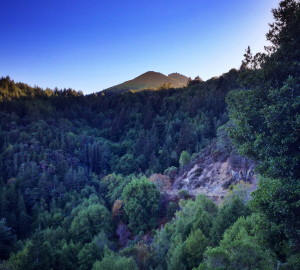 Baltimore Canyon Open Space Preserve
The serene redwood forest of Baltimore Canyon lies just a stone's throw from Larkspur in Marin County. One highlight of the 193-acre preserve is Dawn Falls, a 30-foot waterfall best viewed in winter and early spring. Year-round attractions, of course, are the redwoods, which share the forest with bays, madrones and Douglas firs. The park's trails are popular among hikers and trail runners, not least because dogs are allowed on and off leash! Views of Mount Tam and Marin are additional draws. This ground was home to some of the tallest old-growth redwoods in the region before they were felled over 100 years ago. Luckily for current Bay Area residents, a new generation of redwoods has grown up in their place. Additional information is available at the Marin County Parks website.
Redwood Regional Park
For our third suggestion, we look eastward to the hills above Oakland, where Redwood Regional Park features the largest stand of redwoods in the East Bay. Visitors treasure the park's magnificent views of the bay to the west and Mount Diablo to the east. In addition to the natural beauty of the redwoods, a variety of activities attract visitors. The 1,830 acres of parkland and nearly 40 miles of trails provide ample space for hiking, jogging, mountain biking and horseback riding. Camping and picnic areas are also available. Dogs are allowed on leash for a $2 fee. Parking costs $5. More information is available at the East Bay Regional Park District website.
Have you been to any of these parks? Do you have other lesser-known favorites? Let us know in the comments section below!