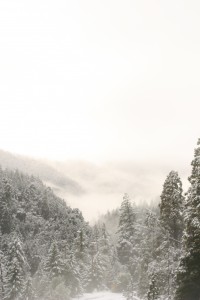 This is a joyous and peaceful time of year, whatever your belief system. It is a time when the world seems to collectively pause and remember what is truly important, whether family and friends, health and peace, or places of joy and beauty.
For me and my family, our holidays are rooted firmly in our sense of place, and our shared memories in the landscapes we love. The redwoods convey this feeling better than any place I know.
Consider starting a holiday tradition of visiting a redwood forest near you, on your own or with your loved ones, and experience the awe, wonder and majesty of the season. If you have children, there is truly no better gift you can give them than a connection to the outdoors. While they may not appreciate that gift immediately (I know I didn't!), the foundation of a healthy lifestyle, a sense of the world's beauty, and a personal stake in its care are priceless treasures.
An acquaintance with nature, a closeness with the forest, is a gift that keeps giving for a lifetime. Our redwood forests provide places of serenity and refuge, and places for joyful gathering. We are incredibly lucky to have access to such special places, many of which have been protected forever.
If our children grow up comfortable in the redwoods, they will always be able to enjoy these benefits—and someday, perhaps they'll take their own children for walks in the woods on bright winter mornings as part of their own holiday traditions.
Have you introduced your kids to the redwoods? Share your story below.
Happy holidays!