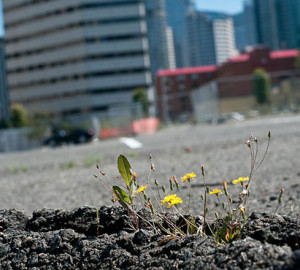 There is an empty lot just up the hill from Save the Redwoods League's office in San Francisco. The lot is fenced off, but by peering through the gaps between the slats, it is possible to get a brief glimpse of nature untended and unmanaged. Cabbage white butterflies flit between cow parsley and goldenrod. Red spires of Rumex and yellow sprays of dandelion flash bright with color against the steel and glass towers that frame the hidden garden.
Most of these species did not evolve in California. They were brought and introduced, deliberately or accidentally, and have gained a foothold in the scrappy and broken lands that wink in and out of existence as the urban tapestry is woven and rewoven around them. These are temporary communities, made up of pioneers whose seeds and wings carry them quickly and freely from place to place. They live fast and die young, and subsist on the meagerest soil. Without tending, without watering, without care or notice, an informal garden has taken root.
We think of nature in the city, when we think of it at all, as groomed and manicured – mown expanses of grass, broad and shady trees, friendly squirrels, winding paths, trains of ducklings in tight formation. Parks are a beautiful and vital part of a city – places for play and reflection, a respite and a classroom. They fit comfortably into our aesthetic. Their inhabitants are planned and familiar. But what about the other places, the forgotten places, the abandoned and unruly places?
The flowers that grow through the cracks in an old foundation teach us of resilience and patience and the power of life. The butterflies that emanate from the lot inspire delight and curiosity. The absence of a building makes for a bigger sky and brighter sun. These scruffy and unnoticed areas might not be the wild native forests of the redwood coast. But in the middle of the urban jungle, I'll take what I can get.
If you're craving a respite from your own urban jungle but can't make it out to the redwoods, then check out our live redwood forest webcam for mini (albeit virtual) vacation.