Remember your excitement and pride upon receiving your first soccer trophy?  Or an award for your 5th grade science project?  Or the spelling bee?
We at the League now feel that way upon being accredited by the Land Trust Alliance!  Since our autumn 2012 application we worked closely with LTA's Accreditation Commission and staff, answering their questions and providing additional information.
The good news is public as of July 31st:  Save the Redwoods League is an accredited land trust.  It is a select group:  nationally, only 230 organizations have earned this honor.  Commission Executive Director Tamara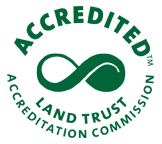 Van Ryn describes it this way:  "Accreditation provides the public with an assurance that accredited land trusts meet high standards for quality and that the results of their conservation work are permanent."
Why is accreditation important?  Land conservation has assumed a daunting task:  to protect key landscapes – places where people can play, enjoy solitude and immerse themselves, and where critters of all types can thrive – in perpetuity.  As my grandma used to say, that is a long time – forever and a Tuesday.
With accreditation comes recognition that the League has the ability – resources, processes and leadership – to succeed.  We take seriously our heritage, bestowed by our founders 95 years ago and renewed daily when our thousands of members donate money and when generous landowners donate their redwood lands, to continue to protect the redwood forests – whether in parks or other protected status – in perpetuity.
Thank you, Land Trust Alliance, for recognizing that we are worthy of this honor.  We pledge to continue to satisfy your accreditation requirements and to continue to earn the trust of our members every day, in perpetuity.