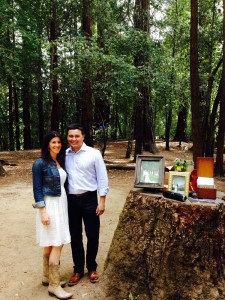 It's no surprise the redwoods inspire people in many different ways. The biodiversity of plants and animals inspires scientists, the towering red-hued trunks of the trees inspire artists, and the fallen logs and clear creeks inspire an adventurous spirit in kids. In some cases, these humbling trees even inspire love!
Last fall, I was at an event at the California Academy of Sciences talking about Save the Redwoods League. I met a friendly woman who wanted to talk everything redwoods. Redwoods were extremely special to her, and she was planning to get married in a redwood forest in the spring. A simple conversation one night about our love of the forest turned into a friendship with a shared interest in all types of outdoor adventures.
Through this friendship, I learned that she also shared this love of the redwoods and giant sequoias with her soon-to-be husband. A mutual interest in photography brought the two of them together, but their love of the outdoors and nature kept them together. They married this spring in a giant sequoia tree in Yosemite and held their wedding reception at Big Basin Redwoods State Park amongst the coast redwoods. With quotes from John Muir scattered around the tables, I was reminded of another reason redwood forests are so powerful and inspiring: they bring families together and help them develop family traditions, they allow friends a place to create lasting memories and they even bring couples together to experience love.
Those are pretty remarkable feats for a forest, but for the redwoods — the tallest and biggest trees on the planet — they're not all that surprising.
For suggestions on where to get married in a redwood forest, check out this blog from Jennifer Benito.