Most redwood parks now open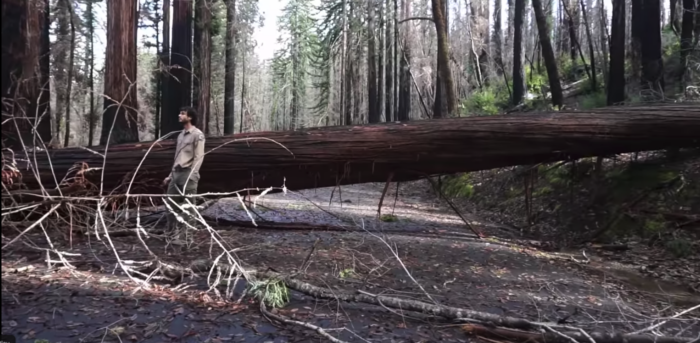 January storms that caused more than $1 billion in damages throughout California, prompting an emergency declaration from President Joe Biden, did not leave redwood parks unscathed. Coast redwood and giant sequoia parks were among the more than 100 parks closed to protect the public during the storms. While most remained closed for days or weeks following the storms to allow crews time to clear downed trees or address damage to campgrounds, trails, and other infrastructure, most have been reopened. 
There are notable exceptions, however. An 88-acre section of the Rockefeller Forest area of Humboldt Redwoods State Park experienced landslides, resulting in a handful of downed old-growth redwoods and a shifting of Mattole Road, rendering the road impassable. At Pfeiffer Big Sur State Park, a redwood fell across a new footbridge on the Pfeiffer Falls Trail, closing the path indefinitely. 
In the Sierra Nevada, landslide damage has forced the National Park Service to close Generals Highway from Hospital Rock and Giant Forest near the southern entrance of Sequoia National Park. Park officials say that there is no access to the Giant Forest or the General Sherman Tree and that visitors wanting to see the giant sequoias should visit Grant Grove instead. Check here for updates on park conditions. 
"Generally rain—big storms—is a good thing for redwoods," the League's Ben Blom told the New York Times in January. The director of stewardship and restoration added that generally the trees can handle a meteorological beating. "These trees are incredibly adapted to a whole range of different things that can happen over a lifetime."  
That said, as the storms reached their height in early January, California State Parks issued a warning to visitors to stay out of redwood forests during heavy wind and rain, as these are times when branches can easily fall from the tall trees. 
Federal, state, and local officials are still assessing the damage to redwood parks from storm damage. Such an assessment will likely evolve because it is still early in the winter storm season. Total repair costs will not be known for some time, but will likely be high. 
Statewide park closure information is available here. 
Sierra Nevada 
Calaveras Big Trees State Park is open, but some trails are closed due to heavy snow. Check here for conditions. 
North coast redwoods 
In addition to the issues in Humboldt Redwoods State Park, the coast redwood parks in Northern California experienced significant damage to campgrounds, along with downed trees. Most of the parks are now open, but some restrictions are still in place. Check on links below for more information: 
Portions of Highway 101 at Last Chance Grade, just south of Crescent City, have experienced landslides. Expect delays due to lane closures.  
Mendocino area 
Redwood parks in the Mendocino area experienced downed trees, flooding in parking lots, and trail impacts—but minimal structural damage. Officials reported four old-growth trees down: two in Hendy Woods State Park, one in Armstrong Redwoods State Natural Reserve, and another in Montgomery Woods State Natural Reserve. 
All of these parks are open, though there may be some trail and camping closures. Check these links for more information: 
Bay Area
East Bay Regional Parks closed its parks during the height of the storms, but has since fully or partially reopened them. Several trails in Reignhardt Regional Redwood Park are still closed, check here for more information.
Samuel P. Taylor State Park is fully open to the public, though parts of the Pioneer Tree Trail are still closed following an earlier fire. Check here for updates.
Santa Cruz area 
Big Basin Redwoods State Park, which recently had reopened to the public after 2020 wildfires, is closed due to extensive storm damage, and a reopening date has not been set. Portola Redwoods State Park and Butano State Park are closed as well. 
Several other parks are partially closed, including Henry Cowell Redwoods State Park (Fall Creek subunit, various trails, and parking lots closed except main parking lot at visitor center), Wilder Ranch State Park (most trails closed; historic complex and Old Cove Landing Trail open), The Forest of Nisene Marks State Park (closed beyond Winter Gate; Aptos Creek Fire Road inaccessible by vehicle between Margaret's Bridge and old slide), and the Rancho del Oso subunit of Big Basin (east side access to the Nature Center is closed. West side is open from the yellow gate to the horse camp parking lot; Marsh Trail is open from horse camp parking lot to the creek. Waddell beach parking lot is also open.) More information is here. 
Big Sur area 
Damage to trails and landslides have forced the closure of Julia Pfeiffer Burns State Park indefinitely. Check here for current information. Pfeiffer Big Sur State Park is open, but as mentioned above, some trails are closed. Campgrounds had been closed for a time, but are now open.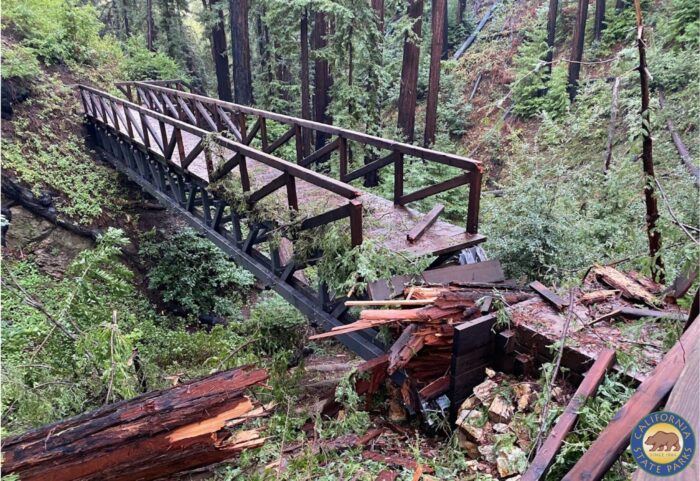 Other parks 
While redwood parks in other jurisdictions were also closed during the storms, some are still closed.