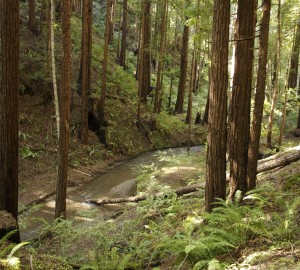 Have you seen any of the Lord of the Rings movies? My kids are totally into them, and I'll admit it, I am too! Aren't the forest scenes beautiful? If you haven't seen them, take my word for it — they are really, wonderfully, I-want-to-be-there lovely.
That's what I was reminded of on a recent hike in Butano State Park. You don't have to go all the way to the Shire to find babbling creeks, massive ferns and lovely wildflowers dotting a lush, forested canyon. There's something about the dappled light and the moistness and freshness of the air — I'm entranced every time.
For an otherworldly experience without the crowds, Butano is now where I take out-of-town visitors, rather than Muir Woods. We drive to Capitola, have lunch, and then head up Highway 1 along the gorgeous California coastline for about 45 minutes to the park. We hike any of a number of trails for about an hour or so, then it's back in the car for half an hour's ride up to Half Moon Bay for dinner as the sun sets over the Pacific — a perfect end to a perfect day among the coast redwoods.
Interested in joining a docent-led hike? Check out our events calendar to see what's going in a redwood park near you!