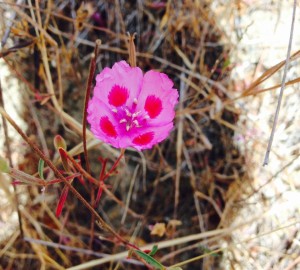 If you live in California and have a garden, then you are probably like me — trying to find plants that will make your garden look beautiful without requiring too much water. Well, look no further because I have the perfect flower for you! It's Clarkia amoena, or as the non-scientists call it, Farewell to Spring. I recently saw this gorgeous pinkish-purple flower while hiking along a grassy meadow at Roy's Redwoods, and soon learned that it would be perfect for my backyard.
Clarkia is in the primrose family and is found throughout the western United States. It is named after the famous explorer Captain William Clark of the Lewis and Clark expedition. Clarkia grows naturally in grassland areas and it's easy to cultivate in the garden.
This plant likes full sun to part shade and is drought tolerant once it has become established. It is also a native plant and bees and other pollinators love it! It will bloom in late spring and summer into the early fall; and interestingly, the flowers close at night and reopen in the morning.
Clarkia is easy to identify because it has four cup-like pedals that are pale pink to deep purple with a dark purple to reddish marking in the center. I know they definitely caught my attention when I was hiking.
So next time you are at the nursery, ask for some Clarkia seeds — they use little water, are great for pollinators, and will brighten up your garden in the summer!