Redwoods magazine Lost Coast Edition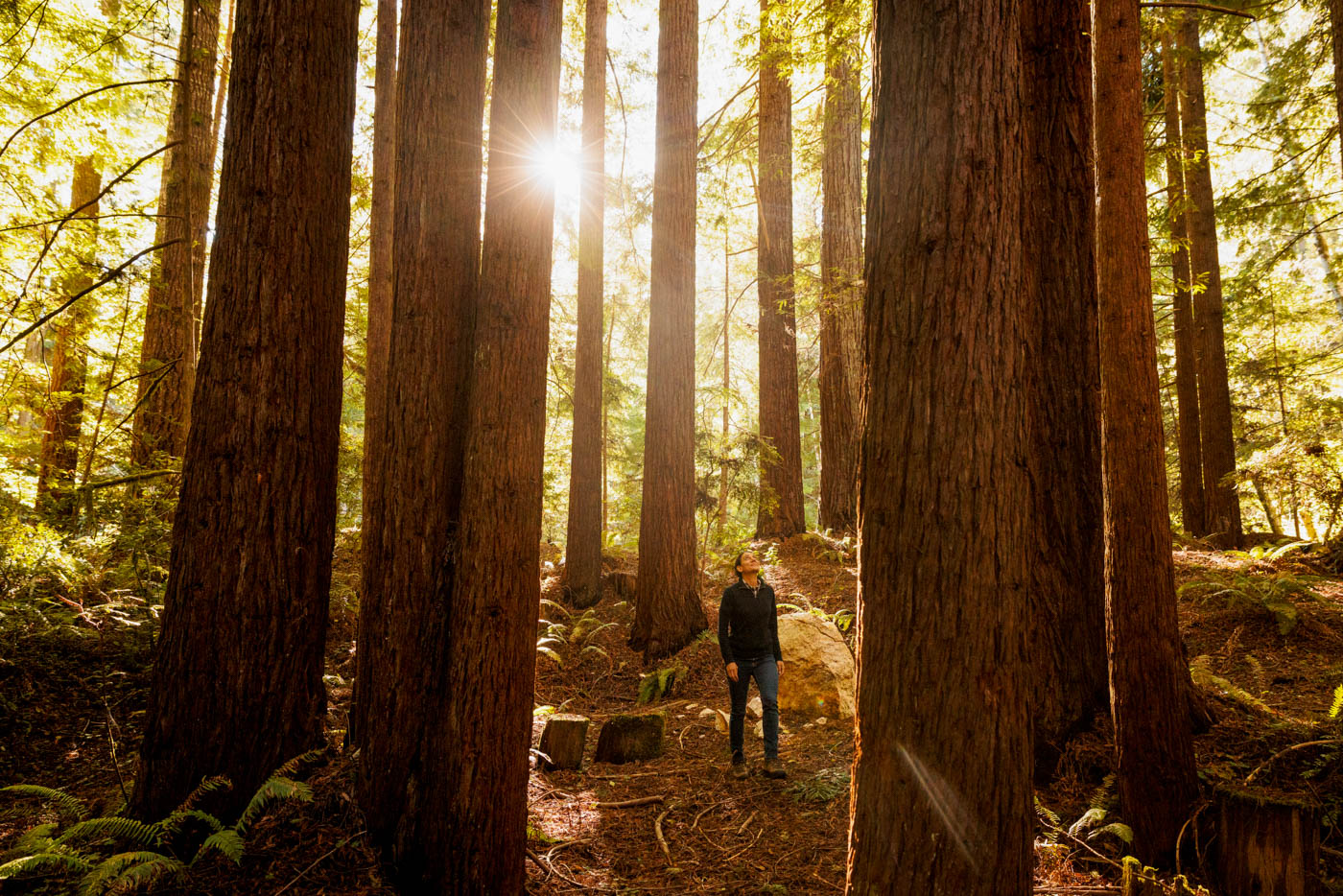 Dear Save the Redwoods League Friends,
In the summer of 2021, I took a long journey to a place called Tc'ih-Léh-Dûñ in a remote inland area of the Lost Coast. Riding in a pickup truck through dense forest along narrow, bumpy roads, I had the good fortune of spending time with Paul Robert Wolf Wilson, a young photographer and activist from the Klamath Tribes, and Jaime Boggs, a tribal citizen and council member of Robinson Rancheria of Pomo Indians and a board member of the InterTribal Sinkyone Wilderness Council. Hearing them relate across generations and tribal nations over everything from language revitalization to softball gave the drive all the trappings of a good, soul-soothing road trip: inspiring landscapes, deep conversation, and a healthy dose of laughter.
We visited a forest that Save the Redwoods League eventually would donate to the InterTribal Sinkyone Wilderness Council. The Sinkyone Council restored the original place name, Tc'ih-Léh-Dûñ, which translates to Fish Run Place. On the banks of a creek, with fingerling coho salmon darting through the waters at our feet and young redwoods rising above the tanoaks and red elderberries, we could feel the life of this forest healing itself.
As the League worked with the Sinkyone Council to restore Indigenous guardianship over Tc'ih-Léh-Dûñ, we also were pursuing a rare opportunity to protect another spectacular coastal forest in the area: Lost Coast Redwoods. This acquisition would safeguard 5 miles of the California coast and 2,250 acres of redwood forest. We would secure a maturing, fire-resilient forest storing an extraordinary volume of rapidly accumulating carbon, substantial habitat rich in biodiversity, and, prospectively, enable cultural and public access to an extraordinary stretch of the Pacific coast that had long been private.
All of us at the League were deeply inspired by the new and longtime supporters from around the globe who responded with generosity and enthusiasm for these historic projects. By the end of 2021, we crossed the finish line on both, an emphatic finale for the Forever Forest Campaign! Thanks to our incredible community of redwoods supporters, we raised well over our goal of $120 million for the first years of our centennial vision for redwoods conservation. In addition to these successes, this edition of Redwoods highlights some of our work toward that vision, from giant sequoia research to creating an incredible trails gateway to Redwood National and State Parks.
Over two arduous years, we at the League have reached the highest of highs, even while navigating the lowest of lows. We have secured monumental land protections, and we have endured COVID-19 surges and unprecedented domestic and geopolitical crises. We have found joy and inspiration in amplifying emergent voices on our I'll Go If You Go podcast, and we have lost friends and energetic leaders including San Francisco State University Professor, advocate for equity in conservation, and dear friend of the League, Nina Roberts, who recently passed. In the face of loss and continued strain and anxiety, I have found solace in our mission to protect the redwoods, healing in our efforts to restore them, and hope in the full community that finds peace and connection on the trails of their redwood parks.
We do important work together, and I thank you for your support. I hope you enjoy this Lost Coast Edition.
This feature appears in the beautiful printed edition of Redwoods magazine, a showcase of redwoods conservation stories by leading scientists and writers, as well as breathtaking photos, and ways you can help the forest. Only a selection of these stories are available online.
Join our thousands of members today for only $25, and you'll get future editions of our Redwoods magazine.