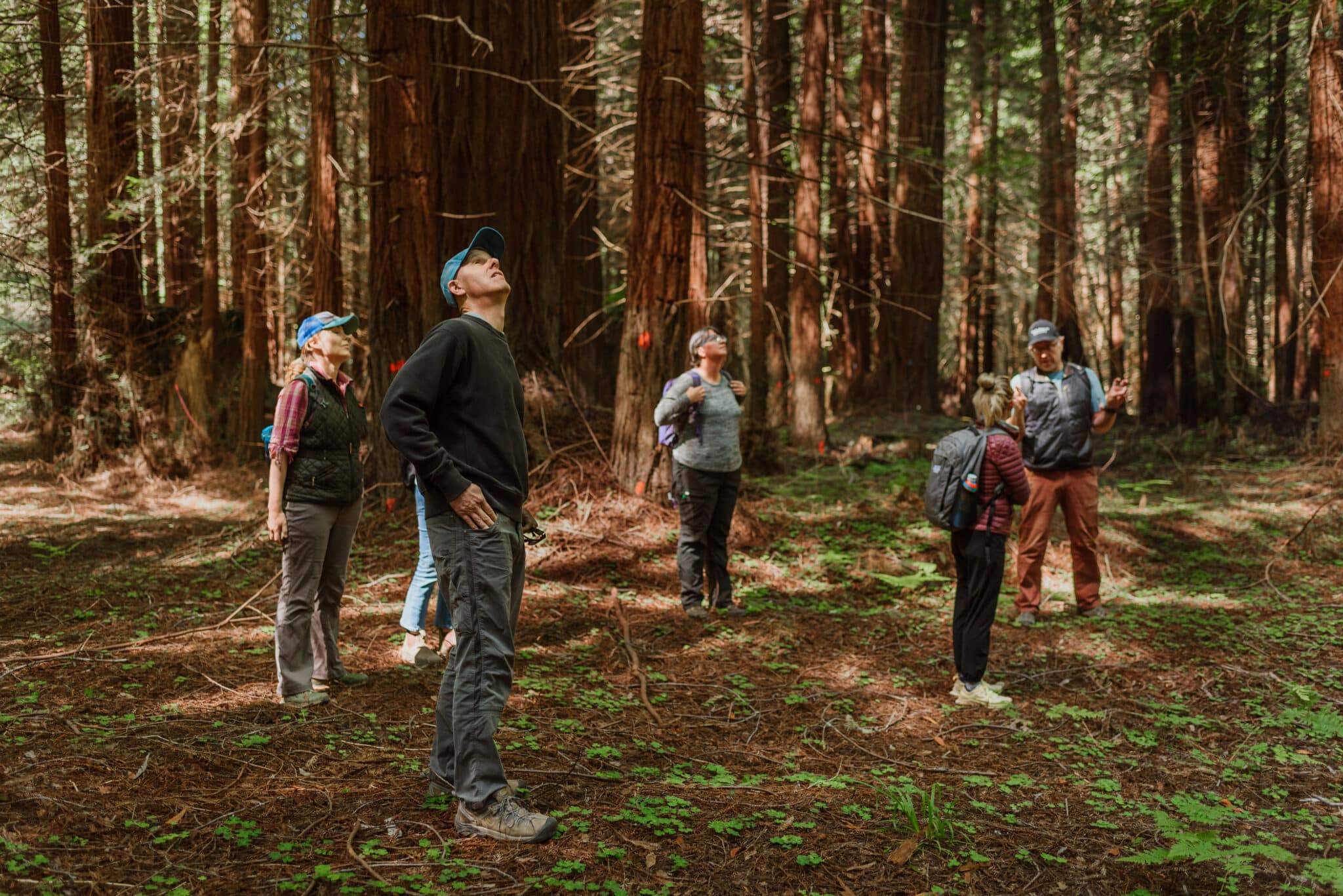 Dear Save the Redwoods League Friends,
Driving the winding road to Guerneville last July, I could feel excitement in my stomach. I was about to visit the Russian River Redwoods property for the first time. With a healthy, young redwood forest spanning a mile of the Russian River shoreline, it was clearly of high conservation value. But how would the forest look after decades under commercial timber management? Could these 394 acres of redwoods, which the League was actively working to acquire and protect, reflect our broader efforts to restore ancient forests at scale throughout the redwood range?
Stepping into the forest, my heart soared. While I admit that is not an unusual reaction for me when I walk into a forest, I could sense right away that there was something special about this place. I could see evidence of 19th-century logging in the massive stumps that dotted the understory—reminders of the days when Guerneville was known as Stumptown. But new trees had since grown from these ancient roots, carrying the same robust genetic material that once made the giant redwoods of the Russian River floodplain the stuff of legends. Crunching through the fragrant duff, I discovered sizeable redwoods that had been growing for decades, possibly even a century. This recovering forest already had an impressive head start on becoming the old growth of the future.
Research out of Cal Poly Humboldt University shows that younger redwoods can accumulate biomass even faster than old-growth trees, making them a powerful ally in our efforts to combat climate change. As California races against a ticking ecological clock, safeguarding and restoring former timberland offers one of our best chances for a sustainable, livable future. Our feature on Russian River Redwoods explores these efforts to boost climate resilience, fire resistance, and biodiversity along one of Northern California's most beloved recreation corridors—as well as the thrill of meeting the old-growth Clar Tree for the first time.
I hope this issue of Redwoods gives you that "walk in the redwoods" excitement. That our suggestions for redwoods adventures in Mendocino stir your wanderlust. That learning how the League is transforming a former sawmill site into a stunning new gateway to Redwood State and National Parks inspires you with the restorability of even our most impacted landscapes. That you feel hope and gratitude, reading about the generosity of the Esselen Tribe in sharing their traditional ecological wisdom. That you nod in understanding as our Community Voices writer describes how life-saving time in nature can be.
For many of us, a walk through an old-growth redwood forest offers a feeling of serenity and awe that is arguably one of the best experiences in the world. But I encourage you to also spend time in a new-growth forest like Russian River Redwoods. These young, resilient trees hold such promise for the future, you can't help but come away with a stirring sense of hope.
Sam Hodder
President and CEO
Save the Redwoods League
---
This feature appears in the beautiful printed edition of Redwoods magazine, a showcase of redwoods conservation stories by leading scientists and writers, as well as breathtaking photos, and ways you can help the forest. Only a selection of these stories are available online.
Join our thousands of members today for only $25, and you'll get future editions of our Redwoods magazine.