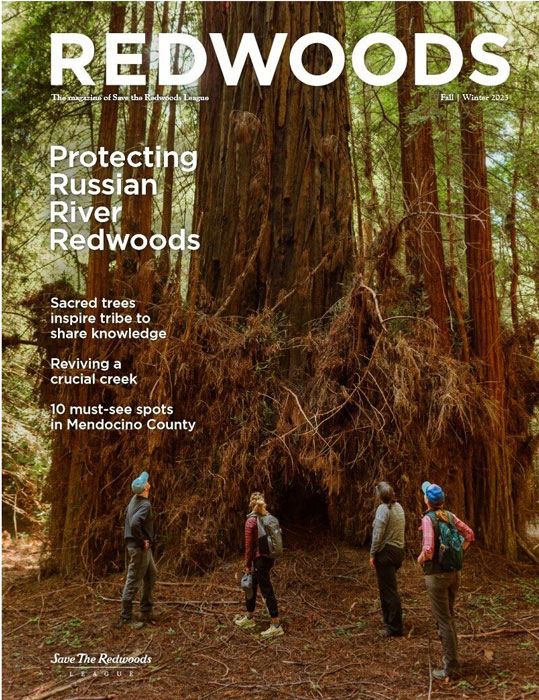 Welcome to the fall-winter 2023 edition of Redwoods
In this edition, our feature on Russian River Redwoods explores efforts to boost climate resilience, fire resistance, and biodiversity along one of Northern California's most beloved recreation corridors. We hope this issue of Redwoods gives you that "walk in the redwoods" excitement. That our suggestions for redwoods adventures in Mendocino County stir your wanderlust. That you're inspired by learning how the League is reviving a creek and transforming a former sawmill site into a stunning new parks gateway. That you feel gratitude reading about the generosity of the Esselen Tribe in sharing their traditional ecological wisdom. Redwood forests hold such promise for the future, you can't help but come away with a stirring sense of hope.
Join our thousands of members today for only $25, and you'll get future editions of our Redwoods magazine.
---
CONTENTS
---
President and CEO
Sam Hodder
Director of Communications and Editorial Director
Garrison Frost
Senior Manager of Marketing Communications and Managing Editor
Jennifer Charney
Writer/Storyteller and Editor
Kristina Malsberger
Print Art Direction and Design
Day Projects
Digital Marketing Manager
Marcos Castineiras
Digital Marketing Specialist
Caleb Castle
Since 1918, Save the Redwoods League has protected and restored redwood forests and connected people with their peace and beauty so these wonders of the natural world flourish. Your donations help us purchase redwood forests and the surrounding lands needed to nurture them; regenerate logged forests so they become spectacular havens for future generations; study how to best protect and restore these global treasures; and connect all people with these magical places.
---
CONTRIBUTORS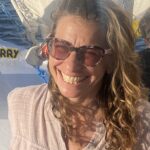 Michele Bigley's
writing has appeared in
Sierra, Condé Nast Traveler, Afar, WIRED, The New York Times, Los Angeles Times,
and more.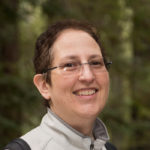 Jennifer Charney
, senior manager of marketing communications, leads the production of many Save the Redwoods League publications. She brings a lifelong love of nature to her role.
Vivian Chen
is a San Francisco Bay Area-based commercial and wedding photographer. Her work focuses on natural landscapes and genuine human connection. Photo by Sarah Deragon.
Max Forster
is a coast redwood enthusiast and photographer based in Humboldt County, California. His work has been published by
American Forests
and various online outlets.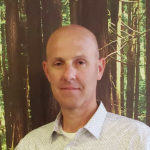 Garrison Frost
joined Save the Redwoods League in 2019 as its director of communications.
Sam Hodder
joined Save the Redwoods League as its president and CEO in 2013. He brings more than 25 years of conservation experience in California, Oregon, Washington, New Hampshire, and Maine to guide the League into its second century of protecting redwood forestland.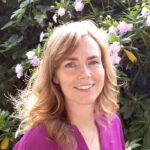 Kristina Malsberger
works to enliven the conversation around conservation as the writer/storyteller and editor at Save the Redwoods League.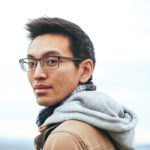 Stanley Shaw
is the former League conservation programs assistant. He enjoys combining his passion for the redwoods with his longtime hobby of photography.
Max Sovine
works at Queer LifeSpace, a San Francisco-based nonprofit providing mental health services for the queer community. Sovine also coordinates retreats at the Buddhist Spirit Rock Meditation Center.
Deborah Zierten
connects diverse communities of youths and adults to redwood forests as Save the Redwoods League's education and interpretation manager.