As the climate changes, redwood stands will likely be vital to the animal's survival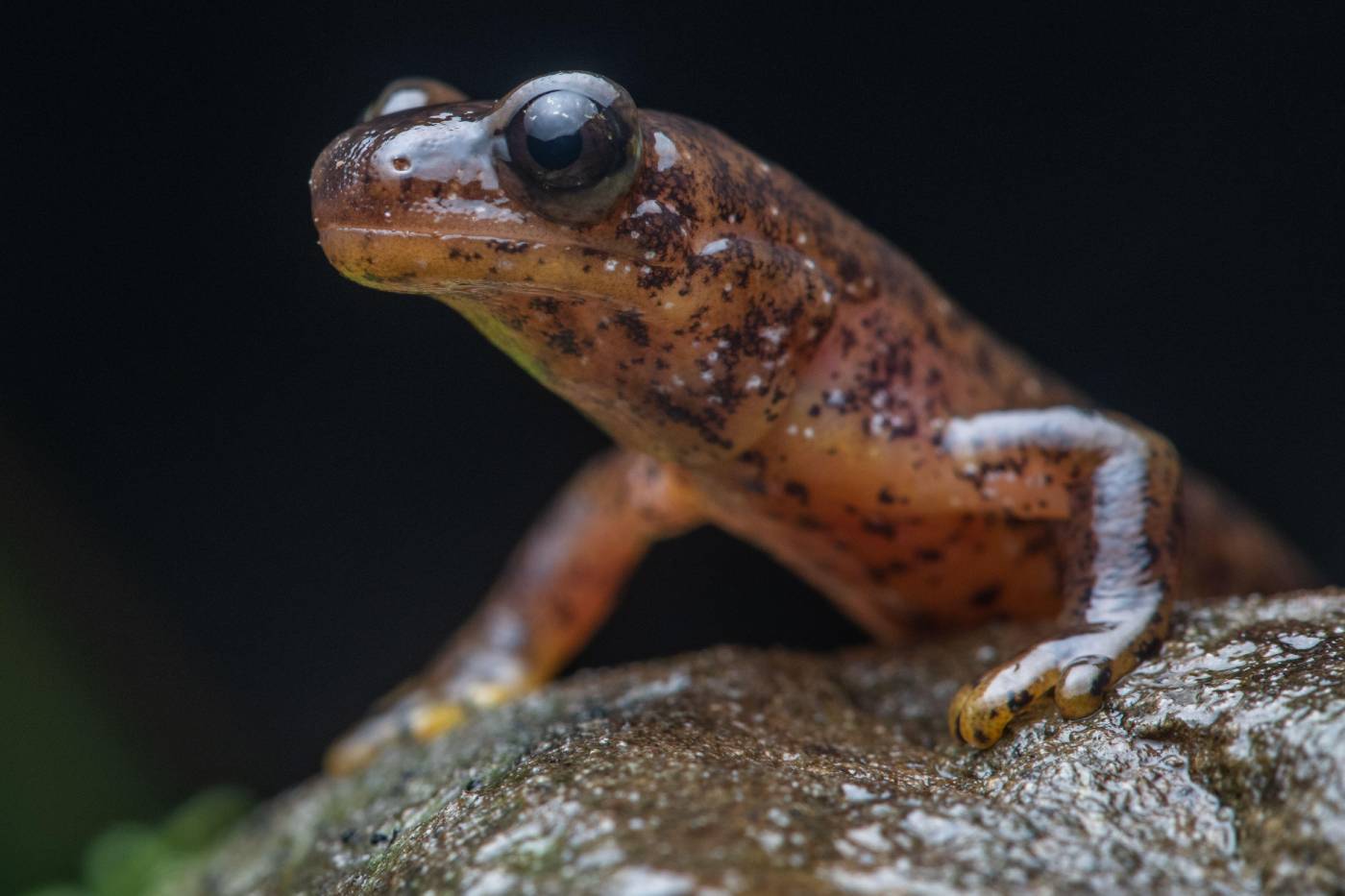 Near the jade waters of the Smith River in Redwood National and State Parks is the habitat of a small amphibian species that may depend on redwood forests as its environment changes. The southern torrent salamander (Rhyacotriton variegatus) seeks clear, cold water trickling over rocky ground near a creek's headwaters. Fewer than 3 inches long, it is mottled brown with a yellowish underbelly.
The southern torrent salamander lives only in coastal forests in Oregon and Northern California in several distinct populations, including one in redwood forests south of the Smith River. And this population may be declining.
"Of all the little salamanders, this one is the most sensitive," says Karen
Kiemnec-Tyburczy, an assistant professor at Cal Poly Humboldt. "It's very sensitive to temperature changes and sediment coming into the seeps where it lives." For these reasons, the amphibians tend to disappear once a stand is logged. Though they may eventually come back, it usually takes a while.
To better protect the redwood-dwelling population and learn more about these forest specialists, Kiemnec-Tyburczy teamed up with Gwen Bury, a postdoctoral fellow with Oregon State University, and Bruce Bury, a scientist emeritus with the USGS Forest and Rangeland Ecosystem Science Center. Save the Redwoods League funded their study. Their goals were to determine if the populations in Northern California and southern Oregon are genetically distinct from each other, and to discover which areas may be especially important habitat. Another goal was to see if there were any other new, distinct populations because previous studies had little sampling in the Smith River area.
Detecting variations
The researchers sampled salamanders in forests in and near Redwood National and State Parks on both sides of the Smith River, photographing the backs and bellies of adults and young salamanders so they could compare size, coloration, and spotting patterns. While they did not find obvious physical differences between the two populations, Kiemnec-Tyburczy says they were somewhat limited by the quality of the photos taken in the field. For this reason, her team would like to take studio "glamor shots" of salamander underbellies so they can better detect subtle variations.
For the genetic component, Kiemnec-Tyburczy compared 120 individuals across 44 sites at a single genetic marker in the salamanders' genomes. Confirming results from an earlier study, the analysis showed that the population south of the Smith River is indeed genetically distinct from the one in southern Oregon.
The next step is to expand sampling locations and do more genetic comparisons.
"One thing we hope to dig into with additional funding is to find more [genetic] markers," says Kiemnec-Tyburczy. "This would help us make the case that the Northern California group is an Evolutionarily Significant Unit." Such a designation would make it easier to manage conservation actions for the sensitive salamanders.
If logging is one potential threat, climate change is another. When the seeps salamanders inhabit dry up, the amphibians go underground, following the water. In a drier, warmer future, redwood stands will probably be crucial for these tiny forest dwellers.