Redwoods take thousands of years to grow, and as we look to the future, we recognize the importance of training the next generation of conservation leaders to continue caring for these forests. That's why we started an apprentice program this summer. Meet the Redwoods Rising apprentices who gained hands-on field experience as they helped us study and restore the historically logged lands within Redwood National and State Parks.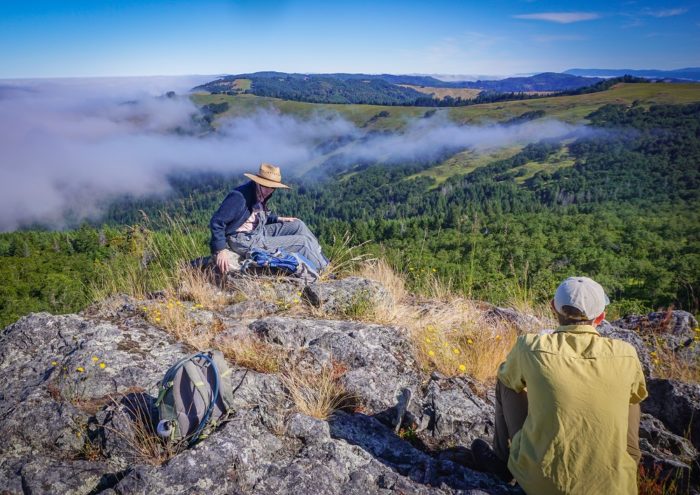 The goals of Redwoods Rising are by all accounts, ambitious. Together with the National Park Service and California State Parks, we're restoring 80,000 acres of young, densely-growing coast redwoods — about two-thirds of Redwood National and State Parks — to put these forests back on the path to their former grandeur.
This summer, we hired eight Redwoods Rising apprentices from Humboldt State University to work on forestry and botany projects in the park. The apprentices gathered baseline data to assist with restoration planning, established monitoring plots essential for adaptive management, mapped and removed invasive plants, and assessed the condition of rare plant communities.
"The apprenticeship is a great example of the Redwoods Rising collaborative," said Andrew Slack, forest fellow with Save the Redwoods League. "The League provided Redwood and National State Parks with the capacity to take on projects that have been on the back burner, and get a head of the immense planning effort that comes with realizing landscape scale restoration."
Though their summer apprenticeships are coming to a close, we're incredibly grateful for their hard work and dedication, and we wish each and every one of them the best as they continue their studies and pursue careers in conservation. Learn more about these budding conservation leaders.
---
2018 Redwoods Rising Crew Apprentices
Zachary Joseph Erickson
Born in Santa Cruz, California my earliest recollections are playing among the old-growth redwood stumps, which were castles to conquer and playgrounds to climb on. I'm now finishing my senior year at Humboldt State University with a degree in Forestry, and while I had many ideas of what I would do when I grew up, I don't know that being a forester was ever on my radar. Now, I can't imagine being anything else.
Each semester at Humboldt State I'm introduced to interesting new topics within forestry, and I'm excited to see where my degree takes me. My journey to natural resource management began as an economics major, and I seek the balance between the needs of humans and the needs of nature. Redwoods Rising has presented me with the opportunity to use what I have learned from studying forestry to actually help re-establish old-growth redwood forests. While growing big trees is a common theme in forestry, a long-term view to growing them for future generations, native fauna, and their intrinsic value is a different and exciting purpose. As a proud member of the Cherokee Nation, I ultimately hope to work with Native American tribes in the Pacific Northwest to help them achieve their land management goals.
Hanah Rolf
My passion for the redwoods began while on camping trips with my family when I was very young. One of my earliest outdoor experiences was with my father and grandmother at Humboldt Redwood State Park where I was awestruck by the towering old-growth trees that surrounded us as we hiked and explored. My love for the redwoods has not diminished since then, but little did I know that many years later I would be working to help bring back the kinds of old-growth forests that I remembered from my childhood.
I moved from my hometown of Sonoma to Arcata in the fall of 2014 to pursue an undergraduate degree in forestry at Humboldt State University. My education has given me the opportunity to establish connections with amazing students and professionals who have helped me explore my areas of interests within forestry and hydrology. Being a part of Redwoods Rising has opened my eyes to the complexity of the ecological, economic, and sociological challenges associated with forest restoration. I have a deep respect for all of the people I have worked with in this apprenticeship, and I will use this experience to further explore science-based forest management and to promote forest stewardship in my future career.
Sonnette Russell
At the age of 36, I made a life-changing choice to walk away from my job of 10 years to be the first person in my family to attend college, and to set an example for my children. Being an avid camper and hiker with a great love and respect for the outdoors, I was drawn to classes in nature and conservation and soon took my first forestry job in the Giant Sequoia National Monument, which set me on the path towards forestry that I am on today. I became an officer with the Society of American Forestry Association and graduated as the top Forestry student of my class from Bakersfield College before enrolling at Humboldt State University to earn my bachelor's degree.
At Humboldt State, I took on mentoring, leadership, and volunteer roles in several student groups and attended many conferences that have validated how important history, stewardship, and future outreach is. In 2016, I became a volunteer with the vegetation team at Redwood National Park, and then I returned in 2017 to continue working on restoration projects. For my senior thesis, I looked at physiology, growth, and immediate response to thinning in a second-growth redwood forest. Combined, these experiences have given me the skills I needed to continue to work as a forester. I will be graduating with honors soon and plan on advocating the importance of sustainable forestry as a professional. I also vow to help educate school children about the importance of outreach, leadership, and restoration to accelerate the health of our forestland and to foster future foresters.
Kate Tirrell
I spent my childhood hiking, climbing, and exploring the White Mountains of New Hampshire, which led to my deep passion for the environment. I followed that passion to California, where I am currently majoring in Ecological Restoration at Humboldt State University with minors in Forestry and Writing. I entered the field of restoration hoping to play a meaningful role in the preservation and management of our wildlands. Through my education, I have also realized the importance of reconnecting people with the landscapes that they are a part of. Ultimately, I would like to actively restore public lands while promoting environmental ethics and the importance of natural ecosystems.
I feel blessed to be a part of this large-scale restoration project with Save the Redwoods League, Redwood National and State Parks, and Humboldt State University. This is the first step in what I know will be a long and fruitful career in land management and stewardship. The Pacific Northwest has taught me so much about ecosystems and how we interact with and care for them. The diversity and uniqueness of this landscape have come to mean so much to me, and I look forward to continuing to learn and grow in the place I am lucky enough to now call home.
Imri Vasale
When I was a young child, my family would frequently venture from our home in Sonoma to the Northern Mendocino coast for weekend excursions and make annual pilgrimages to the famed groves of Sequoia National Park. I also have a particularly fond memory of my father teaching my sister and I to identify Douglas fir trees in Russian Gulch State Park. In my late adolescence, I began avidly hiking around Sonoma County, exploring its enthralling array of plant communities, and it was certainly my immersion in these wild landscapes that provoked my curiosity about their ecology and maintenance.
For several years, I pursued botanical illustration and vegetable farming, but it was after taking an introductory forestry class at Santa Rosa Junior College in 2015 that I immediately knew I had found my calling at this intersection of science, economics, application, and social responsibility. I transferred to Humboldt State University this last fall, where I have been pursuing a bachelor of science in Forestry, with a focus in resource conservation. I plan to eventually work in landscape-scale forest management, and my current interests include the resurgence of traditional ecological knowledge, low-impact horse logging operations, and community forest management. I am both ecstatic and grateful to be a part of this vital phase of data acquisition to support sound decision making in the rehabilitation of the forests within Redwood National and State Parks.
---
2018 Botany Crew Apprentices
Len Mazur
I have always had a strong affinity for the outdoors, so after graduating from high school I traveled and explored around Alaska, the Pacific Northwest, and California. Upon my return, I enrolled in community college in my hometown of Santa Rosa where I became immersed in the study of the natural world, with a strong interest in ethnobotany, California history, bioregionalism, citizen science, and the interactions between people and their environments.
In my five years with Sonoma County Regional Parks and with the county Natural Resources Department I helped create a wildlife trail camera data collection project and worked with Point Blue Conservation Science on rangeland bird, botanical, canopy recruitment, and soil profile compaction surveys. Although the bulk of my work in the natural resources field to this point has been wildlife focused, botany has always been my true passion. I recently relocated to Arcata to pursue this passion through a degree in Environmental Sciences and Management in Ecological Restoration and Botany at Humboldt State University, which is where I learned about Redwoods Rising and this amazing apprenticeship opportunity.
Kale McNeill
I grew up Arcata with redwoods in my backyard. After attending community college and College of the Redwoods, I transferred to Humboldt State University to study botany. Although I became interested in biology because I love animals, the fascinating world of plants eventually drew me in. My favorite flower is Claytonia perfoliata, miner's lettuce, because it's beautiful and tasty, and I enjoy gardening with native and non-native edible plants using permaculture practices.
My mom's work as a ranger in Sequoia & Kings Canyon National Parks inspired me to work for the parks, and I am excited to be a part of the Redwoods Rising team, helping restore these incredible national and state park lands.
Ryan Thompson
My interest and passion for conservation arose from my childhood in the Sierra Nevada, where growing up in a small town near Yosemite, I spent my childhood exploring the park and the surrounding area. Through my explorations, I grew to appreciate the Sierras' wide range of diversity, from lush meadows to alpine peaks and unique serpentine areas.
I spent two seasons as an intern in Yosemite working removing non-native fish from alpine lakes with the aquatic restoration crew, which inspired me to get a degree in Wildlife Management and Conservation at Humboldt State University. My love of the Sierras easily transferred to the coast redwoods when I moved to Arcata for school. This apprenticeship opportunity has given me extremely valuable field experience to complement my studies, and the contacts I'm making within the California State Parks and National Park Service will hopefully help me in my future career path as well.
Learn more about the League's restoration programs, including Redwoods Rising, a collaboration with the National Park Service and California State Parks to restore the historically logged forests within Redwood National and State Parks.