Partnership is helping formerly logged forest on the path to recovery
Redwoods Rising is in full implementation mode this operating season with many moving pieces including restoration work throughout the two project areas in Greater Mill Creek and Greater Prairie Creek, as well as our apprenticeship program.  At both project areas old logging roads are being removed and crews are opening up dark, dense, unhealthy second growth forests. 
Redwoods Rising is a joint project of Save the Redwoods League, California State Parks, and the National Park Service that is restoring about 70,000 acres of redwood forest that has been damaged by decades of intense logging. 
The process of road removal is also unburying stream channels that have been buried for over 50 years in Greater Prairie Creek. Unburied streams are healing and have already seen notable improvements from the start of Redwoods Rising. 
A couple of riparian restoration projects are underway this year for Redwoods Rising. At Greater Mill Creek, they worked with the California Conservation Corps to install large woody debris along Bummer Lake Creek to increase complexity and build safer winter rearing habitat for salmonids. This large woody debris project will be completed next year when additional large wood is installed up stream.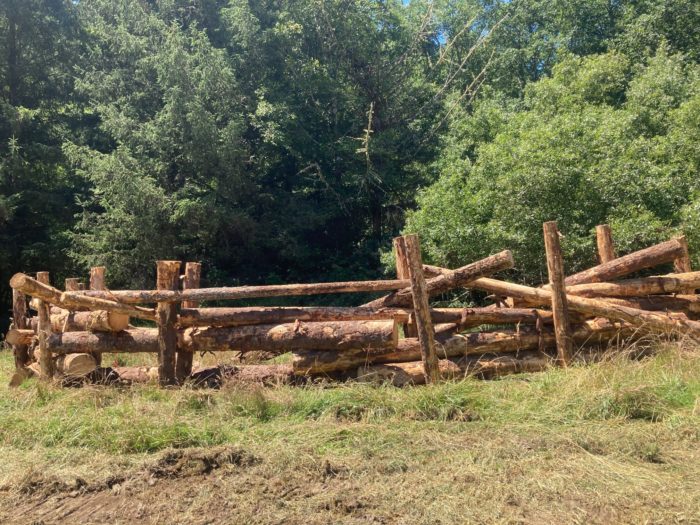 At Greater Prairie Creek, 12 large elk deterrent structures were built along the riparian area of Prairie Creek in preparation for winter tree planting. The large log fence structures will protect the freshly planted trees from elk. The spruce logs used for fencing came from Redwoods Rising's operations and were installed by the Yurok Tribal Construction Company. The tree planting this winter is to reestablish more conifers in the riparian zone for future large wood recruitment to maintain complexity within the stream channel.  
The Summer 2022 Redwoods Rising Apprenticeship has ended, but the impact from the Cal Poly Humboldt students' work will continue to advance Redwoods Rising in the future. This year there were five apprentices working throughout the Greater Prairie Creek location helping gather data ranging from stream channel surveys to mapping old overgrown logging roads. There were three watershed apprentices and two roads apprentices working alongside Redwood National Park employees. 
Watershed apprentices collected baseline data for freshly unburied streams, buried streams, open channels, and wetlands. They also field-validated streams that were in unrestored watersheds/basins. In the unrestored areas where it was applicable (i.e. streams with running water) essential stream habitat, they collected data or future analysis and planning riparian restoration.  
Roads apprentices walked old logging roads and used Avenza to collect data. They used satellite imagery from 1962 to ground truth the logging roads' locations because almost everything is overgrown, and it was not always clear that there was a road present. While walking the roads they paid attention to erosion features and labeled the roads as stable, partially collapsed, mostly collapsed, or collapsed. They also mapped each stream crossing that was installed in the 50s for logging trucks to be able to drive over. These stream crossings and collapsing logging roads buried the streams significantly reducing or eliminating optimal habitat. Through rough terrain the Roads Apprentices mapped about 20 miles of logging roads and identified 95 stream crossings in their Unit. The apprentices did an amazing job this summer and they are already missed. 
Redwoods Rising has had a busy summer and will continue to be busy through the operating season and beyond as planning begins for next year's restoration work. Seeing in-person the healing and improvement of restoration sites from several years ago is inspiring. Redwoods Rising continues to be a groundbreaking model for landscape level restoration work and will continue to learn and improve as the years go on. 
Redwoods Rising has been supported by donors to the League and its Forever Forest Campaign, as well as generous gifts from League Councilor John Scharffenberger, the Elizabeth R. and William J. Patterson Foundation, the S. D. Bechtel, Jr. Foundation, Cotyledon Fund, and Oracle. 
The collaboration is also supported by public grants from the California Department of Forestry and Fire Protection's Forest Health Program as part of the California Climate Investments Program, National Park Service, California State Coastal Conservancy, and Wildlife Conservation Board.