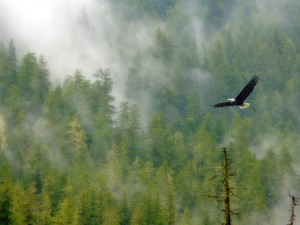 In three days (December 28th), we will mark the 40th anniversary of one of the most important and successful pieces of environmental law in our country's history – the Endangered Species Act. The Act (commonly known as ESA) protects species at risk of extinction by prohibiting "take" (killing) of these species as well as the destruction of habitat critical for their survival. While its history has been fraught with controversy, with accusations of misuse coming from both sides of the political aisle, there is little question that ESA has been incredibly effective at preserving species from extinction. In fact, 99% of species listed as threatened or endangered under ESA are still alive today, thanks in no small part to actions taken because of the law. Among ESA's greatest success are iconic animals such as the alligator, southern sea otter, and bald eagle. It is hard to imagine the American landscape without these creatures, and it is equally difficult to imagine the state of conservation without its signature legal achievement.
How does ESA matter to the redwood forest? Interestingly, redwoods themselves are not considered threatened or endangered under ESA. Despite the fact that only 5% of the original ancient redwood forest remains today, there are still 1.5 million acres of young forest, meaning that as a species redwoods are in no real danger. However, the forest does benefit tremendously from the law. One of the most wide-reaching aspects of ESA is its mandate not only to protect individual species but also "the ecosystems on which they depend." It is this commitment that allows for endangered species habitat, and not just the plants or animals themselves, to be protected. Ancient redwoods may not be considered endangered, but the forest is more than the trees within it, and old-growth forests are critical habitat for many species protected under ESA, including spotted owls, marbled murrelets, steelhead trout, and coho salmon, to name but a few. By protecting these species and the places they need for foraging, breeding, and raising their young, the forest itself has been spared many times over.
On this anniversary, let's take a moment to remember all the species still with us because of ESA: green sea turtles, peregrine falcons, bighorn sheep, California condors, grizzly bears, manatees and many more. These are the animals that define nature and wildness as we know it. By protecting these creatures as well as the lands and waters that sustain them, ESA saves not only species but nature itself.
The Endangered Species Act is a very complicated thing, and its mechanics and implementation require far more explanation than I can provide. Here are a few good sources to learn more:
The EPA's summary of the ESA:
https://www.epa.gov/laws-regulations/summary-endangered-species-act
10 Myths and Facts about the ESA:
https://web4.audubon.org/news/top10/esa_myths.pdf
100 ESA Success Stories:
https://www.biologicaldiversity.org/campaigns/esa_works/