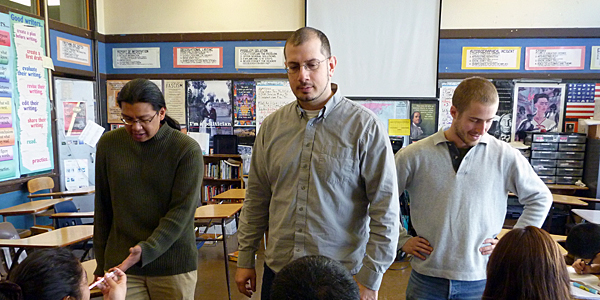 Conrad Benedicto (pictured below), Executive Director of Wilderness Arts and Literacy Collaborative (WALC) (external link), is the first recipient of the Save the Redwoods League Redwood Educator of the Year award. WALC helps underserved San Francisco high school students learn about redwoods through an integrated curriculum and extended field trips to redwood parks. Based on the quality of their redwood education program, Benedicto and the WALC team were selected from among 40 recipients of 2009 League Education Program grants.
WALC, a League education partner since 2006, received a $500 prize to enhance its current redwood education program.
WALC chooses annual themes such as "Struggling for Sustainability: Preservation, Restoration and Environmental Justice." These themes become integral parts of the fall curriculum for Balboa High School's 30-35 WALC juniors and Downtown High School's 40-45 WALC students.
"This unit uses the study of redwoods to introduce central concepts for the year and launch the study of environmental activism, focusing on efforts to protect forests throughout the world," Benedicto said.
"Almost all WALC students had never visited a redwood forest before they joined our program," he said. "This was their first time to be inspired and taught by the redwoods' beauty and intricacy."
Students conducted field studies at several parks, including Big Basin Redwoods State Park, Henry Cowell Redwoods State Park and Butano State Park. They camped at Sequoia and Kings Canyon National Park and restored habitat at Redwood National Park and McLaren Park in San Francisco, among other activities.
Students not only learned the science and ecology of redwoods, but they also were profoundly moved during the trips to the ancient forests, Benedicto said, according to the poetry and art (external link) they produced in the program.
"The WALC teacher team is honored to receive the Redwood Educator of the Year award," Benedicto said, on behalf of fellow teachers Catherine Salvin, Sherry Bass, Kenneth Gonzalez and Billy Caudy. "We are proud partners with Save the Redwoods League in conducting the crucial and joyous work of redwood education and preservation."
---