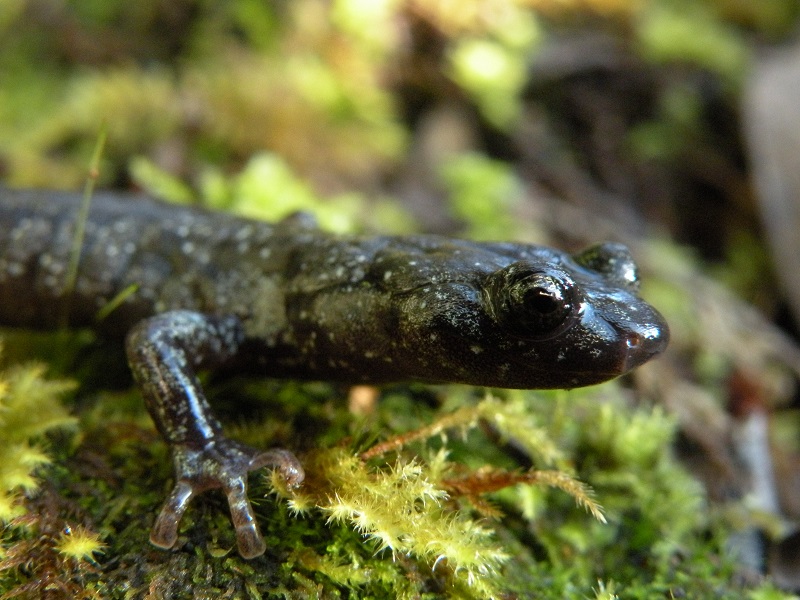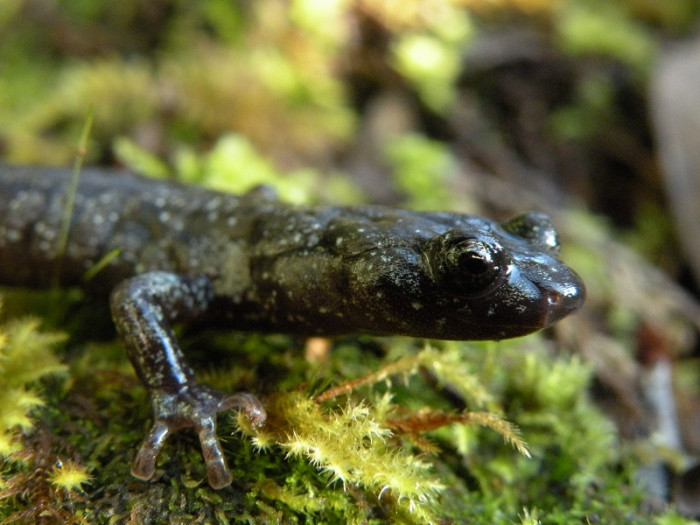 The weight of salamanders in the redwood ecosystem is greater than that of all other vertebrates collectively because there are so many of the amphibians! Predicted drier forest conditions may threaten amphibian species, said David Wake, Professor of Integrative Biology at the University of California, Berkeley. Wake and other scientists discussed the impact of climate change on redwood ecosystems at a recent Save the Redwoods League-sponsored symposium.
The January 14, 2011, Redwoods and Climate Change Symposium drew redwood forest researchers, landowners, stewards and educators to discuss the impact of climate change on coast redwood and giant sequoia forest ecosystems.
The day featured presentations by our Redwoods and Climate Change Initiative scientists and panelists on what climate change means for the future of redwood forests.
Symposium Highlights:
Healy Hamilton, Director of the Center for Applied Biodiversity Informatics at the California Academy of Sciences, showed that increased carbon dioxide concentrations have already changed coast redwood forest climate throughout the Northern California range. Her laboratory's analysis revealed that relative to baseline decades (1950-1980), fall temperature in the redwood forest has measurably increased during the past 20 years and is predicted to climb throughout the century. Warmer temperatures in the redwood forest will increase ecosystem evaporation and raise redwood tree demand for water.
Todd Dawson, Professor of Integrative Biology at the University of California, Berkeley, described how climate is recorded in the wood of redwood tree rings. Not only does the quantity of rain and fog water taken up by the trees affect tree ring growth, but these water sources leave a stable isotope imprint in the cellulose of wood produced annually. Fog frequency along coastal California has already declined over 30% in the last half century and with this new stable isotope technique, we will soon understand how changes to water availability have already impacted the growth of redwoods throughout their native ranges.
Steve Sillett, Professor of Forestry and Wildland Resources at Humboldt State University, showed how mature coast redwood and giant sequoia trees have sequestered carbon and developed complex crown structure throughout their lifetimes. To get these data, his field team climbed into the old-growth redwood forest canopy and measured the distribution of wood throughout the tree trunk and branches. Their findings show that older redwood trees sequester a significant quantity of carbon, especially in old age, by producing wood that thickens the tree trunk and branches high above the forest floor.
Mary Firestone, Professor of Environmental Science Policy and Management at the University of California, Berkeley, explained how critical soil bacteria and fungi are for nutrient cycling in the redwood forest and that microbes need moist soil to make nutrients available to the trees. Decreased fog in the coast redwood forest may slow nutrient cycling and therefore reduce nutrient uptake by redwood trees.
In our Carbon Sequestration and Implications for Forest Management panel, we discussed the role redwoods forest play in carbon mitigation. Bob Van Pelt, Adjunct Professor for the Institute for Redwood Ecology at Humboldt State University and Redwoods and Climate Initiative Scientist, explained that old-growth redwood forests hold records for forest carbon sequestration because redwoods grow rapidly and produce decay-resistant heartwood.
Phil van Mantgem, Research Ecologist for the USGS Redwood Field Station at Redwood National Park, explained that terrestrial forests collectively hold almost as much carbon as found in the atmosphere, but cautioned that drought, pests, and disease can quickly damage forests and turn ecosystems from carbon sinks to carbon sources.
Michelle Passero, Senior Climate Policy Advisor at The Nature Conservancy, described the carbon offset program adopted by the Air Resources Board in 2010 that enables landowners who promote carbon sequestration through forest management to sell carbon credits for mitigation. Chris Kelly, California Program Director for The Conservation Fund, described a case study where this carbon offset program provided approximately 30% of forest maintenance costs in Mendocino County. Mike Jani, President and Chief Forester at Humboldt Redwoods Company, explained that both Mendocino Redwood Company and Humboldt Redwood Company sequester more carbon on their land than they remove through timber operations.
The photo above shows a wandering salamander (Aneides vagrans), a species that lives on the tops of redwood trees. David Wake, Professor of Integrative Biology at the University of California, Berkeley, named the species. Photo by Dan Portik
---