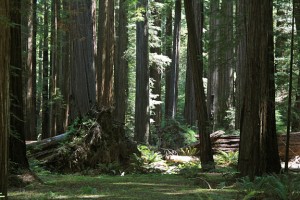 Autumn is definitely upon us, and as the colder months advance, many of us transition into "hibernation mode," enjoying some cozy indoors activities in favor of outdoor adventures. If you find yourself more in the mood for a movie and hot cocoa than a trek in the woods, you can still enjoy some stunning redwoods scenery. Did you know that several redwood parks have provided the setting for some of our favorite films? Maybe you can recognize the forests of Muir Woods National Monument, Prairie Creek Redwoods State Park, and Jedediah Smith State Park—among others—in films like The Lost World: Jurassic Park, Outbreak, and Rise of the Planet of the Apes. George Lucas also favored the redwood giants as the setting for scenes in Star Wars Episode VI: Return of the Jedi.
There are some pretty amazing shots of the redwoods in these movies. Think you can guess where they were filmed? Test your expertise with the quiz below! I'm looking forward to settling in with a bowl of popcorn on a chilly night to watch dinosaurs and ewoks among some my favorite places in the redwoods.
Match the movie and scene with the redwoods park it was filmed in. Leave a comment and let us know how you did, and which is your favorite redwoods scene!
Films:
Star Wars Episode VI: Return of the Jedi scenes, like the famous "speeder chase" scene, set in Endor (home of the Ewoks)
The Lost World: Jurassic Park forest scenes
The Lost World: Jurassic Park scene in which the Tyrannosaurus Rex pushes the motor home over the cliff
Outbreak
Rise of the Planet of the Apes
Redwood Parks:
Muir Woods National Monument
Prairie Creek Redwoods and Patrick's Point State Parks
Jedediah Smith Redwoods State Park
Patrick's Point State Park
Prairie Creek Redwoods and Humboldt Redwoods State Parks