New League staffers find community, ancient trees at Richardson Grove centennial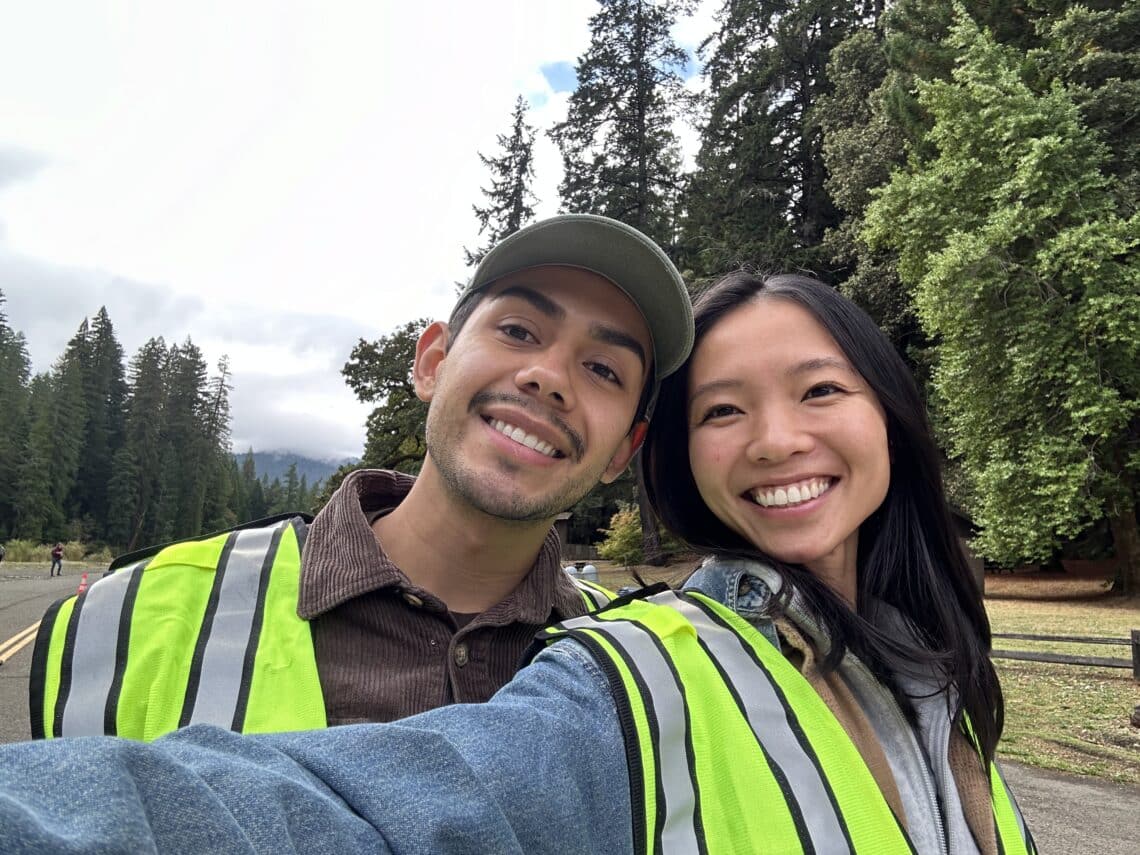 It was a classic California road-trip: Two good friends, a Taylor Swift soundtrack, scenic vistas, one flat tire. But for Sara Williams and Adrian Fausto, the journey north to Humboldt County was the start of a larger adventure—a quest to see old-growth redwoods for the very first time.
Williams and Fausto are both recent transplants to California and new staffers at Save the Redwoods League. Their respective work in HR and Finance focuses on people and payroll—not the ancient forests. But then an invitation landed in their inboxes from Leslie Parra, the League's outreach program manager. Would they want to help with a community celebration at Richardson Grove State Park, home to some of California's most impressive old-growth redwoods?
Williams and Fausto were all in.
Happy birthday, Richardson Grove!
It was a misty Saturday morning when Williams and Fausto arrived at Richardson Grove, in the ancestral lands of the Sinkyone People. The visual impact of the old-growth forest was immediate: "Even when we were in the parking lot, I was like, 'Adrian, this is so cool,'" says William. "Just seeing so many massive trees next to each other."
The two staffers quickly joined Parra and Matt Gomez, the League's senior parks protection manager, in setting up for the event—a community-focused celebration of the park's centennial.
The party soon kicked off with the unveiling of a mushroom sculpture, donated by Humboldt County artist Jennifer Amidi. Local anthropologist Ben Schill gave a rousing welcome speech, having been chosen by the Wailaki Tribe to represent them. Several Wailaki Tribal members were in attendance, as were multiple generations of North Coast families.
"It was really beautiful to see the community come together, and also see what the grove offered the community," says Fausto. Williams says she was struck by the many local families and their ties to the trees. "A lot of people told us that they go to the grove every weekend."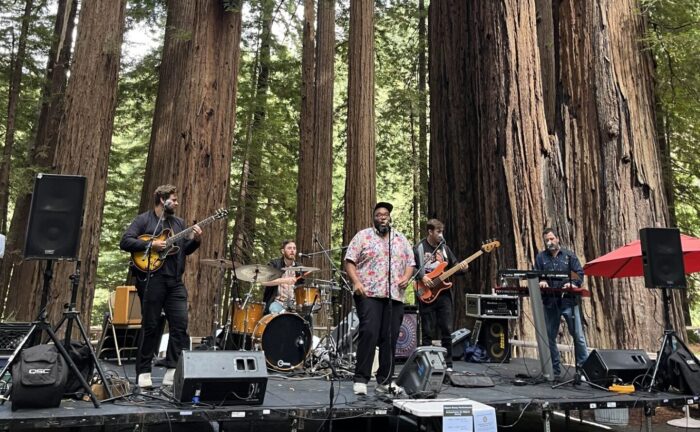 As Williams and Fausto helped pass out stickers and posters, the celebration swung into full gear, with a dunk tank, face painting, and guided nature walks in English and Spanish. A piñata, lotería game, and food truck serving tacos and other comfort food reflected the local Latine community and their connection with the park.
Soon the forest was filled with the funk and soul sounds of Object Heavy, a band based out of Arcata. "Having music in the grove really brought people together," says Williams. "People were dancing pretty much the whole time the band was playing."
"It was a party," agrees Fausto. "Just a big party."
First time among giants
As Williams and Fausto connected with attendees and shared the League's work, the big trees silently cast their spell. "I loved just looking up at the canopy and thinking, 'whoa, these are massive and I'm so tiny,'" says Williams. Originally from central Pennsylvania, Williams has seen plenty of second-growth redwoods since moving to the Bay Area in 2021. But the old growth was something else entirely. "They've been here longer than anyone now living on Earth and have withstood so much," she says. "It's just mind-blowing to me."
"It felt like home to be in the redwoods," says Fausto, a recent transplant from Provo, Utah. "Nature is huge out in Utah, and Provo is surrounded by mountains and canyons. I've never lived the urban city life, and for me it's a little chaotic and uncomfortable." For Fausto, the old-growth redwoods offered a sanctuary of sorts. "The energy the grove provided was just amazing," he says. "It was so nurturing and healing, knowing the trees have been there for so long. I felt so grounded and at peace."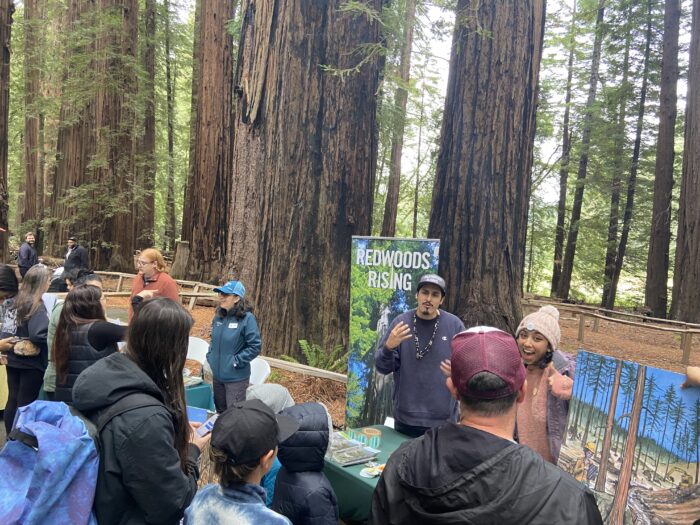 The role that Save the Redwoods League played in protecting these ancient giants back in the 1920s wasn't lost on the two staffers. "Humboldt County is kinda where the League started," says Williams. "Everything fell into place when I saw it."
It was also eye-opening to take part in the League's current efforts to connect local communities to the redwoods. "Sara and I do a lot of administrative work, so we don't get to see the actual work that happens at the League," says Fausto. "Seeing what Leslie and Matt do really painted a full picture for me. I just understood the League a little bit better."
Sweet goodbyes beneath the canopy
As the festivities wound to a close, Williams and Fausto helped hand out birthday cupcakes to guests. "We kind of got a one-on-one with everybody and had the chance to say goodbye and thank them for being there," says Fausto. "It was just amazing."
The duo said their own heartfelt goodbyes to the ancient trees, then hopped in the car for the four-hour drive back to the Bay Area. Fausto put on a true crime podcast; Williams drifted off to sleep. It was the end of their classic road-trip—one that left the two friends with a deeper appreciation for the redwoods, the League's work, and their new home state. Says Williams, "I feel like seeing the old-growth redwoods really connected me to California."