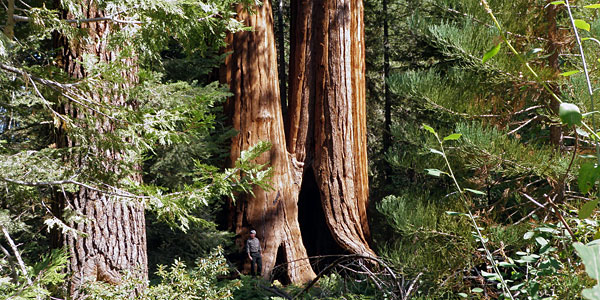 It's why Save the Redwoods League exists – giant redwoods, centuries old, up for sale by private owners. A developer or timber company has put in a bid for the property. We must be prepared to respond quickly with funding in place. Help make sure we are always ready by donating to our Emergency Projects Campaign.
Protecting Giant Sequoias
Your donations to our Emergency Projects Campaign made all the difference last December, when a 60-acre property within the Giant Sequoia National Monument became available for sale.
Our purchase helps protect the surrounding Monument, home of some of the Earth's largest trees, because the health of our forests is connected. In the same way that pollution upstream will flow down and affect the water of a town hundreds of miles away, what happens in one forest can have a direct effect on the health and survival of another.
We had to act quickly, and we did. With our Land Acquisition Fund, we completed the $300,000 purchase and are working hard to restore the land before we transfer it to the U.S. Forest Service.
Preserving a World-Famous View
A similar purchase was just made near Humboldt Redwoods State Park. The League has been protecting this park's forest piece by piece since 1921 through more than 300 transactions, safeguarding an area that has grown to twice the size of San Francisco.
Though just a half acre, this purchase sits along the spectacular Avenue of the Giants and will afford greater protection for the redwood forests you love by preventing the land from being developed.
We were able to save both of these important properties because of generous donations to the League's Land Acquisition Fund.
Once a year, we ask League supporters for special contributions to the Land Acquisition Fund during our Emergency Projects Campaign.
Every dollar of your gift will be set aside to purchase land to ensure preservation.
Real estate transactions are usually negotiated over long periods of time, allowing us to inform our members of the project and need for support. However, in some instances like the recent Giant Sequoia National Monument and Humboldt Redwoods State Park cases, vital properties become available, and we must act quickly.
If the League is not prepared to step in, others will.
That's why the Emergency Projects Campaign is so important. Contributions to the Campaign ensure that the League is always prepared to meet the financial demands of a fast-breaking acquisition.
Can we count on you this year?
Redwood forestland is expensive. Stands of giant redwoods can cost up to $55,000 an acre. Right now land is coming on the market for the first time in generations. When your contributions are pooled with those of other League members, we have the funds to act.
Donate Today
Our 2012 Emergency Projects Campaign is under way. Please respond with the most generous donation you can to ensure that the League is always ready, even on just a moment's notice, to save more redwoods. Give now.
Redwoods are unmatched natural treasures. With so little of the original redwood forest remaining, we cannot lose another grove of ancient redwoods to poorly planned development or unsustainable logging practices.