19th-century logging equipment reveals a piece of redwoods history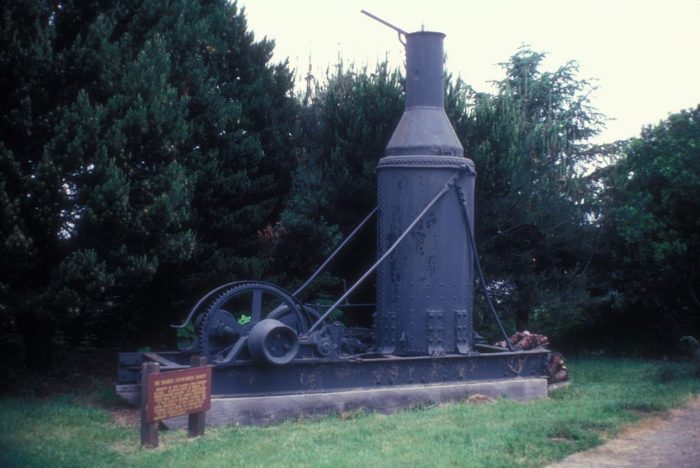 Fort Humboldt State Historic Park Brochure
Park Information
HIGHLIGHTS: This former military post on a bluff overlooking Humboldt Bay has a particular allure for local-history buffs. It was established in 1853 to help resolve conflicts between indigenous people, who lived in the redwood forests, and settlers and gold-seekers. Unfortunately, many of the 14 tribes, redwood trees and wildlife that once called the area home are long gone. The fort museum in the old hospital, the period herb and flower garden and open-air displays of 19th-century logging equipment recall the history of the local tribes, the fort and the logged forest.
ACTIVITIES: Visit the fort museum to learn about the devastating displacement of the area's indigenous tribes, including the Wiyot, Hoopa and Yurok. Take a peek inside the reconstructed Surgeon's Quarters, established as a period house museum to show what life at the fort was like in the mid-1800s. See the open-air logging displays, including the Dolbeer steam donkey (a logging engine) and two steam locomotives.
VISITOR CENTER: The park is located at 3431 Fort Avenue, Eureka, CA 95503. There's an onsite visitor center with brochures and information. The buildings are open from 8 a.m. to 5 p.m. 
CAMPGROUNDS: None.
CABINS: None.
TRAILS: The interpretive loop trail around the fort grounds is just over a half-mile long and connects to a loop trail around the logging display.
MUST-SEE UNIQUE FEATURE OR SEASONAL HIGHLIGHT: Dolbeer Donkey Days is an annual two-day event in April that showcases the logging equipment in operation and features a logging skills competition, including axe throwing, wood chopping and crafts. Every third Saturday from May through September, take a free ride on one of the steam locomotives.
HIDDEN GEM: Kids can participate in a Redwood Edventure Quest—a scavenger hunt—here and win a prize. Information is available at the Visitor Center, or go to the Redwood Edventures website.
FEATURES ACCESSIBLE TO PEOPLE WITH DISABILITIES: The museums and most exhibits are wheelchair accessible. The trail is generally accessible.
DOGS: Dogs are not allowed in buildings.
ENTRANCE FEE: Entry is free and open to the public.
MORE INFORMATION: Visit the park website or call 707-445-6567.
---
Nearby Redwoods Events
Browse all Events & Activities.
For more hikes, conservation news and redwood facts, sign up for our free enewsletter.
---