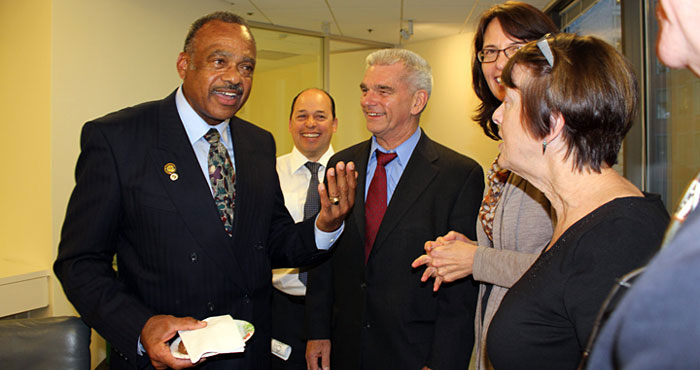 MAJOR GENERAL ANTHONY JACKSON BROUGHT GREAT ENERGY AND LEADERSHIP TO CALIFORNIA STATE PARKS. WE AT THE LEAGUE WISH HIM ALL THE BEST!
— Comment from League President and CEO Sam Hodder
SAN FRANCISCO, CA (May 22, 2014) — In just 19 months, Major General Anthony Jackson has energized and brought much-needed leadership to California State Parks (CSP). He has championed reform and helped restore trust in the California State Parks system. We are grateful for the general's commitment to a strong future for CSP, and we look forward to keeping the momentum he initiated in our ongoing collaboration with Parks Forward Commission and the dedicated leaders of CSP. We at Save the Redwoods League wish Major General Jackson all the best in his future endeavors, and we will miss him as we move forward with our shared vision.
Editors, please note: For images or to schedule an interview with Save the Redwoods League please contact Jennifer Benito at (415) 820-5814 or jbenito@SaveTheRedwoods.org.
About Save the Redwoods League
Walk through a redwood forest — home of the tallest, largest, and some of the oldest living beings on Earth—and you can't help but feel an overwhelming sense of awe and peace among these magnificent giants. Since 1918, Save the Redwoods League has led the effort to protect the coast redwoods and giant sequoias for all to experience and enjoy. To date the League has completed the purchase of more than 190,000 acres of redwood forest and associated land. For more information, please visit SaveTheRedwoods.org, or to receive monthly email updates, sign up at SaveTheRedwoods.org/signup.
---
Tags: 2014