Restoring an Ancient Landscape in a New Era
After acquiring Alder Creek, the League set out on a monumental task; doing what we can to ensure this landscape will be prepared for the current and future conditions that threaten its existence. To look to that future, we are inspired by its past.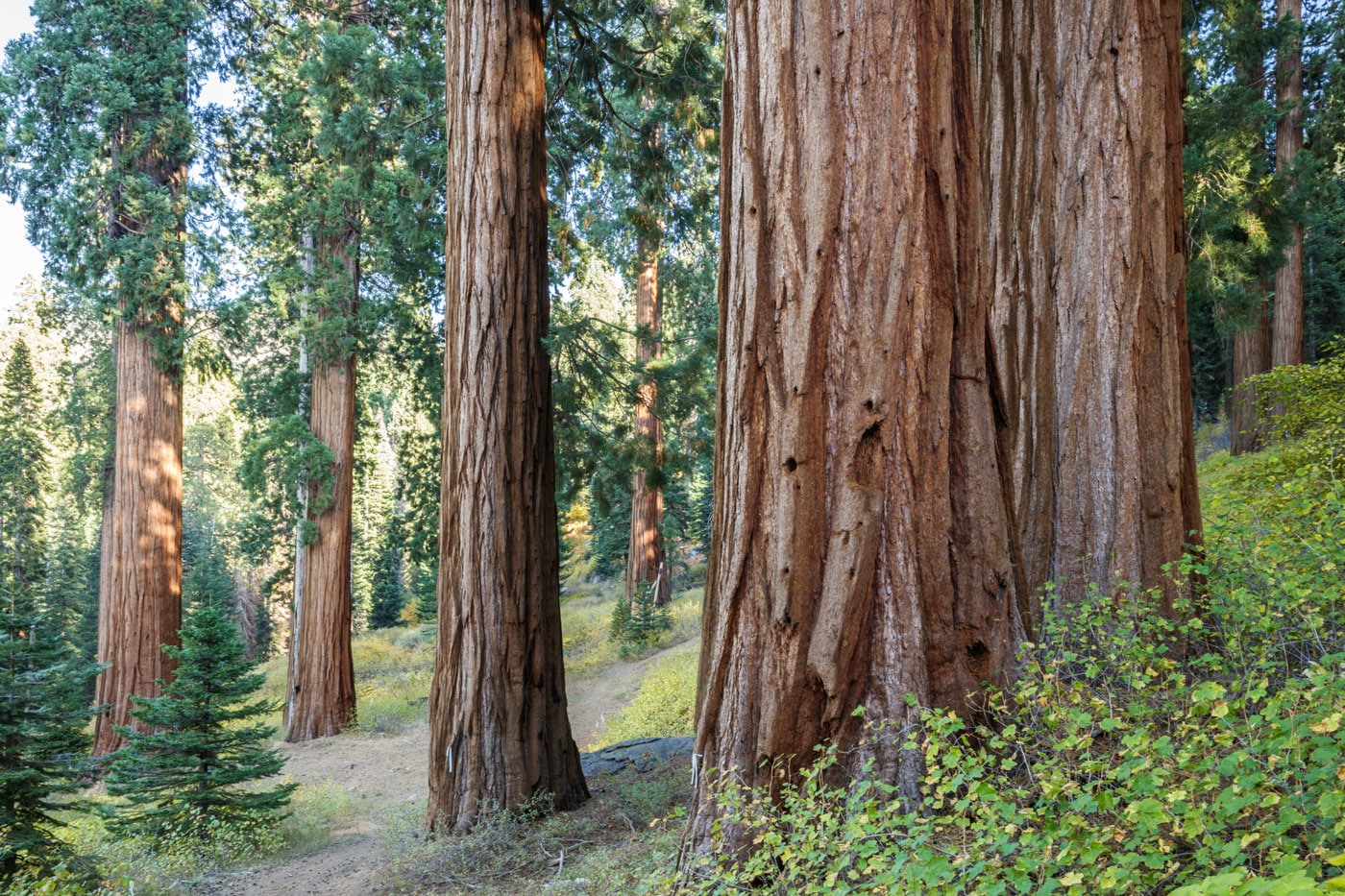 When imagining what we want this forest to look like, we start by considering what this forest would have looked like today had Indigenous peoples never been forcibly removed and their traditional stewardship practices never been discontinued and outlawed. What if land managers had never implemented policies to extinguish frequent, naturally ignited wildfires (i.e., fire suppression)? What if these forests, which include some of the oldest and biggest trees in the world, were never logged? The answers to these questions provide the compass for our work.
With the removal of Indigenous stewardship and the exclusion of wildfire, the characteristics of giant sequoia groves, and mixed conifer forests more generally, have changed in innumerable ways. Based on previous research in the Sierra Nevada, historic forest structure varied greatly across the landscape; however, tree density was much lower with an intact fire regime compared to modern dry mixed-conifer forests.
This is true at Alder Creek. High tree density was a potential contributor to the areas of Alder Creek that burned at high severity in 2020, and it's a remaining danger to the areas that have not recently burned. A significant amount of that increase in density is represented by white fir and other shade-tolerant species — trees that prefer denser forest without much sunlight that reaches the forest floor. These trees are generally considered contributors to severe wildfires because they can act as ladder fuels that allow fire to reach the crowns of giant sequoias. Under an intact fire regime, many of these shade-tolerant trees would have routinely been thinned by natural lightning fires or Indigenous cultural burning. The increased density is also connected to rapid spread of insect and fungus outbreaks and has decreased the ability of trees to survive prolonged drought.
These conditions, when combined with the impacts of climate change, have caused an unprecedented loss of old-growth sequoias throughout the Sierra Nevada since 2015. Giant sequoias are in a fight for their lives. The League is committed to doing all we can to create a refugia for giant sequoia and other threatened or endangered flora and fauna at Alder Creek.
---
Objectives
Some of our objectives to restore Alder Creek to a more healthy and resilient forest include the following:
Decrease the number of shade-tolerant species of trees such as white fir and incense cedar
Create openings in the forest that allow more sunlight to reach the forest floor, conditions that favor growth of sequoia, sugar pine, and ponderosa pine and creates habitat diversity for all flora and fauna
Decrease the likelihood of fire traveling from the forest floor to tree canopies by reducing the density of small trees and pruning tree branches of small trees that remain
Preserve dead and living trees that provide valuable habitat for birds, raptors, and small mammals
Promote diversity of understory vegetation, and preserve downed logs that provide valuable wildlife habitat
Reduce understory fuel to lower the potential for high-severity fire
Improve forest conditions to promote a resilient forest structure, increase water availability, and accelerate carbon sequestration
Restore a more natural tree species composition and density, which has been altered due to fire suppression and historic logging activities
Promote a mature forest by reforesting areas of the property that have been severely impacted by high-severity wildfire to promote a mature forest
Reintroduce fire through carefully applied prescribed burning and set conditions to allow for the repeated application of fire.
This work is carefully guided by the best available science. The League has and will continue to collaborate closely with Tribal partners, particularly the Tule River Tribe, to incorporate traditional ecological knowledge into forest stewardship and restoration work at Alder Creek. Forest restoration in the areas severely impacted by the Castle Fire started in 2021 and will begin in other areas in 2023.
---
Tags: Alder Creek