In the northernmost reaches of California's coast redwood range is a lush ancient redwood forest that has captivated visitors for nearly a century: Jedediah Smith Redwoods State Park.
In this complex, multi-layered 10,000-acre rainforest (one of the wettest places in the United States), trees of epic proportions reach for the sky, many of them more than 300 feet tall. Part of Redwood National and State Parks—a UNESCO World Heritage Site that protects 45% of the world's old-growth redwoods—Jed Smith contains 7% of the remaining old-growth forest, including the Grove of Titans.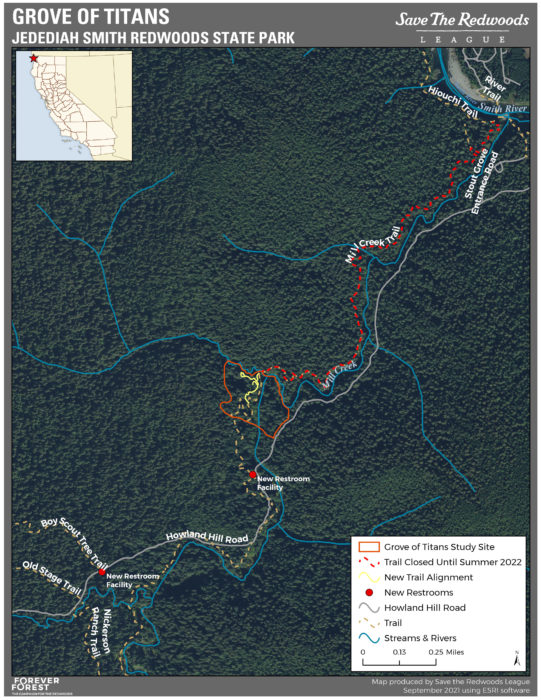 In November 2018, Save the Redwoods League partnered with California State Parks, the National Park Service, and Redwood Parks Conservancy to develop an enhanced, ecologically sound visitor experience at Grove of Titans. As of September 2021, the first mile of the renovated Mill Creek Trail has been reopened to the public, providing limited access to the new boardwalk through the Grove of Titans while construction on the Mill Creek Trail continues.
Known for generations by Indigenous people of the area, including the people of the Tolowa Dee-ni' Nation whose traditional lands encompass Jed Smith, the primeval Grove of Titans remained hidden for thousands of years. Researchers from Humboldt State University came upon its giant trees in 1998 and gave the grove its name. The researchers kept the location secret, but adventure enthusiasts eventually found it and shared the GPS coordinates online in 2011.
With visitors suddenly flocking to the area, hikers would venture off the park's designated trails in search of the behemoth trees, creating unofficial social trails across the landscape. By 2016, approximately 8,000 square feet (the size of 1 ½ basketball courts) of sensitive understory plants and fungi had been trampled. Tree roots have been exposed, and soil has been heavily compacted, which can cause soil erosion and corresponding runoff that can affect coho salmon and steelhead trout spawning habitat in Mill Creek. The creek flows into the Smith River, known as Nii~-li~ in the Tolowa Dee-ni' language.
Park managers, conservationists, and researchers had long been concerned about the risks of significant damage to this place and disturbances to wildlife and ecosystems. To address the issues, the first mile of Mill Creek Trail has been renovated, and it features a new, official boardwalk through Grove of Titans. The new elevated walkway is 1,300 feet long and it provides ecologically conscious access to the sensitive area. The remaining 2 miles of the Mill Creek Trail will be renovated and remain closed until early summer 2022.
ADA-accessible parking and restrooms were added along Howland Hill Road. Interpretive exhibits will be installed in fall 2021 to educate visitors about the habitat and trail use. Interpretation was developed in consultation with the Tolowa Dee-ni' Nation to illuminate the Indigenous history of the area and present-day relationships that Tolowa people have sustained with these lands since time immemorial.
Save the Redwoods League contributed $1,706,746 toward the Grove of Titans project, including a generous dollar-for-dollar challenge grant in 2018 from supporter Josie Merck of Connecticut. The project was also funded by $875,000 from California Natural Resources Agency through Prop 68, the Parks, Environment, and Water Bond Act of 2018; $762,600 in in-kind support from all partners; and $170,000 from Redwood Parks Conservancy donors.
This project fulfills the League's Centennial Vision objective of ensuring that redwood forests are understood and embraced as critical elements of California's identity. By strategically upgrading recreational, educational, and interpretive infrastructure in one of the oldest redwood groves in the world, we and our partners are providing a magnificent, ecologically conscious redwoods experience that can inspire a deep sense of connection and stewardship of our iconic forests.
The League's Redwoods and Climate Change Initiative (RCCI) found that two plots in Jedediah Smith hold 2,090 and 2,160 Mg aboveground carbon per hectare; this forest, among other coast redwood forests, stores more carbon per acre than any other forest type in the world. Old-growth trees in the park, including those in the Grove of Titans, help the forest store about 1,000 tons of carbon per acre aboveground.
As a surviving grove of the ancient redwood forest, the Grove of Titans can provide a model for protecting other ancient stands and accelerating old-growth characteristics in younger redwood forests so they can reach their carbon-storing potential for future generations. Research at the grove is ongoing.
---
---
PRESS RELEASE
---
NEWS
Pedfire: Explore giant redwoods in California's Grove of Titans
June 2022
LA Times: This secret hike through California's giant redwoods will take you to another world
June 2022
Tourist Meets Traveler: Explore Grove Of Titans Redwoods On A New Boardwalk In California
June 2022
True Viral News: A new way to explore California's Grove of Titans
June 2022
North Coast Journal: Protecting the Titans: New Trail Provides Safe Access to Ancient Grove
May 2022
FunCheapSF: Brand New 1,300 Foot Long Boardwalk Through the "Grove of Titans" Redwoods; Social-media-famous NorCal redwood grove damaged by visitors reopens with new elevated boardwalk
May 2022
GoldRushCam.com – Sierra Sun Times: Grove of Titans Trail Project Completed, Providing Access to Some of the World's Largest and Oldest Redwood Trees in California
May 2022
SF Gate: You can now visit the secluded Grove of Titans in the Redwood National and State Parks
May 2022
Outsider.com: Redwood National and State Park Visitors Can Now Access Some of the World's Tallest and Oldest Trees Thanks to Completed Grove of Titans Trail
May 2022
KTLA 5 Live: Famed California redwood grove damaged by visitors reopens with new elevated boardwalk
May 2022
Los Angeles Times: Once-trampled (and secret) Grove of Titans redwood stand in Northern California reopens
May 2022
San Francisco Chronicle: Storied California redwood grove 'almost loved to death' reopens this weekend, with new boardwalk
May 2022
Mail Tribune: Oregon Outdoors: Grove Of Titans Part 1
May 2022
Porterville Recorder: Devastation of Alder Creek Grove shows need to manage forest
May 2022
For media inquiries, contact Robin Carr at (415) 766-0927 or [email protected].
To access hi-res images, broll or drone footage of the Grove of Titans, please visit our media resources page.
---
Tags: Grove of Titans, Jedediah Smith Redwoods State Park, Land Project