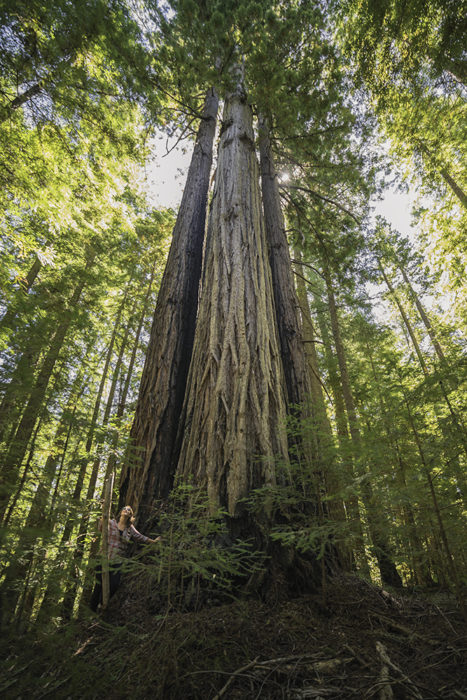 Nestled in the wooded hills along the
Sonoma coast
lies a hidden wonder that has remained largely untouched for thousands of years —
730 acres of pristine forest
known as McApin Ranch. These are the
tallest and biggest ancient redwoods
outside parks in Sonoma County, rising as high as a 25-story building from a lush, magical forest rich with wildlife.
This large, complex forest a three-hour drive north of San Francisco includes old-growth groves among younger forests that are equally important to the redwood ecosystem. Many of the trees have goose pens (big hollowed-out openings at the trees' bases caused by fires), as well as thick, gnarly bark. These and other features can sustain all manner of wildlife, including the imperiled northern spotted owl, the Townsend's big-eared bat, salamanders and the imperiled marbled murrelet, a seabird that depends on large redwood boughs for nesting.
McApin Ranch has stood as a refuge because the owners refrained from clearcutting and did not allow harvesting of old-growth trees on the ranch. Thanks to their legacy of protection, McApin Ranch is now a refuge for the largest and tallest trees growing outside a park. Protecting McApin Ranch is the highest priority for the coast redwood range, according to the science-based Vibrant Forest Plan by Save the Redwoods League.
In addition to more than 1,450 ancient trees, the property features Haupt Creek, a fish-bearing stream and tributary of the Gualala River. Once protected, the grove will be open for public access with new hiking trails so you may experience this magical forest yourself.
---
Ancient Redwoods Face an Uncertain Future
McApin Ranch is now for sale, its owners intending to finalize a deal by December 31, 2017. The League must act now to raise the funds needed to purchase the property before the year is out.
Together, with the help of other funding partners, we'll secure a safe future for McApin Ranch's old-growth redwoods — the desired outcome that the League and McApin's current owners share.

Triple Your Impact
Recognizing the urgency of this situation, two of our longtime supporters have come together to offer and 2-for-1 match. Inspired by this once-in-lifetime opportunity, Pete Mattson has made a $1 million challenge with an irrevocable gift from the Mattson Family Conservation Foundation. Equally inspired, an anonymous donor has made a $1 million gift and pledged to give another $1 million if we can match this gift dollar for dollar.
With help from generous supporters like you, our matching grantors and other funding partners, Save the Redwoods League will be ready to protect McApin's old-growth coast redwoods now and for future generations.
---
A Forest for the Future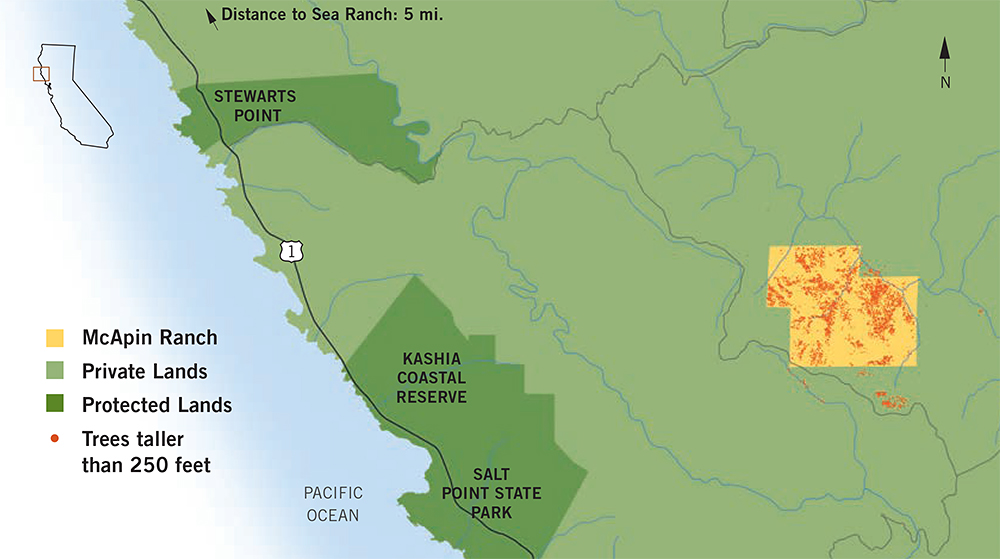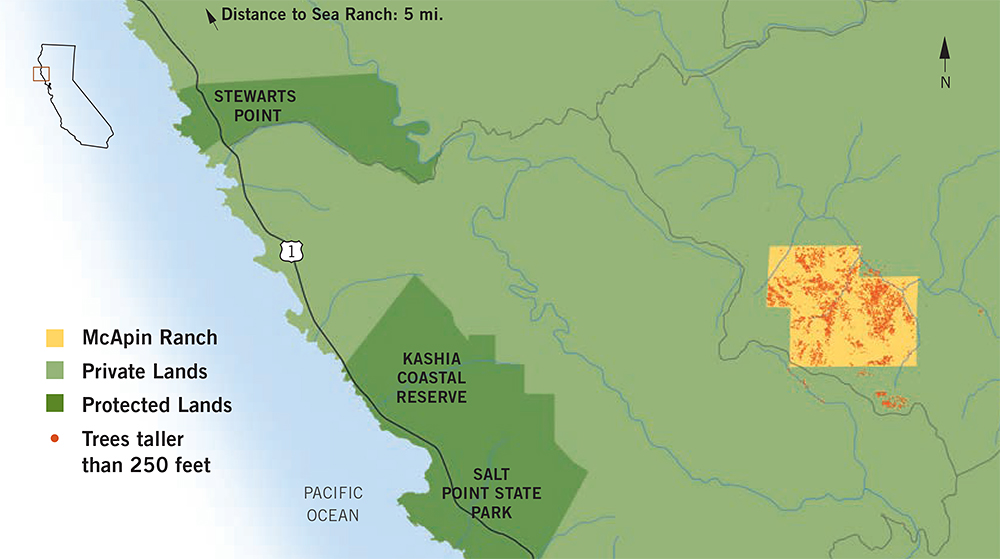 The trees in this inland redwood grove thrive outside the coastal fog belt and are
crucial to the continued survival and success of redwood forests
as the climate changes.
Wildlife that depends
on big, old trees dwells here.
The League aspires to open this incredible, primeval landscape to the public. By establishing hiking trails within the property, we hope to inspire redwoods enthusiasts and conservationists for generations to come.
"It's time for this long-hidden old-growth redwood grove to be permanently protected and become part of a network of redwood reserves providing recreation, water and clean air for the benefit of all," said Sam Hodder, League President and CEO.
Help us protect McApin's giants with your generous gift today, and your gift will be matched 2-for-1!
"When I heard about the situation with these redwoods, I had to act, and act quickly with a big heart to save them. Just think what is at stake: We who live only about a century can save hundreds of trees that have lived thousands of years!  For dozens of generations into the future, these awesome trees will continue to grow and be loved by others." –Anonymous challenge donor
---
Tags: 2017, current, Land Project, McApin, sonoma coast, Sonoma County