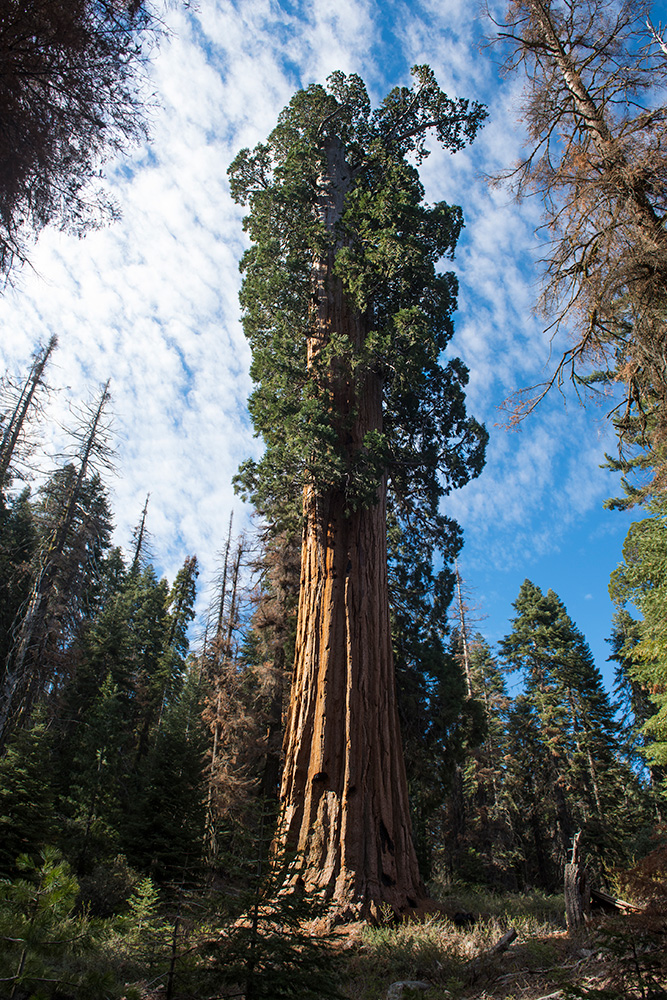 A hidden world lies about a four-hour drive northeast of metropolitan Los Angeles, a world of pristine rivers, lush forests, meadows spangled with wildflowers and ancient giant sequoia so immense and majestic that they take your breath away. This is Red Hill, a 160-acre property that contains 110 magnificent ancient giant sequoia. This forest is one of the world's last unprotected giant sequoia properties. Owner and conservationist Michael Nicholas has decided to sell Red Hill to the League to ensure the permanent protection of this family legacy.
Nicholas and his family have managed the property like a reserve for about 50 years. It was never logged commercially, and removal of non-sequoia trees was only undertaken to reduce wildfire risks and assure the vitality and security of the ancient trees. The grove is in spectacular condition as a consequence, with a number of young giant sequoia trees and critical habitat for many imperiled species, including the Pacific fisher, Sierra marten, California spotted owl, northern goshawk, and mountain yellow-legged frog.
Red Hill is private property within Giant Sequoia National Monument that is closed to public. This monument is the heartland for giant sequoia, the biggest trees on the planet. At 328,000 acres, the monument is a scenic, recreational and scientific treasure of incalculable value, and a key component in the long-term conservation strategy for all giant sequoia and the suite of associated imperiled species that coexist with them.
Completion of the Red Hill project is among the key goals in the League's recently released Centennial Vision for Redwoods Conservation. The Vision describes plans to address the findings of the League's first-ever State of the Redwoods Conservation Report, which details today's most pressing challenges for these iconic forests.
Among the findings in the report: The overall state of giant sequoia conservation warrants caution. In contrast to coast redwoods, giant sequoia groves in the rural Sierra region were largely spared the magnitude of the destructive, early logging. However, logging did impact approximately one-third of the total forest footprint and was acutely destructive to several sequoia groves, including one of the largest, Converse Basin. The vast majority of remaining giant sequoia groves are held in public or tribal ownership, with only 1,200 acres privately owned today. The long-term climate change trend of Sierra snowpack reduction, in combination with warmer temperatures and widespread pine, fir, and cedar tree mortality from drought and pests, is greatly increasing the risk of severe fire and threatening the giant sequoia ecosystem.
---
The Plan to Save These Rare Wonders
Save the Redwoods League is seeking to raise $4 million from private sources by June 25, 2018, to acquire Red Hill and enhance its forest conditions and its climate and fire resilience. Eventually, the League will transfer Red Hill to the US Forest Service for permanent protection as part of Giant Sequoia National Monument and Sequoia National Forest.
By acquiring and eventually transferring the property to the Forest Service, the League will ensure that the National Forest can manage the property for its long-term survival in coordination with the monument's general plan, which prioritizes protection of giant sequoia, wildfire risk reduction, watershed protection, habitat enhancement for threatened species, and recreational opportunities. These goals also conform to the priorities of the Tule River tribe, which owns adjacent lands.
This project has garnered wide support from conservationists, local communities, and public officials, including the US Forest Service, The Conservation Alliance, Sierra Nevada Conservancy, California Department of Fish and Wildlife, and Sequoia Riverlands Trust.
After the League transfers Red Hill to the Forest Service, we estimate that the public will be able to enjoy this wonderland by 2021.
---
You Can Save Red Hill; Your Gift Will Be Matched
With your help, we'll protect Red Hill's giant sequoia forever. The League's total investment in the property includes the purchase price of $3.3 million and $700,000 for project costs and stewardship activities. In time, the League intends for the National Forest to acquire the property with support from the Land and Water Conservation Fund as an addition to Giant Sequoia National Monument. Meanwhile, and to ensure that the League has the funds to complete the purchase, an anonymous donor has agreed to match all gifts made by June 25, 2018, up to the purchase price. Please help us close the deal, and have your gift go twice as far to safeguard our remaining old-growth sequoia.
Help Seize a Rare Opportunity
"Giant sequoia are the largest and among the oldest living things in the world, standing in scattered groves along the western slopes of California's Sierra Nevada," said Sam Hodder, League President and Chief Executive Officer. "Ninety-eight percent of those acres are protected in public ownership. Red Hill is a substantial part of that last 2 percent. With this acquisition, we have a rare chance to permanently protect a truly ancient forest with trees over 1,000 years old. The purchase of Red Hill will allow us to take a significant step toward the League's vision of 100 percent protection for the giant sequoia. But we can't do this alone. In the coming weeks, we will need the help of our supporters and the conservation community to make this vision a reality."
---
Frequently Asked Questions
---
Fun Facts
The Red Hill property contains almost 10 percent of the world's privately owned giant sequoia.
Transfer of the Red Hill property into Giant Sequoia National Monument will ultimately provide public access to 110 giant sequoia, by most assessments, some of the largest, oldest and most magnificent trees in the local forest complex.
Red Hill is about a four-hour drive northeast of metropolitan Los Angeles, a convenient destination for most Southern California urbanites.
The Red Hill project will close a key inholding within Giant Sequoia National Monument.
Careful management of the Red Hill property has resulted in a vibrant, healthy, resilient giant sequoia ecosystem, further justifying the grove's inclusion in Giant Sequoia National Monument
The Red Hill property is prime habitat for numerous imperiled animal species, including the Pacific fisher, Sierra marten, California spotted owl, northern goshawk, mountain yellow-legged frog and Greenhorn Mountain slender salamander.
Red Hill also supports numerous rare flora, including purple mountain parsley, unexpected larkspur, Kaweah Lakes fawn lily and Twisselman's buckwheat.
While giant sequoia is the signature species of the Red Hill complex, it also is home to a biologically diverse mixed-conifer ecosystem that includes red fir, white fir, ponderosa pine, sugar pine, and incense cedar.
Healthy forests protect water supplies. Protection of the Red Hill assures high-quality water for downstream municipalities, agriculture, and tribal and environmental uses.
By including prescribed fires, management plans for the Red Hill property complement efforts by the adjacent Tule River Indian Reservation to reduce wildfire hazards on tribal lands.
The Red Hill property will be available as a living laboratory to study how giant sequoia are responding to climate change.
The League plans to develop and implement a fuels reduction and restoration plan for the property, which can serve as a model for future such activities elsewhere in this grove and other groves in Giant Sequoia National Monument. Managing these groves is important to ensure that they are more resilient to climate change and the threat of catastrophic wildfire that can result from historical exclusion of natural fires on the landscape.
We estimate that Red Hill will open for public recreation by 2021. A significant portion of the Tule River's South Fork will be accessible.
---
Tags: 2018, current, giant sequoia, Giant Sequoia National Monument, land acquisition, Land Project, Protect