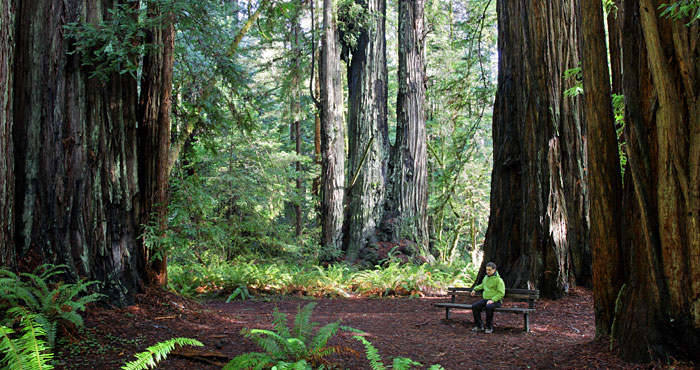 Your voice can help secure federal funding to help protect America's iconic landscapes, including some of the most magnificent redwood forests you've helped safeguard through Save the Redwoods League. Please contact Congress by using the widget below.
President Barack Obama's budget request includes a proposal to establish dedicated mandatory funding for the Land and Water Conservation Fund (LWCF), with full funding at $900 million a year beginning in 2015.
For 50 years, LWCF has provided critical funding for land and water conservation projects, outdoor recreation access and the continued preservation of our nation's historic, cultural and iconic landmarks.
LWCF is not funded by taxpayer dollars. The US Congress made a commitment to the American public that a small portion of revenues from offshore oil and gas drilling would go to outdoor recreation and conservation as an offset for the depletion of resources that belong to us all.
This is a critical time for conservation because LWCF's authorizing legislation expires on September 30, 2015, threatening conservation and recreation projects that are critical to American communities and our nation's outdoor recreation economy.
Many of the most magnificent redwood parks and reserves you and generations of Americans have enjoyed have been partially funded by the LWCF, including Redwood National Park, Muir Woods National Monument, Headwaters Forest Reserve, Sequoia National Forest and Sequoia National Park.
In addition, the LWCF has funded protection of many other forests and their waterways such as the nearly pristine 21,000-acre Sterling Forest State Park less than an hour from New York City, and Vermont's Green Mountain National Forest, one of the most popular areas in the northeastern United States.
Redwood National Park and Golden Gate National Recreation Area (home of Muir Woods) are among the magical places recommended for LWCF funding in the President's fiscal year 2015 budget.
---
You can make a difference!
Use the widget below and please urge your Congressional representatives to support LWCF reauthorization and robust funding in fiscal year 2015 appropriations legislation.
Together, we can help preserve natural areas and their waterways, historical sites, and wildlife habitat to ensure that all Americans have access to quality outdoor recreation in places like our breathtaking redwood forests.
Having trouble using the widget? Submit your comments on Popvox.com.
---
Tags: 2015, budget, funding, Land and Water Conservation Fund, LWCF