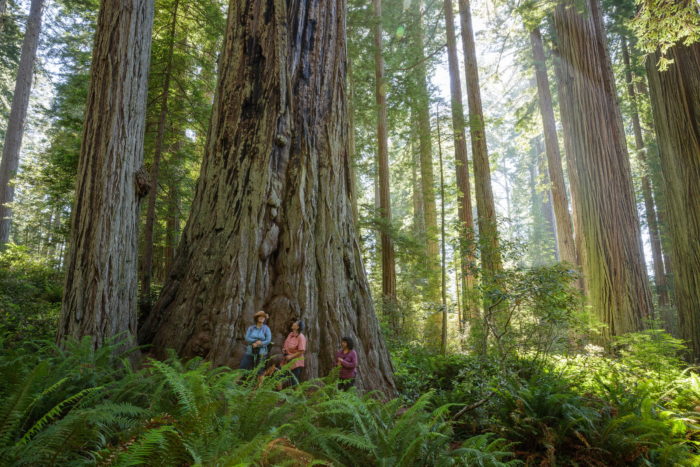 America's most useful and cost-effective conservation program is about to expire this September, and we need your help to keep it going! For more than 50 years, the Land and Water Conservation Fund (LWCF) has served as the engine of America's conservation and outdoor recreation movement.
Without using a single taxpayer dollar
, LWCF invests in our quality of life, a booming recreation economy, and our history and culture, by using Outer Continental Shelf (OCS) energy revenue to conserve land and build parks. This is America's most important conservation program, which has protected iconic places like Muir Woods National Monument and connected people to the outdoors at the federal, state, and local levels, from coast to coast.
LWCF is a unique federal program in that it provides a conservation offset for offshore oil and gas production, replenishing our natural resources with receipts from extractive industry. Communities in every single county across the nation benefit from this bipartisan-supported program. Despite the law's promise to direct $900 million in OCS revenue to this successful program, the LWCF is subject to the uncertainties of the annual federal budget process and threatened by drastic cuts proposed by the current presidential administration. A significant amount of the funding intended to protect our natural resources and build accessible parks is diverted each year to other, often unrelated purposes.
In addition, recently proposed legislation threatens to further divert OCS funding to address the staggering more than $11 billion deferred maintenance backlog in our national parks. Our national parks are economic engines, and more importantly they represent what is best about our country. The backlog of maintenance needs includes road and building repair, upgrading water systems, and improving parking lots and trails, among many other things. The Restore Our Parks Act (S. 3172) would begin helping to address these needs by providing up to $6.5 billion to the National Park Service to address the deferred maintenance backlog over five years.
A funding solution like this to address the aging infrastructure and natural resource needs in our parks is desperately required. However, providing dedicated funding to park maintenance, using OCS revenues already promised to the LWCF, will not adequately sustain the parks and public lands we all depend upon. As we prioritize our national park infrastructure through legislation like the Restore Our Parks Act, we must also increase appropriations for LWCF, renew the program before the current authorization expires at the end of this federal fiscal year, and push for dedicated funding.
Many challenges face our national parks, natural resources, and public lands today. Given the more than 50-year track record of success the LWCF has, along with the ongoing need to protect land and enhance public access, Congress must prioritize better funding for the maintenance backlog alongside conservation and historic preservation. Our public lands deserve nothing less.
Contact Your Member of Congress
Please reach out to your member of Congress today, and use the talking points below to urge them to support reauthorization of the LWCF, and to fight for the full funding we've been promised all along.
The American people understand that caring for our parks includes addressing deferred maintenance and continuing to conserve land and enhance public access. We must honor the more than half-century commitment to the LWCF by dedicating OCS revenue to the program, before Congress dedicates additional OCS dollars to parks maintenance under S. 3172, the Restore Our Parks Act.
LWCF enhances access to outdoor recreation from local parks to national parks in a way no other funding source can do. It is a critical underpinning of this country's $887 billion outdoor recreation economy. Dedicating LWCF's OCS revenues, before or during any other mandatory commitment of OCS such as the Restore Our Parks Act, will address conservation and outdoor recreation needs at the local, state, and federal levels.
As the Senate considers S. 3172, the Restore Our Parks Act, we urge you to ensure that S. 569, the Land and Water Conservation Authorization and Funding Act, has your much-appreciated co-sponsorship and is advanced on an identical trajectory.
Thank you for all you do to protect and conserve America's wilderness, public lands, and parks!
---
Tags: Policy