---
About Sunny the Banana Slug
I'm a native to the redwood forest. I like slow, slimy walks in the understory of the redwoods. My striking yellow color comes from the food I eat, light conditions and general health. See you out in the forest!
---
« Previous Story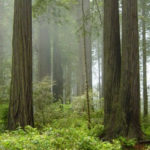 by Shelana deSilva
on
The Land and Water Conservation Fund, was permanently reauthorized earlier this year. On the heels of that historic victory, the conservation community is now calling on Congress to pass legislation for permanent, dedicated funding to protect wildlands and open space and make parks accessible.
Next Story »
by Sharon Rabichow
on
Save the Redwoods League recently celebrated Board Member Peggy Light for her extraordinary generosity in inspiring 105 new legacy gift commitments in 2018 to commemorate the centennial of Save the Redwoods League. Peggy offered to match each new legacy gift commitment made in 2018 with a $1,000 gift, with a goal to encourage 100 people to join the Legacy Circle. We were thrilled to surpass our goal.