Our Recommendations for Unforgettable Times in Coast Redwood and Giant Sequoia Parks
Plan Your Trip
We invite you to mark our Centennial by visiting these incredible places. These new, free League resources can help you.
ExploreRedwoods.org is a mobile-friendly tool for customizing your itineraries when visiting the parks in this story and more than 100 others. Discover your favorite redwood parks through activities such as hiking, fishing, bicycling, and traveling with wheelchairs or dogs.
The Explore Coast Redwoods eguide features 24 amazing parks, and tips on what to do, when to go, what to bring, and where to stay.
FreeRedwoodsDays.org is the place to get your free pass to more than 40 California redwood state parks every second Saturday of each month throughout 2018.
Some of the world's greatest times in nature await you in the ancient redwood forests of California—magical realms of rare beauty. The tallest trees on Earth, coast redwoods, stand in Prairie Creek Redwoods State Park, along the state's northern coast. Some of these coast redwoods reach higher than a 35-story building. Inland, giant sequoia endure along the western slopes of the Sierra Nevada. They are the world's largest trees, many wider than a two-lane street. Sequoia National Park shelters the General Sherman, the most massive tree on the globe. Many trees of both species still growing today are more than 2,000 years old, and took root during the time of the Roman Empire.
No matter what you like to do outside, an unforgettable experience awaits you in California's redwood parks, including the four parks described here. Nothing compares to standing in the cathedral-like groves, next to trees whose beauty, age, and size are almost beyond belief. It's no wonder Lonely Planet named the redwood forests the nation's top destination in 2018.
We almost lost redwood and giant sequoia forests after the 1849 Gold Rush and the explosive demand for timber. Save the Redwoods League, founded in 1918, brought the forests back from the brink of extinction by buying and protecting ancient groves and helping to create and expand the following parks, among more than 60 others, for future generations to enjoy.
---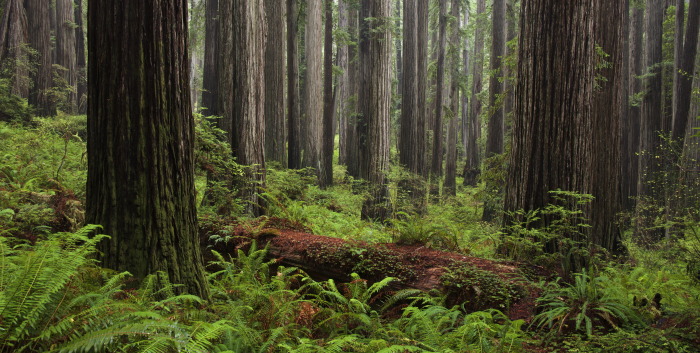 JEDEDIAH SMITH REDWOODS STATE PARK
Lush, Primeval Wilderness Along the Smith River
Jedediah Smith has 20 miles of trails that take hikers back millions of years, when vast forests of ancient redwoods covered much of western North America. The 0.6-mile Stout Grove Loop trail is home to gigantic redwoods. The 5.6-mile Boy Scout Trail showcases some of the world's best redwoods scenery. Jed Smith stands along the magnificent Smith River, known among anglers for robust runs of steelhead trout and salmon.
In the summer, the gin-clear water of the Smith River is ideal for swimming and snorkeling. Bicycles are permitted on all roadways and Little Bald Hills Trail. In the park's campsites, visitors can immerse themselves in one of the world's most beautiful and wild places.
Park information: 707-465-7335
The League has protected all the park's 10,000 acres of glorious ancient redwoods, starting with the 1929 Stout Grove dedication.
See directions in Google Maps
---
PRAIRIE CREEK REDWOODS STATE PARK
Prehistoric Land of Gigantic Trees and Iconic Wildlife
Starting near the visitor center, visitors can step into sublime scenery along Prairie Creek Trail on an hour-long hike that wends through groves of behemoth redwoods. The route is among Prairie Creek's 75 miles of breathtaking trails. In Fern Canyon, lush, fern-lined walls look so primeval that they're a setting for dinosaurs in the movie, The Lost World: Jurassic Park. A 0.7-mile walk through the canyon reveals waterfalls, sand dunes, and grazing elks. The park offers a number of self-guided interpretive walks, and multiday treks are possible.
Mountain bikers enjoy the 19-mile Ossagon Trail through ancient redwood forest, through prairie and along the beach. The park also is known for its scenic drives. Staying overnight? Choose from cabins and a variety of campsites.
Park information: 707-465-7335
Over the decades, the League has protected almost 17,000 acres in the park.
---
CALAVERAS BIG TREES STATE PARK
Spectacular Giant Sequoia in the rugged Sierra Nevada
As the story goes, in 1852 a hunter discovered this forest and spread the word about trees that were bigger than any he'd seen before. Today, in the Sierra Nevada, Calaveras Big Trees still surprises visitors with its spectacular giant sequoia. The 5-mile South Grove hiking trail passes the Agassiz Tree, one of the park's largest. More giants await wheelchair users along the 1.6-mile North Grove Trail. The trout fishing is good in the park's rivers, and Calaveras is rich in wildlife, from pileated woodpeckers, foxes, and porcupines, to bears and flying squirrels. Cabins and campsites are bases for feeling the forest's nighttime magic. Winter lovers can see the giants cloaked in white while cross-country skiing and snowshoeing.
Park information: 209-795-2334
The League helped establish this park in 1931, and has protected one-third of the park's 6,500 acres.
---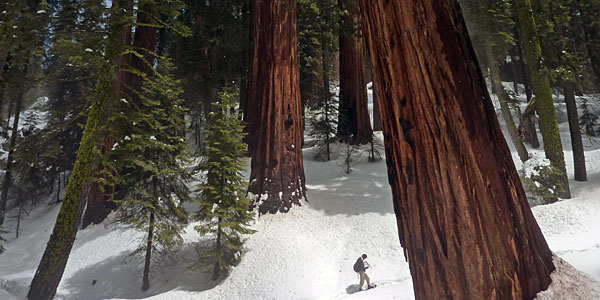 SEQUOIA AND KINGS CANYON NATIONAL PARKS
The Biggest of the Big Trees
Sequoia and Kings Canyon National Parks protect the world's most enormous trees. In Sequoia National Park's Giant Forest, visitors can follow a wheelchair-accessible trail to meet Earth's largest tree, the 36-foot-wide General Sherman giant sequoia. Hiking trails in the Giant Forest range from one- to two-hour hikes to half-days or longer. Birdwatchers flock here to seek 200 species of birds. Backpackers explore the superlative mountain wilderness on more than 850 miles of maintained trails. Exploration is even available underground on tours of the otherworldly Crystal Cave. In other interpretive programs, rangers lead moonlight walks, discuss bears and other mountain wildlife, and lead snowshoe hikes among the enormous red trees. Overnighters can choose from campgrounds, cabins, and comfortable lodges.
Park information: 559-565-3341
The League has protected more than 2,200 acres in these parks, including Dillonwood Grove in Sequoia National Park. Gifts to the League from all 50 states made the grove's 2001 purchase possible.