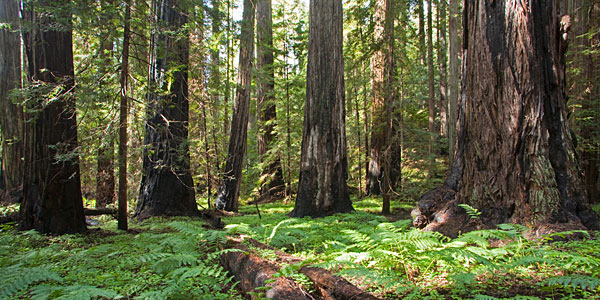 A reserve harboring some of the world's tallest trees is easier to find and enjoy, thanks to our members. In November 2010, Save the Redwoods League and California State Parks finished the first $340,000 phase of improvements at Montgomery Woods State Natural Reserve (pictured), including new signage, improved parking facilities, new accessible restrooms and picnic tables under the giant trees. The work resulted from an extensive environmental design and review process to make the reserve more accessible while reducing impacts to the trees, creek and the forest landscape.
Before the improvements, visitors bounced through potholes in the reserve's dirt lot, damaging tree roots by parking on top of them. Now, new barriers in the lot prevent damage to tree roots. By regrading the parking lot, we reduced the flow of sediment that could degrade salmon habitat in the Big River.
This work was made possible by our members' contributions to Montgomery Woods campaigns in 2005 and 2007.
Future improvements at the reserve, west of Ukiah, will include custom interpretive exhibits and consolidation of the grove trails to better protect the ancient redwoods.
With members' support, the League has grown the reserve from a 9-acre donation in 1943 to more than 2,300 acres today.
See more photos of the improvements:
---