You don't need to be an expert, you just need passion for the redwood forest and an interest in volunteering your time. Through our community science programs, Redwood Watch and Fern Watch, you can help us study where redwood forest plants and animals live throughout the redwood range, and track changes in the forest over time by making simple observations and sharing the data you collect. These data help Save the Redwoods League decide where and how to focus redwood conservation activities in a changing environment.
---
Deborah Zierten, Education and Interpretation Manager for Save the Redwoods League, participated in a discussion on KPFA radio about the new frontiers of community science.
Listen to the podcast:
---
Get Involved with a Redwood Project
We do not yet know how climate change will impact the redwood forest in the coming decades, but when we understand where redwoods grow well today, we will be better able to predict where the redwood forests of tomorrow will thrive. Additionally, by monitoring various redwood forest plant and animal species throughout the year, we build a unique database of the current distribution of native redwood forest species and can track any changes that may occur. You can easily participate in our research by simply finding a redwood tree, banana slug or other plant or animal in the redwood forest. Use the free iNaturalist App (for iPhone and Android) and select the Redwood Watch Project, to capture and submit a photo of the plant or animal. It's just that simple to contribute important data to our research. Learn more about Redwood Watch and get involved.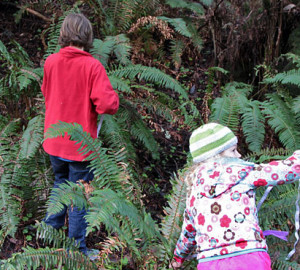 Our recent research discovered that the most common plant in the coast redwood forest, Western sword fern, grows tall fronds in wet redwood forests and much shorter fronds in the dry forests. For this reason, sword fern is an important and simple indicator of climate change. You can help us track changes in these ferns in your local forest by photographing and taking measurements of ferns through our Fern Watch Project on the free iNaturalist App. Learn more about Fern Watch and get involved.
The seasonal changes of plants and animals throughout the year can be closely linked to climatic and ecological variables. So, tracking the phenology of plants and animals is one way to study how our forests are responding to climate change. You can help us track these seasonal changes through our new phenology project. Learn more about the Redwoods Phenology Project and get involved.