Our 2017-18 Annual Report offers a look back at the year's accomplishments that you made possible. We made great progress toward our mission of protecting and restoring the redwood forests and connecting people to their peace and beauty. The year included a broad and deep portfolio of conservation successes, and we are excited to share these achievements with you.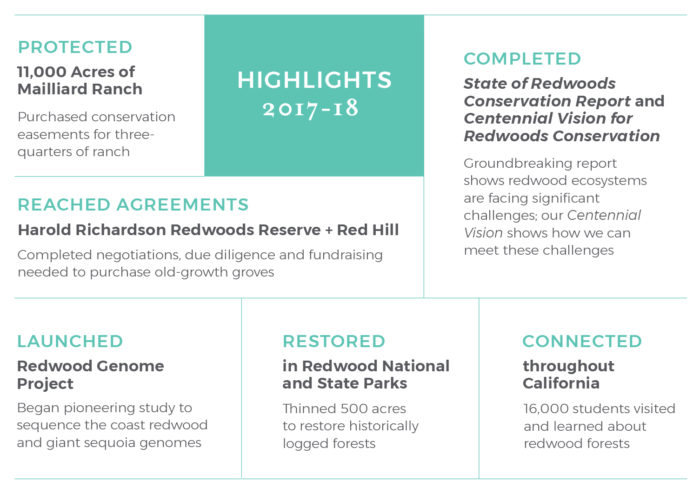 Our year-long Centennial celebration began in January 2018, the fourth quarter of the fiscal year covered in our report. The celebration was about more than looking back and admiring our legacy. It was about celebrating with you and community members who rallied with us—and who will rally again—to save California's iconic redwood forests. You make our work possible, and together, we can build hope and momentum for a new era of leadership to protect and heal our forests.
In our second century, we are committed to doing the extraordinary. We will dramatically accelerate the pace and scale of land conservation in the redwood forests; set entire landscapes of young recovering forests on a restoration trajectory to become the old-growth forests of tomorrow; and revitalize the redwood parks that will inspire the next generation with a deeper understanding and appreciation of the redwood forests.
Thank you for celebrating 100 years of redwoods conservation with us and for your support. We hope you enjoy seeing the achievements your support made possible in 2017-18 Annual Report.
Please share your feedback about this report with us to help us improve our publications. The first 20 respondents will win a 2019 redwoods calendar!