It's National Park Week in the National Park System's 100th anniversary year, so there's no better time for Sally Jewell, US Secretary of the Interior, to inspire and challenge the nation, calling for a major course correction in the way we conserve America's public lands, waters and wildlife. Save the Redwoods League could not agree more. Our founders were there when "America's greatest idea" was launched 100 years ago, inspired by the mighty giant sequoia, and we are there again today ready to accelerate the pace of conservation and ensure that the redwood forests are ready for the next 100 years.
"The new path for conservation in the 21st century is one that celebrates the diversity of public lands, one that relies on science and collaboration to chart a sustainable future for entire landscapes and ecosystems, one that invests the necessary resources in these incredible places, and one that welcomes all Americans to care for our most treasured assets as though they are their own — because they are," Jewell said.
Attract Diverse Visitors
The first step in Jewell's new course correction is to extend a giant open invitation to the public to visit the outdoors. Today's young people are more disconnected from nature than any in our history. They need our parks now more than ever, and we have to be sure that our parks are ready to welcome an audience that reflects the nation's diversity.
"The NPS centennial is about inspiring people of all ages and backgrounds to love the great outdoors," Jewell said. "If we're successful, the next generation of elected officials, scientists, philanthropists, and teachers will understand the value of conserving our public lands," she said. She mentioned the NPS's Find Your Park campaign as a step in that direction and called for greater efforts to get people into our public lands, like Save the Redwoods League's free redwood park day on Black Friday! The day after last Thanksgiving, thousands of would-be shoppers visited California's redwood state parks on us rather than heading to the mall! Mark your calendar for this year's Black Friday event!
Save the Redwoods League is also inspiring new, diverse generations through projects like our Redwoods and Climate Change High School Program. This new program aims to bring urban, underserved youths from the San Francisco Bay Area's East Bay cities into the redwood forests to conduct scientific research. The students have an opportunity to explore the forest as a scientist by conducting scientific research and data collection. The program also encourages teachers to teach locally focused science using scientifically sound data. Classroom lessons focus on hands-on activities using real data from our Redwoods and Climate Change Initiative (RCCI).
The League is also working with the NPS to create a new Redwood National and State Parks visitor center at the gateway to the world's tallest trees that will engage diverse audiences and inspire their love and appreciation for redwood forests.
Think Big
Secondly, the Secretary urged the conservation community to advance landscape-scale ecosystem protection.
"It's simply not enough to protect a few isolated places," she said. "We know that healthy, intact ecosystems are fundamental in the health of our wildlife and our nation," she said. "They clean our air, they provide our drinking water, they combat climate change, and are critical to our economy. What we need is smart planning on a landscape level irrespective of man-made lines on a map. We need to take a holistic look at an ecosystem to determine where it makes sense to develop, to protect natural resources and where we can accomplish both."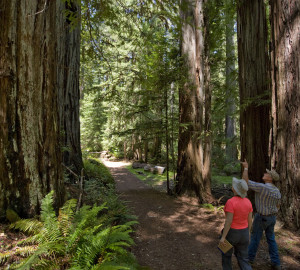 The League is thinking big too, harnessing its science-based plan and collaborating with various stakeholders to accelerate the pace of conservation in the redwood forest. In an innovative partnership, we are working with the Mailliard family to permanently safeguard through a conservation easement the most significant family-owned redwood forest in the coast redwood range—Mailliard Ranch. Permanent protection of this 14,898-acre landscape will help its splendid ancient forest, rivers and streams, and vast array of plants and wildlife continue to survive and thrive.
Strategically located in the heart of Mendocino County, the ranch serves as a buffer to accelerating development in the area and secures the stability of the regional forest ecosystem. It also connects adjacent Mailliard Redwoods State Natural Reserve—donated by the family to the League for inclusion in the California State Parks system in 1946—and the Garcia River Forest, creating a mosaic of more than 82,000 acres of contiguous protected lands extending the river's headwaters to the coast. This ideal connectivity has made the ranch a decades-long priority for conservation interests in California.
Increase Funding
Last, Jewell said our nation needs to make serious investments in our national parks, wildlife refuges, public lands and our waters to ensure that they are prepared for the next 100 years. That not only means investments in visitor infrastructure like the visitor center at Redwood National and State Parks, but also restoration measures to mitigate climate change, and heal wetlands and forested watersheds.
While leaders like Jewell call for more federal funding, the League is leading the charge by implementing research through programs like RCCI to quantify the effects of climate change on the extraordinary redwood forest, and to understand this unexplored ecosystem in the canopy of our American rainforest as explained in yesterday's New York Times,
We share Jewell's conviction that we are "at the dawn of a conservation era in America," and as we head down a new path for conservation together, we're determined to give future generations the gift of a protected and restored redwood forest landscape.