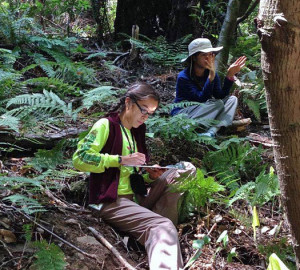 As an environmental educator, there is nothing better than seeing young people making observations and asking questions out in nature.
Questions like, "Why do you think that bay tree and redwood are growing so close together?", "Why are the tanoaks here so susceptible to Sudden Oak Death?", and "Do you know what the name of this flowering plant is?" are music to my ears.
This is what I experienced on a recent trip to Pepperwood Preserve in Sonoma County. Pepperwood's TeenNat program, which is partially sponsored by Save the Redwoods League, fosters the curious, scientific minds of local teens and turns them into budding naturalists. Over a five-week period, they spend whole days in the field exploring, observing and documenting the species they find in different habitats. They take pictures of what they see in the field, record GPS locations, and upload this information and their observation notes to iNaturalist.
On the day I was lucky enough to spend the morning with the teens, they were setting up sword fern plots using the protocol established by the League's Director of Science, Dr. Emily Burns. They were learning real scientific field techniques such as random plot sampling, creating a meter plot, inventorying species within a plot and measuring fern leaves. Additionally, they became familiar with some of the challenges of scientific work in the field while climbing up steep slopes lugging buckets of gear.
An exciting part of this program is that not only are these students setting up and conducting real scientific research, but future students will monitor the fern plots year after year and this data will contribute to Dr. Burns' research on sword ferns, part of the League's Redwoods and Climate Change Initiative.
You too can help with sword fern research — the next time you're out in the forest, release your inner naturalist by asking questions, making observations and passing along your photos to us here at the League!