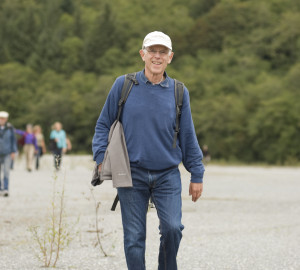 Fans of the redwood forest have various motivations for supporting Save the Redwoods League. Some want to protect a place of peace and beauty forever. Others pitch in to restore the forests that have been lost to decades of destruction. David Weinberg says he is motivated by humanity's symbiotic relationship with redwoods.
"Redwoods have survived so many millennial changes and contributed to the Earth's survival," says the longtime member and Councilor, or volunteer advisor. "Now redwoods must help again. By growing faster because of increased sunlight and absorbing carbon, they may be part of the solution to climate change."
Weinberg through the League's grove program dedicated a grove at Purisima Creek Redwoods Open Space Preserve with his wife Twyla in 2008. "The groves are a source of funds, goodwill, education and pleasure, and they represent a pack of like-minded and well-meaning citizens." As one of the League's most extraordinary supporters, Weinberg is also a member of the Canopy Club.
Starting in 2014, after becoming enthralled by the League's nearly 100-year history, Weinberg volunteered daily for nearly a year, reviewing and selecting for digital scanning files on more than 800 groves. Along the way, he dug up splendid stories. "There were songs, poems, donations of musical instruments, and reams of very intelligent and heartfelt responses from the Drury brothers, to whom the League owes so much." Newton and Aubrey Drury managed the League in its early years. Newton stayed on, leading the League for decades.
Weinberg, a retired dermatologist, reflects on the importance of his work to make the groves' history more accessible. "The League is embarking on its next 100 years. No matter what may occur in the complex future, the past successes and failures are useful tools."
Always seeking innovative ways to remain engaged, Weinberg now plans to interview key contributors about the League's history and write biographical blogs. He explained his vision for the organization as we approach our centennial: "The League should help the curious learn our past to inspire ideas, suggestions, and participation. We should hope to encourage volunteerism. When you contribute, in whatever fashion, you are better off and so is the League."