Summer is here, and we've got daylight hours to burn. Even with a busy schedule, you can take a day trip before the sun goes down. Here are recommendations for three excellent half-day redwood hikes. Enjoy!
Prairie Creek Redwoods State Park
Trek through Fern Canyon in Prairie Creek Redwoods State Park and you might be struck with a strong sense of déjà vu. It wouldn't be surprising — Fern Canyon is a backdrop in the second Jurassic Park movie. Accessing this primitive landscape is relatively easy; a gentle, 0.7-mile trail descends through a dense understory to the canyon floor. The canyon's fifty-foot walls are perfectly vertical and overgrown with five-finger, deer lady, sword, and chain ferns. Moss covers nearly every other surface.
Prairie Creek Trail is another worthwhile hike. Although the trail is about four miles one way, you don't need to venture far to see large old-growth coast redwoods. The aptly named Big Tree, with an impressive 21.6 feet in diameter, is a mile and a half from the visitor center. The Corkscrew Tree, with its four inexplicably intertwined trunks, sits nearby.
Portola Redwoods State Park
Portola Redwoods State Park, which contains a mix of second- and old-growth redwoods, is only one hour away from San Francisco. Despite its proximity to civilization, the park can feel more secluded than neighboring redwood forests — a boon to anyone wanting an escape.
For an easy-going and kid-friendly hike, take Sequoia Nature Trail, a ¾-mile loop that starts at park headquarters. Pescadero Creek runs along sections of this trail. Brilliant orange leopard lilies, which bloom between early May and July, run along the creek and attract both hummingbirds and butterflies. To extend this hike, take the connecting Iverson Trail, which leads to Tip Toe Falls, a six-foot cascade with a glossy, circular pool below.
Before leaving Portola Redwoods, don't miss The Old Tree, which is near park headquarters. This old-growth redwood has an impressive 12-foot diameter and 305-foot stature. At nearly 1,200 years old, it's named The Old Tree for a reason.
Calaveras Big Trees State Park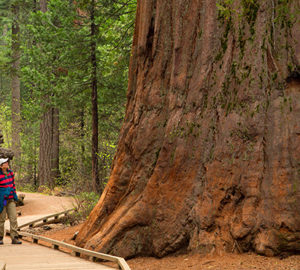 Visit Calaveras Big Trees State Park, and you will be introduced to an entirely new sense of scale. The park is home to over 1,000 mature giant sequoias, the largest tree species on Earth. Sequoias grow up to 300 feet tall and 33 feet in diameter, with a volume nearing 1,500 cubic meters. In comparison, a mid-sized car is less than four cubic meters. Let that sink in.
For a good half-day excursion at Calaveras, start with North Grove Trail. It's a gentle 1.5-mile circuit around North Grove, a forest that has been under protection since the League acquired it in 1931. Several oddities border North Grove Trail, including the Discovery Tree — a magnificent stump as big as a house — and Father of the Forest — a hollowed, horizontal tree that visitors can walk through.
After completing the trail loop, head over to Beaver Creek. This creek, which crosses the southern end of the park, is shaded and perfect for wading or swimming. Bring a picnic!
For more redwood trip ideas, check out our Discover Redwood Parks interactive map.