10 perfect places to chill in the forest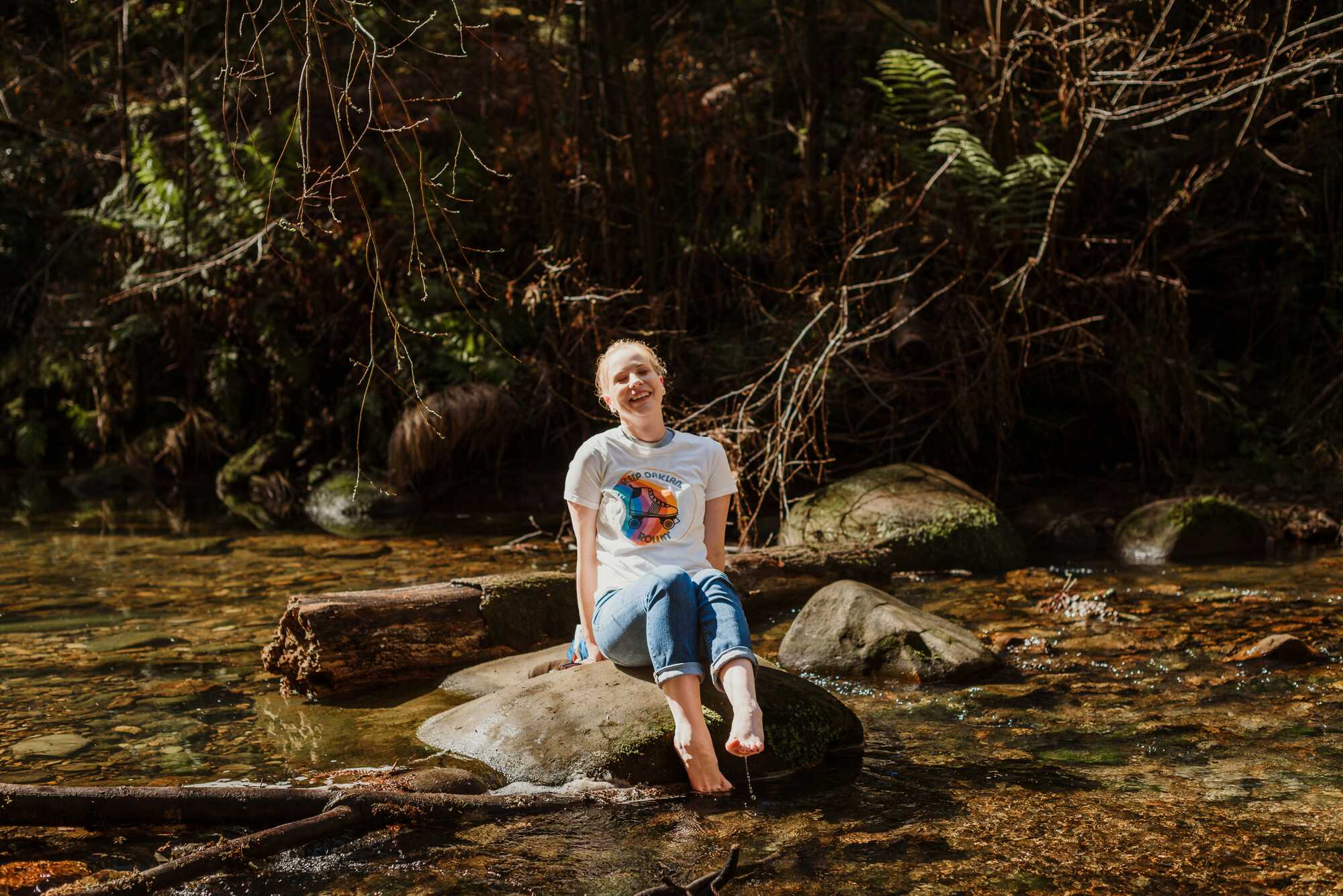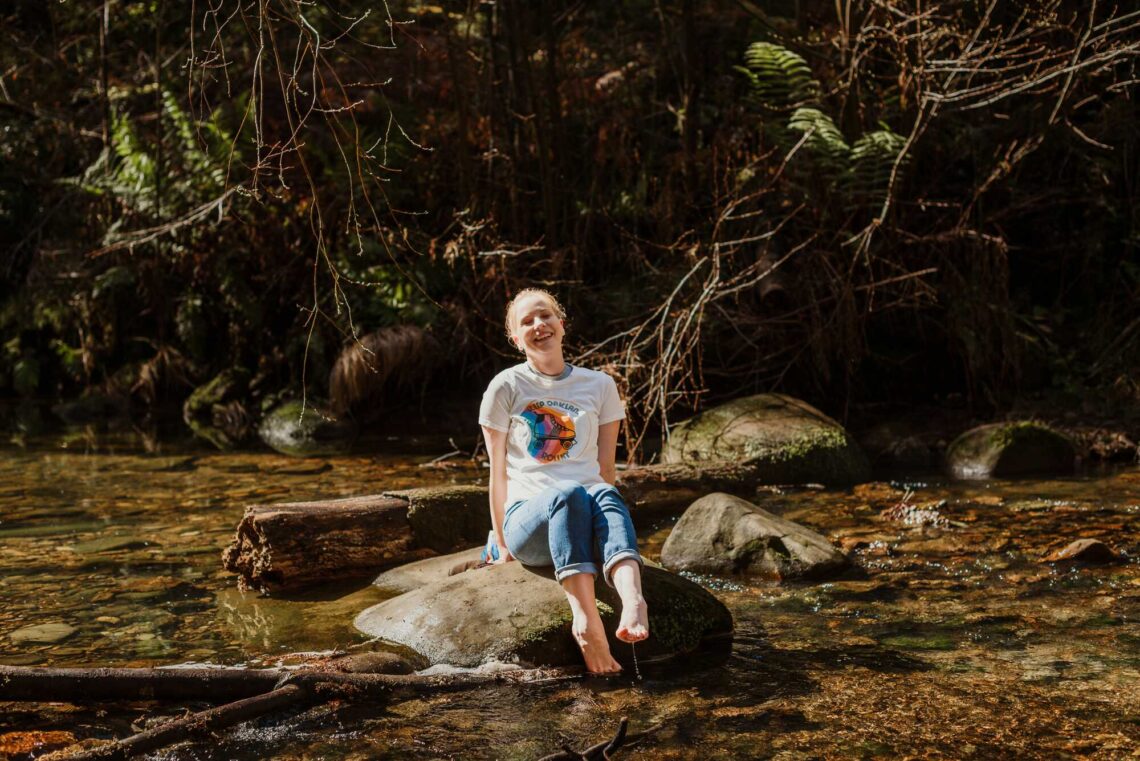 "Head for the beach!" That's the message triggered in the human brain once temperatures push past 80 degrees. But can beaches get packed during heat waves, and they often lack shelter from harsh UV rays. Not to mention the sand in your shorts. And sharks.
A much cooler move? Heading to one of Northern California's redwood parks, where the dense forest canopy acts as one giant sun umbrella. Coast redwoods create their own microclimates by retaining cooling moisture in the air and evaporating water from their leaves like giant swamp coolers. They also tend to cluster around rivers and streams, which means you'll often find a nearby swimming hole. Without sharks.
From south to north, here are some top spots to stay cool when the mercury rises:
PENINSULA & SANTA CRUZ MOUNTAINS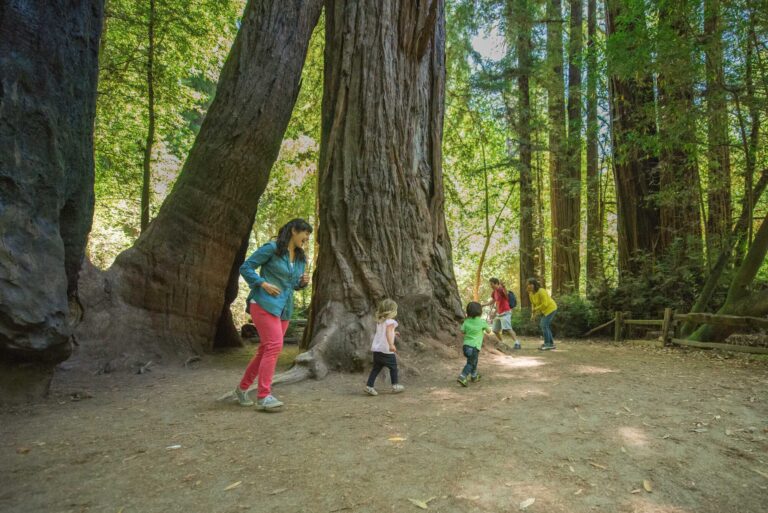 Henry Cowell Redwoods State Park
A 40-acre grove of old-growth redwoods lends some serious shade to this park in the Santa Cruz Mountains. Within the grove, an accessible loop trail leads to the fire-hollowed Fremont Tree, with room for the entire family to squeeze inside. Bonus: The adjoining Roaring Camp Railroad offers historical train rides through the redwoods.
Portola Redwoods State Park
Recent wildfires mean that many redwood parks in the Santa Cruz Mountains are no longer lush, shady oases. Portola Redwoods is an exception, with thriving trees, green ferns, and huckleberry bushes lining miles of hiking trails. If you can't bear the thought of sleeping in your hot, stuffy apartment for another night, try to snag a spot at the campground, which offers tent sites beneath the redwoods.
EAST BAY AREA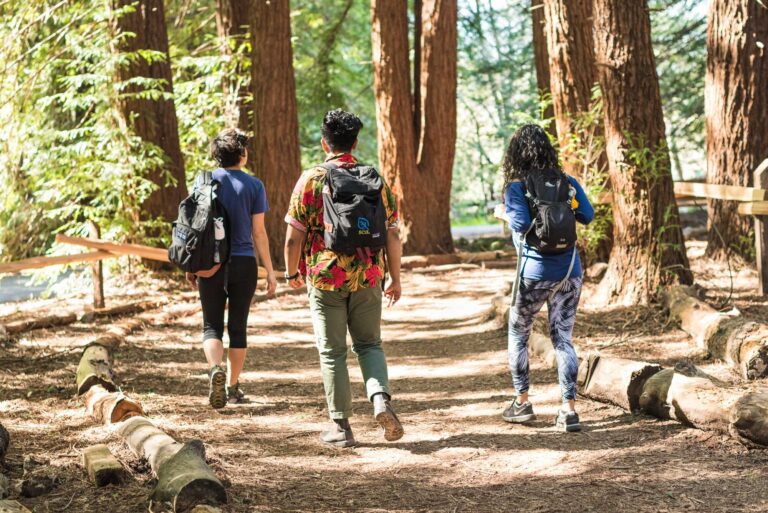 Dr. Aurelia Reinhardt Redwoods Regional Park
The East Bay's largest remaining stand of coast redwoods provides plenty of shade on even the sunniest of days. From the southern entrance, the paved, accessible portion of the Stream Trail leads to several picnic spots where you can wait out the heat with family, friends, and lemonade.
Joaquin Miller Park
This 500-acre city park in Oakland is one of the few redwood parks that's easily reachable via public transit. (The No. 39 AC Transit bus from Fruitvale BART stops just across the street). Grab a shady patch of grass and catch a nap, or stroll one of the hiking trails that wind through second- and third-growth redwoods with views of the San Francisco skyline.
MARIN & SONOMA COUNTIES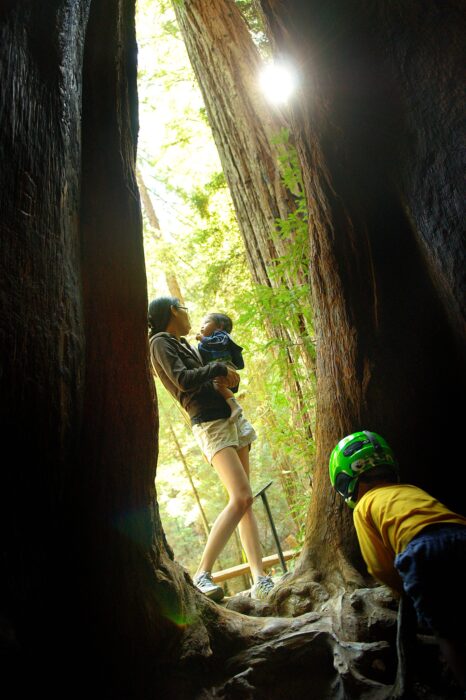 Armstrong Redwoods State Natural Reserve
Some of the oldest coast redwoods in Sonoma County—including the 1,400-year-old Colonel Armstrong Tree—take center stage at this lovely reserve near Guerneville. The dense canopy keeps the forest floor cool, but to completely escape the sun, duck into one of the many basal hollows that past fires have carved into the ancient trees. Bonus: The Russian River is just minutes away.
Samuel P. Taylor State Park
This redwoods oasis is only an hour's drive from San Francisco and tends to be at least 10 degrees cooler than cities like San Rafael—attributes that make it a popular sanctuary during hot summer weekends. Arrive early to grab a parking spot, then spend time exploring the trails along Lagunitas Creek, where returning salmon spawn beneath towering redwoods.
MENDOCINO COUNTY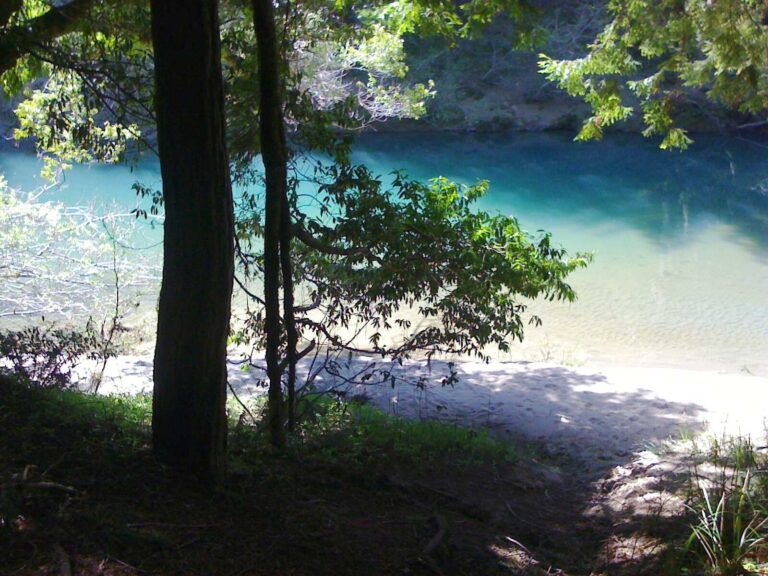 Navarro River Redwoods State Park
Stretching for 11 miles along Highway 128, this "redwood tunnel to the sea" seldom sees big crowds, even on hot days. Pack some sandwiches and your suit and seek out the perfect picnic and swimming spot along the wide Navarro River. For those in need of a beach fix, overnight camping is available on a first-come, first-served basis at the park's Navarro Beach Campground.
Russian Gulch State Park
If the words "Fern Canyon Trail" sound like music to your sunburnt ears, make a beeline to this coastal state park, where visitors can follow a redwood-shaded, fern-lined trail to a cooling 36-foot cascade. There's no swimming in the waterfall, but you can take a dip at the mouth of Russian Gulch Creek.
HUMBOLDT COUNTY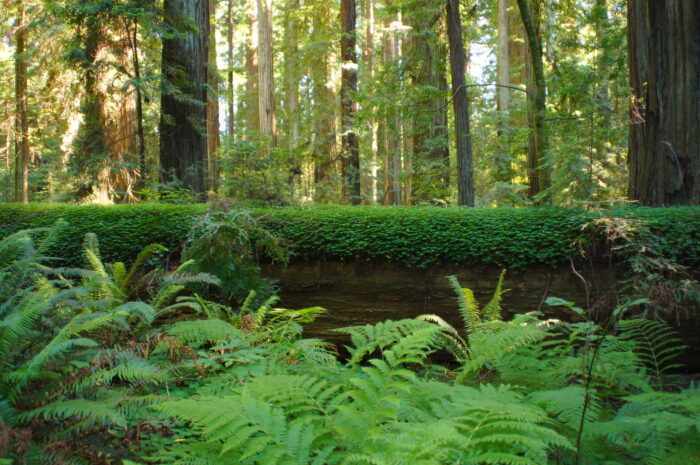 When temperatures soar in Ukiah and Willits, Highway 101 offers an escape route north to this phenomenal old-growth redwood forest, which was first protected by Save the Redwoods League in the 1920s. After admiring the old-growth monarchs along the Avenue of the Giants, cool off at the many swimming holes along the Eel River, which include Leatherwood Bar, Landsdale Bar, and Eagle Point.
Folks fleeing high temperatures in Red Bluff and other inland cities will find an oasis of shade and swimming holes at this county park along the Van Duzen River. The Van Duzen Nature Trail explores the park's three old-growth redwood groves, while the evocatively named Swimmers Delight Campground offers first-come first-served campsites for those looking for an overnight respite from the heat.