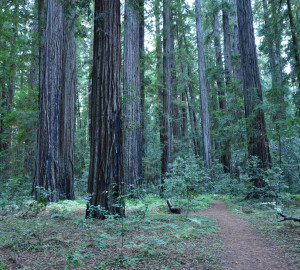 For decades, Hendy Woods State Park has been a favorite destination among locals and visitors for camping, hiking and swimming among gigantic 1,000-year-old redwoods. With trails winding through not one but two ancient redwood groves and the Navarro River flowing by, the park is an idyllic redwoods getaway within easy reach of the Bay Area. Near the town of Philo, Hendy Woods is perfectly situated for exploring the Mendocino wine country and coast, but there's enough to keep you busy in the park — and it's so beautiful — that you might find it hard to leave.
Save the Redwoods League protected 204 of the park's 945 acres with the support of people like you. Then in 2012, the League began working with Hendy Woods Community and California State Parks to keep the park open in the face of drastic budget cuts. Since then, your gifts have helped to make this terrific park even better.
It can be easy to take park infrastructure for granted — until it starts to crumble. Visitor amenities can really make or break the experience, and an important part of saving the redwoods today is about saving our redwood parks. If you've ever had a flooded mud puddle for a parking space, a splintered, crumbling picnic table, a permanently locked restroom, or faded, unreadable signs undercut your park experience you know what I mean. At Hendy, the new upgrades go a long way in guaranteeing you'll have a good time there. The park now has a fantastic day-use area, including shaded picnic spots, brand new restrooms, an upgraded all-access trail, and a parking area that is high and dry.