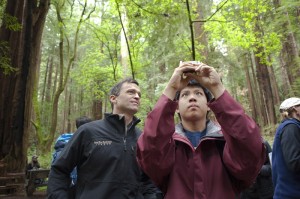 Did you hear about the BioBlitz in the Bay Area last week? Scientists, community members, families and school groups converged on Muir Woods and Crissy Field to explore, catalog and discover our local ecology. I was at Muir Woods on Friday, and I loved seeing the excitement and enchantment of kids in the redwoods – many, probably, for the very first time.
Kids of all ages really respond well to the redwood forest environment. It's calming, beautiful to look at, and there's lots to observe and explore. It's fun! The BioBlitz was a great way to introduce kids to the wonders of the forest, but there's no need to wait for a big event like that to come around.
I encourage families to make more  trips to the redwoods! Children and adults alike get so much out of these experiences. Your kids might not be clamoring to go to the redwoods – in fact, they might balk at the idea. But, I'm willing to bet that they'll have more fun than they ever imagined. Trips to the redwood forest are the kind of experience that kids end up talking about for years afterward.
I came across a great piece entitled, "Why You Should Bring Your Child, and Yourself into the Woods This Spring," by writer Suzanne Clores. I highly recommend checking it out – Clores relates a wonderful account of her experience bringing her 6-year-old daughter, a "city kid," to the redwood forest for the first time. She writes,
"'I don't know why I didn't want to come,' she shouted from the inside of the 2,000-year-old Cathedral tree. 'The woods are awesome!'  I wondered, too. We had brought her camping in Wisconsin. We had read The Lorax. We gardened. Children love the woods intuitively, I had thought until that very moment. Here is what's true:  children, like adults, love the woods only if they feel like they are a part of them."
There is something special about the redwoods – as I witnessed on Friday, and many other times with my own children – that strikes a chord with kids. Clores' story beautifully captures the difficulty of explaining to a child why one would go to the woods — and how magical it is once you're there. I've had similar experiences with my own kids, and I bet many of you have, too.
So, why the initial resistance? Well, as Clores realizes, kids aren't just born with a love of the outdoors – the connection has to be nurtured through positive experiences in nature. But, more on that next week!
I'm writing from my vantage point as a parent, a career conservationist and someone who grew up with a connection to nature. For more on the children-nature disconnect (or "nature-deficit disorder"), try the book Last Child in the Woods by Richard Louv.
Do you have any memories of trips to the redwoods as a child, or stories about bringing your own kids to the forest? Share them below! Planning a trip to visit the redwoods? Take a peak at our free resources to help you plan a fun trip for the whole family.
Stay tuned! Here's Kids in the Redwoods, Part 2.
Let's keep in touch on Twitter! Follow me at @SamH4Redwoods for news and insights about redwoods and conservation.