In 21 days we will have a major scientific event happening throughout the Bay Area: the 2014 National Park Service BioBlitz. Here at the League we are busy preparing for this 24-hour exploration of the ecologically diverse areas of the Golden Gate National Recreation Area.
What is a BioBlitz?
A BioBlitz is a 24-hour biological survey of a given area. Teams of volunteer scientists, families, students, teachers, and other community members work together to find and identify as many species of plants, animals, fungi and other organisms as possible. The purpose of a BioBlitz is to discover, count, map and learn about the living creatures in the area, provide scientists and the public an opportunity to do fieldwork together, add to an area's official species list, and highlight the importance of protecting the biodiversity of these extraordinary places and beyond.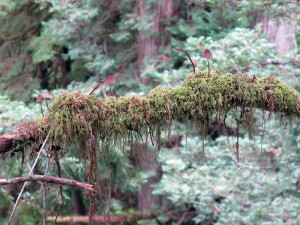 What do we hope to discover?
During this year's BioBlitz we will be studying a whole new world which has never before been explored: the redwood canopy at Muir Woods National Monument! The League is excited to spearhead this exploration along with scientists from Humboldt State University. As the scientists ascend the towering giants, they will finally be able to answer questions such as, "What are the tallest and oldest trees in Muir Woods?" and "What plants and animals  live in the canopy here?" Will they come across a wandering salamander or bountiful mats of lichen, moss and ferns, or perhaps something even more unexpected? What biological secrets reside 200 feet off the ground?
How to get involved?
We will have redwood canopy table displays at both Muir Woods and at the BioBlitz Biodiversity Festival at the Crissy Field Center, on Friday March 28th and Saturday March 29th. Learn about redwood canopy plants and animals, take a picture as a redwood tree climber with our redwood photo display, and look closely at redwood organisms through our microscopes. We will also have live updates on what is being discovered in the canopy as the BioBlitz unfolds.
To stay up to date on all the latest information make sure to follow us on Facebook and Twitter, and join the conversation using the hashtag #BioBlitz2014.