Fall in the redwoods is subtle, but if you look up you might see the redwood needles turn brown before they tumble to the forest floor. Fall is also the time of year when I start to get questions from members about our annual membership drive. A classic example is "Why is a tree-saving organization still using paper?" A very good question – and even I can see the irony in this! Let me try to explain why, and what we're doing to try to move beyond paper, and how you can help us.
The truth is that traditional paper renewals still work. This is by far the most cost-efficient way of communicating regularly with our members and asking for your ongoing support. We do everything we can to make this practice as efficient and environmentally friendly as possible (after all, money spent on renewals could be spent saving redwoods!). Many of you respond immediately, and I thank you for that. But if you are anything like me, sometimes the mail gets ignored or you procrastinate before responding. And so I have to say that we'll mail you again in the belief that it slipped to the bottom of the pile rather than that you decided to cancel your support.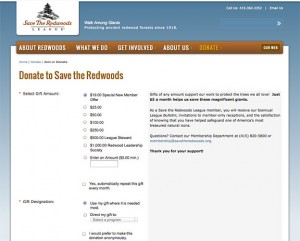 Over the past few years, while we have maintained our traditional mail program, we have worked to expand our online efforts through email solicitations, a stronger social media presence, and more direct visibility in the redwood parks themselves. Growth in these areas is robust, but it's still in its early stages and we continue to experiment to discover what works best. What we have learnt so far is that an integrated program of mail and electronic communication is by far the most effective way of getting you the information you need. My goal is to move as much of this communication online as we can—and we'll need you as active partners in that.
So please bear with us while we continue to experiment and evolve. In the meantime, there are some simple things you can do to help us improve and reduce our reliance on paper. First, make sure we have your email address! Second, respond to that email or mailing when it comes in—you'll avoid our follow-up requests. Third, help us expand our reach by forwarding our electronic communications to your friends or by sharing stories socially. And, if you really prefer not to receive mailed renewals, you can ask to move to a monthly giving program and skip the mailed appeals altogether. As a member you are a valued partner in our work, and quite simply, we cannot do it without you! Let us know what works best for you, so we can continue our work together in the most environmentally friendly way possible.