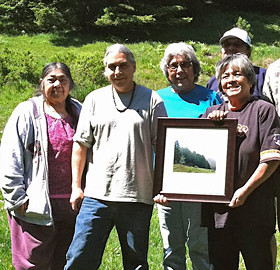 As a young child, Priscilla Hunter lived in the Coyote Valley Rancheria northeast of Ukiah, California. Her grandmother taught her to respect the land—its beauty, food, medicinal herbs, and spiritual connections. But the U.S. Army Corps of Engineers dam destroyed the rancheria in 1958, one of a long string of losses suffered by her family and other Pomo Indians in the region.
For many years, Hunter has worked to reconnect Native peoples with their traditional lands and culture. In the late 1986, she co-founded the InterTribal Sinkyone Wilderness Council, a nonprofit representing ten member tribes that are based in Mendocino and Lake Counties and include: Cahto Tribe of Laytonville Rancheria; Coyote Valley Band of Pomo Indians; Hopland Band of Pomo Indians; Pinoleville Pomo Nation; Potter Valley Tribe; Redwood Valley Rancheria of Pomo Indians; Robinson Rancheria of Pomo Indians; Round Valley Indian Tribes; Scotts Valley Band of Pomo Indians; and Sherwood Valley Band of Pomo Indians. One of the Council's most notable achievements was establishing the 3,845-acre InterTribal Sinkyone Wilderness along the Northern California coast in Mendocino County in 1997.
In March 2012, Save the Redwoods League added another property to the holdings of these descendants of California's original inhabitants. The 164-acre Four Corners parcel lies between Sinkyone Wilderness State Park and the headwaters of the Mattole River. Its streams, meadows, and forests are biologically rich, with species including peregrine falcons and imperiled coho salmon, steelhead trout and marbled murrelets.
As part of the deal, the Council made a conservation agreement with Save the Redwoods League that will ensure no commercial development or resource extraction ever takes place. "We want to protect the land as it is," said Hunter. "Its beauty brings joy to your heart."
The League and the Council will work together to build a public hiking trail through the property. The Council also plans to restore the property and use it for traditional purposes. "Taking our children up there to teach them about the sacredness of our Mother Earth is very important," Hunter said.
The land's new stewards have deep reverence for redwoods, which is "Kahs-cho" in the Sinkyone language. "When the wind is blowing or when it's raining, these redwood trees have different sounds and songs," Hunter said. "Looking up, you feel a connection with the Creator. We thank Save the Redwoods League for giving us the opportunity to protect this land for future generations of our children."