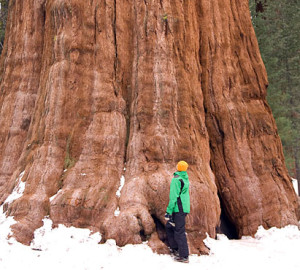 The recently published New York Times article, "
In the Land of Giants
,"
(external link)
by Jon Mooallem about
California's giant sequoias
is yet another reminder of how our protected lands are a result of political tension, and that arguments over ownership of these lands go back a long way.
Mooallem mentions that "American settlers had been enraptured by the giant sequoias since they first stumbled onto them [in the late 1800's], and yet the government had never seen any reason to protect the land." Like many historical land ownership stories, the government instead saw the land as a means to raise money and encouraged logging under the federal Timber and Stone Act of 1878.
In 1918, the founders of Save the Redwoods League believed that Northern California's unique and awe-inspiring redwood land was actually worth saving, and they led the fight to protect these lands. Nearly 100 years later, we are still fighting for their protection.
Under the current administration, the President has proposed environmental budget cuts, as well as plans to eliminate environmental regulations that combat climate change.
As Mooallem mentions in his article, we are currently "at a moment in America not so wildly different from [the era of the establishment of the National Park system] — an era of intensifying inequality, vulnerability, and dislocation."
But, William C. Tweed, a former park ranger, made a powerful statement saying, "…the sequoias remind us that we're not really in charge of the world." Some of these trees are over 3,000 years old. When you stand amongst them, their power speaks for themselves.
I think it's important to remember to take a step back and see that we're not just protecting redwoods or parcels of land, but entire ecosystems that support our Earth. When we lose the coast redwood or giant sequoias forests in California or the rainforests in the Amazon, the arguments are not going to be about conservative or liberal, federal government versus state powers, but about the survival of our planet and our species as a whole.
We may own land on paper, but the land essentially owns us, and it will dictate our future. When we do not do our part to protect the land, Mother Nature will let us know, and by the same token, when we do our part, she rewards us.
I think the sequoias and redwoods are a constant reminder of that. The work done by our founders and staff along the way to protect huge parcels of redwood land has enabled generations of people to spend time in the forest and to experience a moment of rejuvenation, healing, and peace. As Mooallem mentions, it's a moment "for humility, for perspective-taking, [and] for recalibrating [our] sense of scale and time." In the chaos of our daily lives, the trees remind us just how small we really are.
Learn more about our work to protect and restore redwood forests.